Land activities in Tobago
---
GET ACTIVE ON THE ISLAND
Tobago is so small you may feel like you could walk across it in a day – but in reality, you'd be so distracted by the birds and blooms, waterfalls and winding forest trails, trees dripping with fruit snapped up by snuffling agoutis – that you'd simply never make it. This is an island to explore beyond the beaches – whether that's on foot, horseback or bicycle. The only things you need in your knapsack are a sense of adventure and wild curiosity – though sunscreen and a camera are highly recommended too!
Walking & hiking
---
Tobago's trails are scenic with plenty of interruptions – whether pausing to grab your camera for a shot of a remote bay, your binoculars for a closer look at a singing bird, or a glass of Lemon, Lime and Bitters by the beach, to boost your energy levels.

Serious walkers should head for the hills – there are numerous trails through the Main Ridge Forest Reserve which pass waterfalls and wildlife. The 5km Gilpin Trace is the most well-trodden – you can also follow the road north all the way to Bloody Bay. The island's highest point is also found in the forest – the 572m Pigeon Peak. Reaching the top takes around three hours, and there are different routes depending on how tough you like your trails. Guides are highly recommended – as well as leading the way, they'll be able to point out birds and traces of wildlife that you'd never otherwise see.

One of the loveliest things about hiking in the forest is the dramatic drop in temperature – though this hasn't deterred the mosquitoes, particularly in rainy season. Bring plenty of repellent, and avoid dark clothing, which attracts them. Wear long trousers and closed walking shoes, and bring a waterproof. We also recommend a waterproof bag for cameras and anything else you'd like to keep dry – the rain can come out of nowhere. Carry plenty of water, plus food if you are attempting one of the longer hikes.

There are coastal trails all round the island – from Castara to Englishman's Bay, to the stunning beaches around Charlotteville, as well as from the town to the far-flung L'Anse Fourmi, which takes around four hours – a remote route which defied the road builders until 2006. You can stroll along the long, flat beaches of the southern Caribbean coast as well. Coastal walkers are also recommended to bring plenty of water and snacks – as well as sunscreen and a hat.

Some of the hotels and guesthouses even have their own walking trails, including Blue Waters Inn near Speyside, which has easy paths crossing its 36 acres of bird-filled greenery. Inland, Rainbow Nature Resort has two waterfall trails through the surrounding forest.
Top responsible tourism tip:

If walking along the beaches frequented by sea turtles, keep an eye out for nests, and never touch or obstruct a hatchling if you are lucky enough to see one!
Cycling & mountain biking
---
Cycling in Tobago can be split into two types – easy rides around the flat southwest, and challenging mountain biking in the center and east
.
Easy Goers Bicycle Rental
in Crown Point can cover most cyclists' needs – with mountain and road bikes, child-sized bikes and even tandems. Rental starts at a very reasonable £8 per day with cheaper rates for weekly rentals.
This makes it an exceedingly economical option for guests staying in the Crown Point area
– from here you can reach Buccoo, Bon Accord Lagoon and Pigeon Point in minutes, with Mt Irvine and the beaches of Great Courland Bay less than a pleasant hour's pedal away.
Easy Goers also offer tailor-made, guided tours – both mountain and road biking, with vehicles to drop you off and pick you up.
Tobago Mountain Bike
is the two-wheel expert. Tours last three to four hours and include
beginner routes around the flatlands and mangroves
, waterfall trails and
expert-only rides along the hills of the Main Ridge, or descending along single tracks from the highlands of Moriah to the beach
. One of the highlights of cycling this region is the ability to access places vehicles and hikers simply can't;
Tobago is tiny, so finding a truly hidden spot is a fabulous reward for your aching calves
. The tropical sun is fierce though – so keep well hydrated.
If you fancy a bigger challenge, the
Tobago Cycling International Classic
is an annual multi day race in late September to early October. Growing in popularity since its inception in 1986, the event now draws cyclists from around the globe.
Yoga & wellbeing
---
Yoga and wellbeing is a small but growing pastime on Tobago, and options range from full yoga retreat vacations, to drop-in classes for those who just want to try it out. Several highly qualified instructors now work at
several locations across the island, offering yoga, tai chi and meditation workshops as well as yoga massage and other similar treatments
.
The elegant, thatched ajoupa in the tropical gardens of
Kariwak Village
, in Crown Point, is one of the most tranquil settings for a yoga or tai chi class. Meditation, poetry readings and other gatherings also take place here. Yoga sessions run once or twice daily; morning sessions are free for guests. Kariwak, which calls itself as a holistic haven, also has therapy rooms offering a range of massages, including Thai yoga, hot stones, aromatherapy, shiatsu and deep tissue. Both the classes and therapy rooms are also open to non-guests.
Castara Retreats
also hosts some morning yoga and meditation sessions on the lower restaurant deck – overlooking the beautiful bay.
Moonlight Mountain Retreat
, a traditional Caribbean-style gingerbread house in gardens overlooking Scarborough, runs
full yoga retreats
, with sunrise yoga, breathing and meditation classes, massage therapies and art classes. Drop in classes and massages are available for all guests.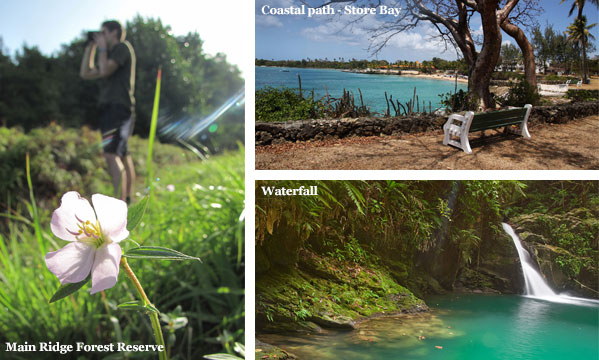 Horse riding
---
Horseback riding has turned out to be the surprise highlight of many a vacation to Tobago – thanks largely to the wonderful
Being with Horses
, located near Buccoo. Full instruction is given before every ride; for many visitors this is actually their first time in the saddle.
Tours focus on experience and wellbeing as well as the spiritual aspects of riding an animal – at the beginning of the session the horses choose their riders rather than the other way around!
Trips pass through Buccoo Village, past the wetlands and mangroves and end up on the beach – where the horses take their riders for a swim.
There are also forest hacks and bareback sunset beach rides for a classic fairytale experience of Tobago.
Top responsible tourism tip:

Being with Horses runs the Healing with Horses Foundation. They run summer camps and after school sessions with the horses for disabled children in Tobago, as well as offering therapeutic riding sessions for disabled adults. By supporting Being with Horses, you contribute to the great work the foundation is able to carry out.
Waterfall treks
---
Swimming in Tobago doesn't have to involve a beach or a hotel pool. Happily, many trails end up at glorious waterfalls, where overheated hikers can cool off beneath the spray, or jump into crisp, freshwater pools.
Argyle
Waterfall is the highest – and best known – of the island's cascades. A little paradise within paradise, Argyle's second tier has a natural Jacuzzi – though you'll need to scramble up some slippery rocks. Guides are available – and highly recommended – for the easy, 20-minute walk to the falls past cocoa and other fruit trees, which provide food for a whole rainbow of bird species. £6 adult, £3 child).


Harold Thomas, Argyle Falls tour guide
Listen to Harold talking about Argyl Falls here. [01:18]
Castara
has its own pretty waterfall, tucked away behind the football pitch. This was once the source of freshwater for the whole village; you may still see people bathing there today. Feeling intrepid? Climb up the side and trek through the jungle to the second and third cascades, though it's a good hour's scramble and you'd be well advised to recruit a local guide. The setting couldn't be more perfect though – embedded deep in the forest with just the birds – and the odd crab – for company.
Rainbow Nature Resort
, in the evocatively named Lure, has two gorgeous waterfalls –
the Rainbow Falls
, which are a pleasant 20 minute stroll past the farmland and bamboo forest – and where the sunlight casts a rainbow in the spray. The
Twin River Falls
– formed of two cataracts – are close to two hours from the guesthouse – but the deep pool is ideal for collapsing into once you arrive. Bring a picnic!
The
Highland Waterfalls
, along the Courland River near Moriah, have the highest single-drop waterfall, best viewed from atop the nearby rocks. You can swim in the pool – you'll likely be wet anyway, as part of the "trail" is actually the river. The waterfall and trail are unmarked; guided tours are recommended.
Responsible Travel would like to thank Visit Tobago for their sponsorship of this guide