Conservation & social projects
---
TRAVEL RIGHT IN TOBAGO
Tobago prides itself on being clean, green and serene and this is thanks to the actions of its people, as well as its sensitive tourism industry. Just by being on Tobago, you are contributing to the wellbeing of its people, as more than 70p out of every tourist pound spent here stays on the island* – almost five times as much as on other Caribbean islands. However, there are many more ways you can ensure you leave more than just footprints during your Tobago vacation – whether you want to support schoolchildren, communities or sea turtles.
The simplest thing you can do is get out and meet the locals. Eat at local restaurants, shop at craft stalls, hang out in a rum shop and join in with Tobago's whirlwind of cultural events. Self catering villas and apartments call for trips to the market to find the freshest fruit. Not sure what that spiky green thing is? Ask the stallholder! Rather than having the postcard-image of a beach in your head, you'll have a whole vacation album of memories to look back on – as well a knowing you've supported those who made your trip so exceptional.
SOS Tobago
---
Sea turtles have been swimming around these waters for 100 million years – but they are threatened by hunting, the removal of eggs, light and noise pollution, and waste in the ocean.
SOS Tobago
is a community-based organisation working to protect Tobago's turtles and their habitat. They carry out beach patrols, the monitoring of the turtles and community education initiatives
.
Booking a turtle watching tour through SOS Tobago contributes to their work. They also offer longer-term volunteer placements; these are free, but volunteers must be over 21 and able to commit to a minimum of three weeks – longer periods are preferred. Training is provided, and SOS can recommend local guesthouses for the volunteers to stay in.
Having turtle volunteers active living in the community, contributing to the local economy and speaking about their work is an effective way of raising awareness of turtle conservation
– as well as demonstrating their importance as a tourist attraction, deterring would-be poachers. Education programmes are also carried out in schools – passing the eco baton onto the next generation.

Tanya Clovis, SOS Tobago
Tanya speaks about what to expect on a turtle watching tour. [02:28]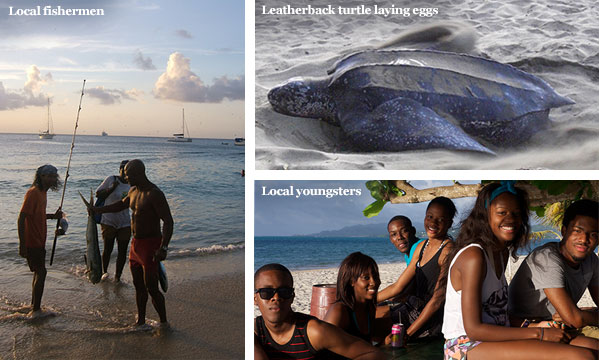 Ted's Sunshine Tours
---
Ted's Sunshine Tours supports an Adopt a School programme which takes visitors into local schools – taking tourism out of the textbooks, and encouraging kids to interact with visitors from around the world.

Owner Ted Greig explains more: "In term of our activities, we try to get the communities involved, we try to get the kids involved. For example, on our Island Excursions, we have an Adopt a School programme. Each time our visitors can visit a different school and distribute gifts: books, pencils, crayons, markers... This is all sponsored by our company, but we like to get our guests involved. We ask the kids questions about tourism – what do they know about it, how important tourism is to them – so we get them involved from a very early stage in our tourism activities on the island."

Ted Greig, CEO of Ted's Sunshine Tours
Ted speaks about the island excursions his company offers from rainforests & snorkelling to school visits. [01:58]
• Read more about responsible tourism in Tobago
Responsible Travel would like to thank Visit Tobago for their sponsorship of this guide