Tobago accommodation
---
FIND YOUR IDEAL ISLAND HOME
Forget the high rise Caribbean complexes and sprawling, luxury resorts; on Tobago, nothing can be built higher than a coconut palm. Not only will you never find yourself far from the ground, you'll also never be far from the "real" Tobago – as you walk straight out of your guesthouse and onto the beach, into the forest or along a typical street filled with fishmongers, fruit stands and street food.

Save for a couple of larger resorts in the busier southwest, most of Tobago's accommodation is low-key and laid-back. But that's not to say you'll be roughing it; guesthouse owners will treat you like a VIP with three course meals and world-class conversation, while villas, chalets and small hotels may be surrounded by lush, tropical gardens with hammocks and refreshing pools. On this miniature island a sea view is almost a given – unless you're tucked away in the mountains behind a wall of heliconia and hibiscus.

Come not for the on-site gym, flat screen TV or 24-hour bar – but for the conversation and cuisine, the tranquility and the lifelong memories created around the dinner tables, on the verandas or while swinging in hammocks.

Here are some of our favourites:
Crown Point and the southwest
---
This is where most of Tobago's accommodation can be found – from luxury resorts to family run B&Bs, secluded villas to simple guesthouses. You'll be close to the sea port, airport, restaurants and nightlife – as well as the most popular beaches and reefs.
Kariwak Village
Kariwak Village is just a short stroll from the airport in Crown Point – even with a wheelie suitcase in tow – but it's an instant immersion into island life. Cosy cabins are tucked into a glorious tropical garden – heaven for hummingbirds, butterflies and cheeky, chirping bananaquits. Follow the trails past the herb garden and hammock hut to the waterfall pool and thatched yoga ajoupa – inaugurated by the Dalai Lama himself. But the real treat is the food – from smoked herring and coconut bake to oregano fish and fried dasheen – it's local, fresh and utterly delicious.

Cynthia Clovis, owner of Kariwak Village
Cynthia talks about how herself and her husband created their "holistic haven" [03:53]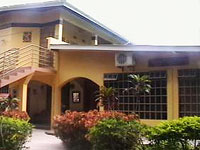 Native Abode
Native Abode is owned by a Tobagonian family who wanted to create the kind of place they would like to stay in while on vacation. Extending their own family home, they created a beautifully furnished B&B in the heart of Crown Point, within easy reach of the shops, restaurants, bars and beaches – yet tucked down a quiet side street.
Kaye makes a mean breakfast to set you up for your day's activities; kitchenettes are available for those who want the space to prepare their own meals, sourced from local markets.

Kaye, one of the owners of Native Abode
Kaye speaks about how she and her family wanted to create a home away from home in Crown Point. [02:14]
Rural retreats
---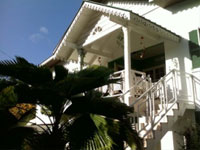 Rainbow Nature Resort
Shirley McKenna has travelled the world and returned home to her beloved Tobago Rainbow Nature Resort now acts as her home, a working cocoa house (with traditional sliding roof), a largely organic farm – and a traditional guesthouse with four rooms.
Meals are a family affair prepared with ingredients plucked fresh from the ground or the trees. There are two nearby waterfalls to explore – right in the middle of nowhere.

Shirley McKenna, owner of Rainbow Nature Resort
Listen to Shirley McKenna talking about her home and farm. [02:08]
Footprints Eco Resort
Footprints Eco Resort sits in 62 acres of reforested land – once covered by sugar and cocoa plantations. Facing the remote Culloden Bay, whose crashing waves will lull you into sleep, the reclaimed wooden cabins feel particularly isolated and at one with the buzzing nature around them. Coral reefs creep right up to the beach – but you can take a dip in the enormous seawater pool if you want to play it safe. Mia is your amenable hostess, but you're likely to be greeted first by Chica – the eager resident dog.

Mia Persad-Douglas, the owner of Footprints Eco Resort
Listen to Mia speaking about the creation of the resort. [02:16]
Castara Bay
---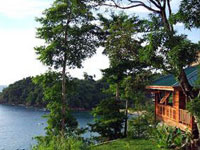 Castara Retreats
The British couple who own Castara Retreats have constructed their own slice of hillside heaven, overlooking emerald green Castara Bay and the adjacent fishing village. Open-sided wooden cabins stand, stilted, on the slopes, with panoramic views of the fishing boats heading out for the day's catch. The charismatic manager grew up in Castara and can let you in on the local secrets over a Carib beer or two. Castara Retreats does not serve breakfast, preferring to send you down the road to the locally-run Cheno's café as part of the commitment to supporting the local community. Head down to dinner at Marguarita's – or rent a sun bed from Dawn, who will also prepare you a fresh juice.

Porridge, manager of Castara Retreats
Listen to Porridge, manager and lifelong resident of Castara Village, speaking about the retreat and the community. [01:33]
There are a number of other little guesthouses overlooking the emerald bay , including
Alibaba's Sea Breeze Apartments
, a traditional Caribbean house right on the beach and
Carpe Diem's
studio apartments, also a stone's throw from the beach and surrounded by mango and papaya trees.
Hidden Cottage
has a villa and studio a little further up the hill – a perfect spot for swinging in a hammock and enjoying the impossibly pretty view. All the accommodation in Castara has close ties with the local community.

For birders
---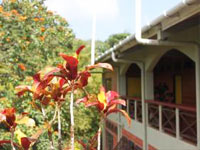 Cuffie River Nature Retreat
Cuffie River Nature Retreat is tucked away at the fringes of Tobago's Main Ridge Forest Reserve – and shares the forest's abundant birdlife. This secluded rainforest retreat has just ten rooms and included self-catering options.
Surrounded by streams and mountainous scenery, the lodge has its own seawater pool for anyone missing the ocean. The environmentally friendly design sits calmly within this landscape, harnessing natural light and mountain breezes, filtering rain water and composting or recycling waste.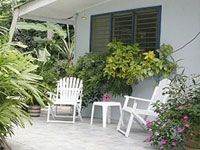 Adventure Eco Villas
Just a short drive from Scarborough and Buccoo, yet unusually isolated in its own private nature reserve, Adventure Eco Villas draws birders, photographers and artists who can follow the trails around the reserve, or admire the dozens of bird species swooping from the peace of their own veranda, attracted to the flourishing citrus, banana and other fruit trees and glorious tropical flowers. There are two self-catering villas and one apartment, staffed by local residents.

Ean MacKay, owner of Adventure Eco Villas
Ean talks about creating the reserve and what makes it so special. [02:26]
British Airways
---
British Airways operates an excellent network to Trinidad and Tobago with twice weekly services to Tobago during winter and a weekly service in the summer. All Tobago flights operate via Antigua. Port of Spain, Trinidad, operates 5 times per week year round via Saint Lucia.
The Boeing 777-200 operates to both destinations offering 3 classes of travel to Tobago and 4 classes to Port of Spain. Club World, World Traveler Plus and World Traveler are available to both destinations with First class available to Port of Spain.
• Read more about flying British Airways to Tobago
• Book your direct flight from Gatwick to Tobago with British Airways

Responsible Travel would like to thank Visit Tobago for their sponsorship of this guide