Food in Tobago
---
EATING, DRINKING & AGROTOURISM
It's not just Tobago's tropical climate that has given It such a wonderful cuisine – it's the stubborn insistence of its people to keep it local, and to champion recipes passed down from generation to generation over international imports. So confident are they that foreign visitors will like their food, that this is often the only thing on offer in hotels, guesthouses and restaurants. In some places, a menu is replaced by the question: "Catch of the day or chicken stew?" – all you need to decide is whether to have it with coconut rice or fried plantain. This keeps things fresh and fast, with seasonal produce favoured.
Restaurants
---
Some restaurants – including Kariwak Village and Castara Retreats – have created a kind of Caribbean fusion. Realising they couldn't compete with the abundance of Tobagonian eateries all around them, they have taken the native produce and served it with a twist – served in freshly made ravioli, perhaps, or baked with fresh herbs from the garden.

The Blue Crab Restaurant on a Scarborough hillside is run by the wonderful Alison Saldanha and her husband Kenneth. She makes a tasty crab and dumplings – helpfully providing crackers to save you chomping on the shell), along with traditional dishes including callaloo, barracuda, fried sweet plantains and pelau.

Black Rock's The Fish Pot is a seafood specialist, with a changing board of specials. Starters include fish chowder and seasoned crab cakes. The catch of the day is served with the sauce of your choice, including creole, curry and jerk. Be sure to save space for a slice of key lime pie.

You might want to fast for a day before heading to Jemma's Tree House Restaurant, near Charlotteville. Food is served, tapas-style, but in hugely generous quantities. The usual favourites – chicken stew, creole shrimp – are accompanies by macaroni pie, slightly sweet breadfruit pie, and tania fritters – a light croquette made from a root vegetable.

The Sea Horse Inn has a superb location overlooking the breakers of Mt Irvine Bay. Tables are on a rooftop terrace with twinkling lights and candles, and the menu is somewhat more umarket with seared scallops, goat's cheese in balsamic syrup, lobster bisque and seared yellowfin tuna amongst the mouthwatering options. This is recommended for a particularly special evening out, and while there's no dress code, it's worth changing out of your beachwear for.

For less formal, take away meals, Store Bay Beach Facility has a number of well established hole-in-the-wall kiosks, serving boxes of curry, chickpeas, roti, crab and saltfish. The kiosk names – Miss Esmie's, Miss Jean's, Miss Trim – testify to the homecooked feel of each dish.

Cheno, manager of Castara Coffee Shop
Cheno talks about the food, atmosphere and music at Castara Coffee Shop . [00:35]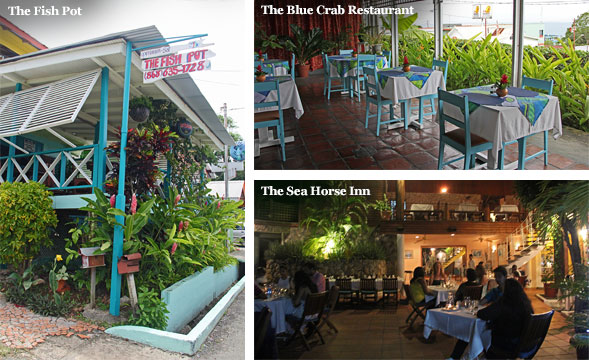 Alison Sardinha, owner of the Blue Crab Restaurant
Listen to Alison talking about her restaurant and the food she prepares. [01:41]
What to eat
---
Seafood is what it's all about in Tobago. You'll see the fishermen casting their nets in the morning, see the catch being slashed and sliced in roadside stalls at lunchtime – and you'll be quite happily eating fish for breakfast, lunch and dinner. It's easy not to get bored with such an abundance of species – battered flying fish fillets, meaty barracuda steak, spiced mahi mahi, smoked herring and chili, giant grilled prawns, snapper and grouper… you'll run out of mealtimes before you run out of seafood.

The local dish is known as crab and dumpling – though opinion on the island is divided. The blue crab is undeniably tasty – especially drizzled in curry sauce – but you'll be wrestling with the claw for a miniscule amount of meat. The dumplings are cooked, mashed and flattened breadfruit – a stodgy yet tasty companion.

Pork and chicken are also popular. "Stew" is the usual way of serving them – slow cooked, heavily spiced (though not hot), and served with rice and root vegetables, this is a hearty, traditional meal that goes down surprisingly well in this hot, humid climate. Most dishes are cooked in coconut oil, giving even the heaviest, heartiest recipes a nostalgically tropical aroma.

Full vegetarians will find things tricky – the option may only be a typical dish without the meat, although the "side dishes" callaloo, rice and beans, macaroni or breadfruit pie and various vegetable fritters are incredibly filling, and still filled with rich West Indian flavour.

Cassava, dasheen, plantain, sweet potato and breadfruit are heavier, starchy veg options cooked in an impressive number of ways – boiled, mashed, fried or as crisps. The avocado is divine, aubergine is stewed and spiced as a flavoursome "eggplant relish" for the main dish, and salads are becoming more adventurous. Kariwak Restaurant in particular grows its own leaves, and has a fabulous selection of in-house dressings, all outlined in the Kariwak Cookbook.

Fruit is the other big treat out here – who needs pudding when the sweetest mangoes you've ever tasted are dropping out of the sky? Starfuit (also known as carambola or five-finger), guava, pineapple, passionfruit, watermelon, papaya and coconut are abundant when in season. You'll likely get a plate for breakfast and maybe for pudding – or perhaps a freshly made sorbet.
Food glossary
---
Black cake: A heavy fruit cake similar to a Christmas cake. Shirley McKenna of Rainbow Nature Resort apparently makes the best!
Buss-up-shut: a torn up roti, used to scoop up curry, chickpeas etc with your hands. Comes from "bust up shirt" as it resembles ripped clothing.
Callaloo: A gooey yet tasty soup made with dasheen leaves and okra. Tastes a little like spinach.
Coconut bake: A cake-like bread made with grated coconut. Often served with smoked fish at breakfast.
Doubles: The typical streetfood – curried chickpeas served between two pieces of fried flatbread. You're advised to ask for "no pepper" or "slight pepper".
Pelau: Rice and peas cooked with meat in a one-pot dish.
Provisions: A vegetable served as a side dish
Roti: Of Indian origin, a thin piece of pastry which is fried and used as a wrap for other fillings.
Souse: Arguably all the most unappetising bits of an animal – by standard Western tastes, anyway. These could include pigs trotters, ear, chickens feet… boiled and served cold with a salty sauce of lime, cucumber, pepper and onions.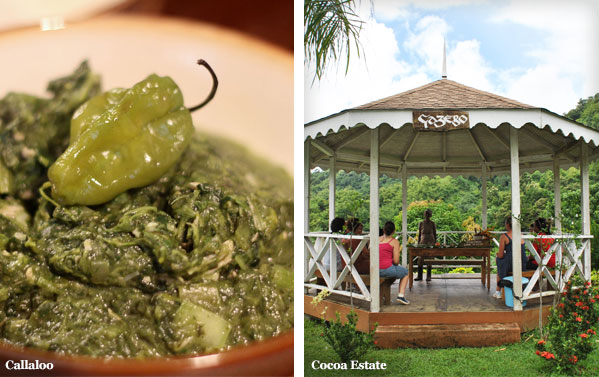 What to drink
---
It wouldn't be the Caribbean without some fine rum – and fortunately there are some high-end brands to choose from. Angostura Bitters are made in Trinidad and Tobago; the house of Angostura also produces a number of aged rums. Royal Oak, the blended 1919 or the 1824 – aged for a minimum of 12 years – are some of the most highly recommended.

Long cocktails blend fresh fruits and local rum to create a refreshing (and arguably healthy…?) drink – though virgin options are also available as well. The generic "rum punch" can be found in bars and on boat tours around the island – though "fruit punch" usually refers to a branded, bottled drink, and is non-alcoholic. "LLB" is lemon, lime and bitters – a reenergising, fizzy soft drink when bottled, but extra delicious when made fresh.

The fresh juices are sublime with no need to add sugar, but be aware that in many local restaurants and cafes, the fruit juice is – inexplicably – processed and bottled.
Agrotourism
---
Rainbow Nature Resort
is set in 25 acres of tropical forest and organic farmland, tended to by Shirley McKenna and her husband Patrick. Almost everything in the kitchen is homegrown – starfruit, passionfruit, mango, pineapples and plums, to eat fresh or turn into sweet juices. There is fiery scotch bonnet which Shirley turns into the famous hot sauce, dasheen to make callaloo, and cocoa to make a warming chocolate tea, spiced with cinnamon, bayleaf and freshly grated nutmeg. Shirley can offer cooking lessons for those who get too hooked on her cooking to leave.

Roxborough is the home of the island's only remaining
cocoa estate
, after the rest were destroyed by Hurricane Flora. Take a drop-in tour of the estate (11am daily, £6 adults, £4.50 children) to learn about the chocolate growing and making process, and sample a fresh chocolate fruit – it's strangely acidic and not chocolatey at all! There's a tasting of the exquisite finished product – moreish even by chocolate standards.
Top responsible tourism tip:

Hunting used to be allowed with a permit – but it has now been banned until October 2015 to allow populations to recover. Don't eat any bushmeat (agouti, wild hog, armadillo etc) as this will have been illegally poached. And never eat sea turtles or their eggs – they are endangered, and this is against the law!
Responsible Travel would like to thank Visit Tobago for their sponsorship of this guide
---
Photo credits:
[Top box - preparing dinner:
Shiv
] [Blue Crab restaurant, The Fish Pot & Seahorse Inn: Vicki Brown] [Callaloo:
Anna Frodesiak
] [Cocoa Estate: Tobago Tourist Board]