Watersports in Tobago
---
FUN ON & IN THE WATER
Ringed with reefs, Tobago's underwater rainforests provide days of endless exploration, with snorkel strapped to face, or peering through the goldfish bowl-like glass bottom of a tour boat. Tobago has some of the Caribbean's best scuba diving – expert divers will be charmed, and beginners will find this is a wonderful place to start. Stay on top of the water on a stand up paddle board, sea kayak or surf board – and catch the breeze by windsurfing or even kit surfing your way around the shore.
Glass-bottom boat tours
---
A fun, safe and eco-friendly way to discover Tobago's reefs; glass-bottom boats are used, in part, to avoid careless footsteps on fragile coral, and dropped anchors destroying centuries of growth. They give non-swimmers, unconfident swimmers and younger children the opportunity to gaze at the "underwater rainforests" and the brilliantly vivid life that inhabits them – from anemones and parrotfish to manta rays and French angelfish.
There are two main routes; one cruises above above Buccoo Reef (with a snorkel stop) before continuing on to the Nylon Pool; the other sails from Blue Waters Inn to Little Tobago and Goat Island, pausing over Angel Reef and the world's largest known brain coral.
Some charters include food and drink, some are more family-friendly, and others (around Buccoo) are rather more party-style with booming bass included –
so have a chat to the boat company before booking to find the tour that suits you best
. Two-hour tours with Frank's and Top Ranking depart from Blue Waters Inn twice a day and cost 150TT per person; there are a greater number of boats visiting Buccoo Reef from Pigeon Point and Store Bay.
depart from
Blue Waters Inn
twice a day and cost 150TT per person; there are a greater number of boats visiting Buccoo Reef from Pigeon Point and Store Bay.

Zolani Frank, glass bottom boat tours
Zolani talks about the birds and reefs you will see on his tours around Little Tobago. [01:16]
Scuba diving
---
Hailed as one of the best scuba diving destinations in the Caribbean,
Tobago has over 60 established dive sites scattered off its shores, and a superb selection of dive shops, experienced instructors and state of the art equipment to making planning a diving vacation easy, safe – and exciting
. Additionally, the water is warm and the visibility around 25-36 metres; January to August have clearer water, with May to July offering the best conditions.
The island is ringed with tropical reefs comprising 300 species of coral. The largest and most popular may be the 10,000 year old Buccoo Reef, but
the most pristine dive spots are located off the northeastern tip and around Arnos Vale
. These shelter a fantastic array of fish in vivid hues, as well as manta, eagle sting rays and menacing-looking moray eels and barracudas. The mantas are most abundant near Charlotteville between May and August. Nurse and black tipped reef sharks may provide a thrilling close encounter – but they present no danger. Sea turtles are a gentler marine companion and are often encountered.
Wreck, reef and drift dives are all possible, depending on experience
. The wreck of the MV Maverick lies 30m down on the ocean floor off the west coast – it's recommended for intermediate divers.
The reefs off Castara and Mt Irvine Bay are great options for beginners, with towering pinnacles and neon shoals of fish. Alternatively, Kelliston Drain, near Little Tobago, has the largest known brain coral in the world at over 5m across
. Advanced divers will be wowed by Sisters Rocks – five rock pinnacles known for attracting manta rays (particularly Nov-Feb).
Half or full day resort dives are a great taster session, teaching you all the basics in a hotel pool before heading into the ocean. PADI open water and advanced open water certifications are also available – courses last two to five days. Professional qualifications are also possible.
Always look for a fully certified operator – a good place to start is the Association of Tobago Dive Operators
. There is a recompression chamber in Roxborough for divers who get into difficulties.
Tobago's Underwater Carnival is not literally a submarine parade – it's a week-long event each July celebrating underwater activities and biodiversity. There are underwater photography seminars, fish identification, kids activities and introductory dives – this is an awesome experience for anyone – diver or not – to get more involved in the world under the sea.

Rosemary Duggan, Blue Waters Dive'n'.
Rosemary speaks about the diving in Tobago. [00:54]
Top responsible tourism tip:

Never touch or stand on coral, and don't pick up anything to take as a souvenir. You can also help out by picking up any litter you may find in the ocean – making for happier reefs, and happier divers!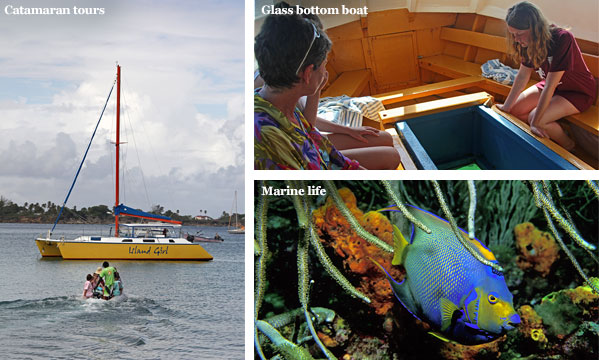 Snorkelling
---
You could strap on a mask and discover mad marine scenes just about anywhere off Tobago's coast, but given the huge choice, you can afford to be fussy. The coral reefs are clustered along the Caribbean Coast, and the tips of the island – the most popular ones being Buccoo Reef in the southwest and Angel Reef in the northeast, on the way to Goat Island. These two in particular are visited during glass-bottom boat tours; equipment is usually provided.

Catamaran tours also include snorkelling stops – typically at the picturesque Cotton and Emerald Bays, where huge underwater boulders raise the reef high enough for snorkellers to get up close to the fantastically coloured creatures that inhabit them.

Some of the better equipped beaches have equipment rental, but if you're planning on just jumping in each time you find yourself in the perfect spot, then do bring your own mask and snorkel. Fins are also handy – some of the better locations require a bit of a swim.
Top responsible tourism tip:

If you're lucky enough to find yourself snorkelling alongside a sea turtle, be sure to give it plenty of space. Though marine dwellers, they still need air, and if you swim too close, it may not feel comfortable surfacing to breathe.
Catamaran island tours
---
Paddling and swimming is all very well, but for that true Pirates of the Caribbean experience, get stuck in with a full day at sea – and preferably one that has involves sailing, of course. The Island Girl catamaran departs from Mt Irvine Bay each morning, to spend around seven hours cruising the Caribbean Coast; seas are generally calm but you'll still be bobbing around once you step back on dry land – though whether that's the waves or the rum it's hard to tell…

Island Girl offers a balance of adventure and relaxation: visiting bays which can only be reached by boat, snorkelling offshore, and – if fortune finds you – gasping at pods of dolphins frolicking in the deep blue waters. The 600TT tour includes an open bar stocked with Caribbean favourites, staffed by an overly generous barman. Even more impressively, there's a full, fresh lunch cooked on an onboard barbecue, while you snorkel to your heart's content in Emerald Bay. Low-slung tanning nets on the front of the catamaran allow sun-seekers to get their fix, and as the sail is hoisted, you may just find yourself thinking this is the best place in the world to be.
Stand up paddle boarding
---
You've swum, you've snorkelled, you've gazed through the glass on the bottom of a boat, but if you want to get a loftier view of what lurks beneath the ocean then stand up paddle boarding may just be the way to go.
The technique is easily mastered in a couple of hours, so you can soon be scooting your way around the coast independently, enjoying the glorious views above and below the waves
. This sport is gaining popularity around the world, but we'd choose the bathtub-like waters of the Caribbean as our top spot, as you won't fear falling in.
Beginners lessons last one hour with expert local instructor, Duane Kenny of
Stand Up Paddle Tobago
, who ensures you've grasped all the basics on dry land before you head out into the calm waters off Pigeon Point. More advanced students can surf a wave, or check out the wildlife around the nearby swamps or mangrove-ringed lagoons. For a truly out-of-this-world experience, book a nighttime bioluminescence tour in the week before or after a new moon. The "bio" relies on movement to make it glow – so you'll have to jump in, splash around, and watch as the glitter sprays off your limbs as the stars sparkle above. Magical.

Duane Kenny, 'Stand Up Paddle Tobago'
Duane speaks about the many options for stand up paddle boarding in Tobago. [01:41]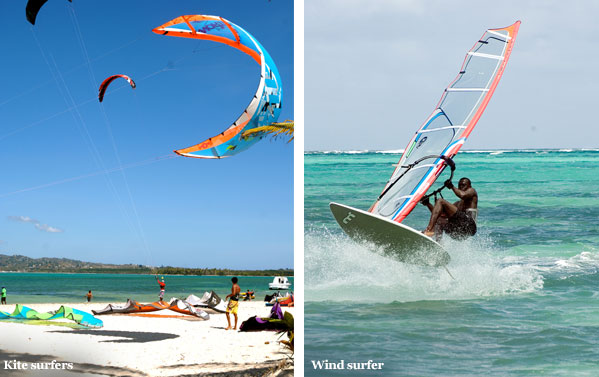 Surfing, wind surfing and kite surfing
---
Pigeon Point is the center for all things wind-powered. The famous trade winds are consistent from October to May, with
stronger winds in November to January, which is the best time to come for a full blown (no pun intended) wind surfing vacation, as well as one-off beginner lessons.
Surfing also takes place here further out on Pigeon Point's reef, although the wilder waters of Mount Irvine are where the best breaks are found
– seven metre swells are not uncommon in the right season. There are smaller waves ideal for beginners though – and local instructors to teach you how to ride them. The sandy bottom also makes this a safer choice for inexperienced boarders.
September to May have the most powerful waves for those who really want to test their skills.
You can kite surf at Pigeon Point and Lowlands Beach – with a more thrilling option catching the wind from Nylon Pool all the way back to Pigeon Point. Intensive kite surfing courses last three days – to make sure you've really got to grips with the basics – or the advanced jumps.
Radical Sports Tobago
, based in Pigeon Point offers kite surf and windsurf lessons with experienced instructors and brand new equipment.
Surf Camp Tobago
offers kite surfing and surfing instruction – including intensive courses for beginners and one-to-one classes for more experienced boarders. They also have beachside accommodation.
Sea kayaking
---
Tobago's sheltered bays and crystalline waters make for pleasant kayaking. The calm waters of Man O'War Bay – once a harbor for battleships – is now one of the more popular sea kayaking spots, with local guide offering tours and classes around the many smaller bays hugging the shoreline.

Store Bay, Pigeon Point and Speyside have kayaks to rent – protected by reefs, these are generally tranquil spots suitable for beginners, but do check where stronger currents occur. For a wilder backdrop, paddle your way around the mangrove-ringed Bon Accord Lagoon. The glassy waters promise a smooth ride – so you can keep an eye out for birds, fish and even the odd sea turtle.
More water activities
---
The fishing is good all year in the warm waters surrounding Tobago, though specific species vary by season. Snap up a barracuda, kingfish or marlin offshore – but be sure you're up to it; the record catch was a 400kg blue marlin. Fishing competitions are held annually in Speyside and Charlotteville; catches are tagged and returned to the ocean.

Sailing conditions range from tranquil to tempestuous – meaning that anyone from beginners to able seamen can set sail in the Caribbean. Head out on a charter boat, or rent your own small craft in the calmer regions around Pigeon Point and Bon Accord Lagoon.
Responsible Travel would like to thank Visit Tobago for their sponsorship of this guide
---
Photo credit:
[Top box - surfing: Tobago Tourist Board] [Glass bottom boat tours: Vicki Brown] [Rosemary podcast image:
Blue Waters Dive'n'
] [Diving: Tobago Tourist Board] [Catamaran: Vicki Brown] [Kite surfing: Tobago Tourist Board] [Wind surfing: Tobago Tourist Board]