As well as reading our UK travel guide, start your vacation planning in the UK by taking a trip to your favourite independent bookshop. Because so much UK literature has been inspired by journeys through the lakes of Cumbria, the snowy Scottish slopes of the Cairngorms, a love of the lochs, or the wilds of Darmoor. Robert Macfarlane brings our ancient tracks, drove roads and coastal paths to life in his exquisite book The Old Ways. Or shares his inner thoughts evoked by remote spots such as Bardsey Island, Wales, in 'The Wild Places'. Alfred Wainwright walked the length and breadth of the UK for his prolific and historic collections of walking guides. And Roger Deakin, in the highly acclaimed 'Waterlog' swims his way around lakes and rivers for fully immersed tales of our waterscapes.

There are so many boundaries in life these days. Not when you walk the Wales Coast Path or across Scotland's high, low and islands. In these natural kingdoms, freedom reigns.

Such writing reawakens a pride of place in our homelands, dusting off out hiking boots and OS maps and realizing that there is so much of it we have still to discover.
The UK is...
so much more than a weekend break, but a plethora of parks and protected spaces. Islands and eye openers.
The UK isn't...
all populated. Go wild in Wales, seek out solitary Scotland or the elusive bits of England. And sail around Northern Ireland's cliffs and coves.
Our top UK Vacation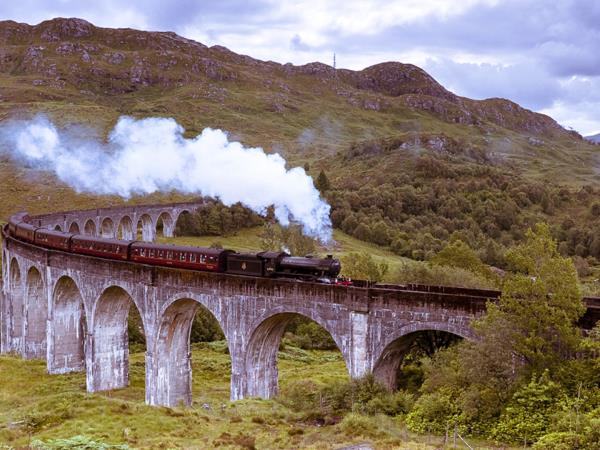 Experience authentic Scotland independently and car-free
From
£

1135

to

£

1195
8 days
ex flights
Tailor made:
This trip can be tailor made from April to the end of October.
If you'd like to chat about UK or need help finding a vacation to suit you we're very happy to help.
To look at the UK with a new perspective, it helps to look back in time. To the old ways. Literally. The Victorians created the Caledonian Canal to link up the lochs so that they didn't have to sail around the treacherous tip. It is now one of the country's greatest places to vacation. Sail Scotland's remote islands on a traditional wooden fishing boat to experience marine perfection. Walk the Pilgrims' Way in Kent, where people have trodden since prehistoric times. Or paddle around Pembrokeshire to forget time altogether. So often tourism in the UK is about castles and cottages, camping and city breaks. Here are just a few of our favourites that touch on all of these too, but throw a few more secrets ingredients into the mix.
1. Cairngorms National Park
Winter walking here is a revelation, where you discover a whole community of Cairngormers who cottoned on to this winter wonderland eons ago. Aviemore is the hub with its ski center but the Cairngorms National Park has one of UK's best outdoor scenes, with hiking, canoeing, climbing, white water rafting and gorge walking on offer. A must is the funicular train that takes and your bike up, and then cycle back down.
2. Cotswolds
As well as its chi-chi, celebrity driven 'we've got a weekend place in the Cotswolds', dahhling', this Area of Outstanding Natural Beauty (AONB) has an unrivalled network of walking trails. It's jigsaw pic perfection; piece together the cobbled streets in ancient villages, cross stone bridges, sup and stay at idyllic inns. Walk the Cotswold Way National Trail, cycle from cottage to cottage, or do the castle thing.
3. Devon
Some would call it England's crème de la crème given its most famous local product in omnipresent cream tea outlets. It's certainly one of UK's most eclectic counties, landscape wise: wildness of Dartmoor, idyllic inlets, surfing strands and wooded cycle paths of the North Devon, and the coves and cliffwalks of the Jurassic Coast. And its fecund food scene is so much more than cider or scones.
4. Edinburgh
You don't get many cooler capitals. Small enough to walk everywhere, but with a hefty heritage, the castle towering over the city reminds you that history of independence is never far from Scottish hearts and minds. With a superb international arts festival, top restaurants, whisky filled bars, vibrant gay and student scene, and a beach just out of town, Edinburgh – we toast you with the traditional 'Slainte'.
5. Pembrokeshire
With one of the most exquisite long distance coastal walking paths in the UK, Pembrokeshire proffers headland after headland of hedonistic hiking, where having a swimsuit in your backpack is a must. Because Pembrokeshire is cove-alicious. A national park, it is also a sea kayaking hot spot. Sheltered bays, caves and sea arches, as well as deserted islands such as Skomer, make for paddling paradise.
6. Pilgrims Way
The south of England's rolling hills are made for rambling and this trail, so named after pilgrims who followed it from Winchester in to the shrine of Thomas Becket at Canterbury in Kent, has supported the feet of people since pre-historic times. Set in a natural causeway, mostly in the North and Kent Downs, this 200km trail takes you through open chalk hills, Turneresque meadows and picture perfect pubs.
Railway vacations, Scotland
7. Railway vacations, Scotland
Some of the UK's most scenic railway lines are in Scotland and there are wonderful tailor made vacations that make the most of them. Such as the West Highland line from Glasgow to Fortwilliam across the wilds of Rannoch Moor and Glencoe. From here to the coast at Mallaig by Jacobite steam train, chugging all the way to Isle of Skye ferry. Or the Kyle of Lochalsh to Inverness train, 130km of Gaelic gorgeousness.
8. Scottish lochs
Don't let the Loch Ness Monster upstage all. Time to move on and also celebrate the other vast waterscapes that aren't packed with tourists going mad over a myth. Navigate them by taking a small boat cruise up the Caledonian Canal that links loch to loch. With, confusingly, locks. An aquatic artery running through the glens from Corpach in the west to Inverness in the east, with Ness en route of course.
9. Snowdonia
Wales' wildest place, with the pater of peaks, Snowdon (1,085m) at its core. Protected all around by the national park, don't just come here to summit and leave. Treat it with the outdoors love it deserves. Combine hiking with river gorging en route. Go cycling then swap saddle for paddle as you discover Snowdonia from water level. Wild swimming fans can head to the coast, or the shores of Lake Bala.
10. South Downs
Close to our hearts, as our office is on its doorstep, the
South Downs National Park
is the breathing space of burgeoning SE England. Just an hour from London, this undulating, chalky landscape is a magnet for hikers, bikers and families wanting to escape. Hike all or part of the South Downs Way (161km), check out Transition Town of Lewes, and don't miss our beloved Sussex Heritage Coast.
Back to the top