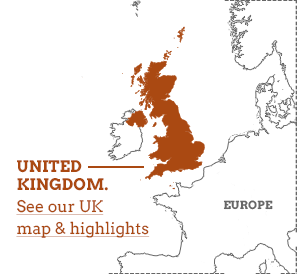 Too often, when it comes to UK vacations, the emphasis is on sightseeing around London aboard open-topped buses. Or when marketing does leave the English capital it focuses on the all-too-obvious 'must-sees' like Edinburgh Castle, Stonehenge, Stratford-upon-Avon or the Beatles heritage in Liverpool. We're encouraging crowding at honeypot destinations, at the expense of beautiful landscapes across the UK which are so much more satisfying to visit than joining a queue at the Tower of London.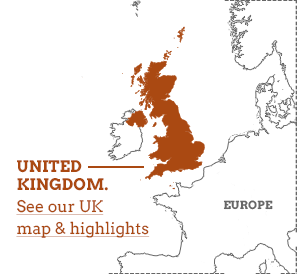 Whether you're walking, cycling, kayaking or bringing the family for an action-packed activity vacation, the UK is much more than its cities, museums and monuments.

England, Wales, Scotland and Northern Ireland – four distinct nations that unite to form a kingdom made for exploring outdoors. In this guide, we show you where to go, when and how, as well as what to expect from the weather. Just make sure you leave space in your bag for a paperback or two. Dust off your hiking boots and OS maps, and learn more in our UK travel guide.
The UK is...
four distinct countries – England, Scotland, Wales and Northern Ireland – all with their own unique landscapes and appeal.
The UK isn't...
as united as it used to be, with growing calls for independence from the devolved nations. And Brexit hasn't helped, either.
What we rate & what we don't
Rail touring
Rail is the best way to explore the UK. Sure, it's more expensive than other parts of Europe (although railcards can help with that). But there are excellent connections, generally punctual schedules, and you can relax while taking in the scenery. Among the finest journeys are the
West Highland Line
through Scotland and the
romantic steam train lines in Wales
.
Pilgrimage walks
Mandy Bright, from our walking vacations partner Walk Awhile, sees a variety of reasons why people embark on pilgrimage walks in England: "Religious, of course, peace and quiet, time and space for reflection. But in recent years it's also been about getting away from it all." Most famous of all, the
Pilgrim's Way
is an ancient route immortalised in Chaucer's
Canterbury Tales.
Wildlife watching
The UK is gaining a sterling reputation for wildlife watching vacations, and
Scotland
in particular. Here, you can cruise the Hebrides in search of whales, dolphins and seals, or go on safari in the Highlands to track otters, pine martens and golden eagles. Sea kayaking, whether off the Welsh coast or in Devon, is another superb way to get up close with marine wildlife.
National parks
There are 15 national parks across England, Scotland and Wales spanning mountains, lakes, coast, moors and forests. But their popularity distorts their purpose. Protection for biodiversity is too often trumped by leisure concerns. Our national park system needs a dramatic rethink – projects like the lauded
Cairngorms Connect
are leading the way.
The coasts
Gradually, in sections, the England Coast Path is opening. When it is finally completed, it will be a 4,300km walking route linking with similar routes around Scotland and Wales and showing off the diversity and beauty of the coastline. Other ways to explore offshore include sea kayaking and small ship cruising, both of which introduce you to the marine wildlife found in these waters.
Island-hopping
The UK is surrounded by smaller islands, including the Channel Islands, Isle of Wight, Inner and Outer Hebrides, Orkney archipelago and Anglesey. All can be reached by short ferry journeys, and some can be explored by small ship cruises. The Scottish islands are particularly renowned for their wildlife, as well as ancient ruins linked to some of the UK's earliest civilisations.
London
Most vacations to the UK begin in London. But why stop with the capital, where the attractions are over-familiar, overcrowded and over-priced? Hop on a train and you can be walking in the Scottish Highlands or on the Devon coast within hours, kayaking in Wales, or taking the ferry from Liverpool to drink in the fresh air in Northern Ireland's Mourne Mountains.
Stonehenge
We're not saying that Stonehenge isn't an amazing spectacle. Ancient, mysterious and monumental, Stonehenge is right up there with the moai of Easter Island. But being so close to London, it sure gets busy, and let's be honest – tickets are very expensive for a short walk around the stones. It's no mystery why, though. Stonehenge is an absolute money-spinner for English Heritage.
Brexit
The UK has finally loosened itself from the shackles of the European Union, and is now free to set its own laws, pursue trade deals, and return to its glory days dominating the world stage. Or, it's an embarrassing, unworkable and entirely self-inflicted disaster that will take generations to resolve. But either way, the referendum happened, we've left the EU, so let's look at the bright sides. Er...
If you'd like to chat about UK or need help finding a vacation to suit you we're very happy to help.

Eating & drinking in the UK
Long seen as the land of meat and two veg, English breakfasts in greasy spoons, and burnt sausages on the barbecue, the UK now boasts one of Europe's dynamic cuisines. There are so many cookery competitions, they're running out of names for them, great swathes of woodland must be cut down every year to satisfy the demand for cookbooks from celebrity chefs, and everyone under the age of 40 either runs or knows someone who runs a microbrewery, gin distillery or coffee shop. Perhaps.
The UK's top chefs know what they're doing and have some wonderful ingredients to work with. Local specialities include Arbroath smokies, Scottish wild salmon, Cumberland sausage, Welsh lamb, Cornish pasties, Melton Mowbray pork pies and Stilton. In Northern Ireland, nothing beats a plate of oysters with a pint of the black stuff, and if you think you'll find a better curry outside the Indian subcontinent, well, good luck to you. And if all that has given you an appetite, we recommend walking vacations as the best way to explore UK cuisine.

As for alcohol, it's true that Brits abroad sometimes give the UK a bad reputation. And if we're honest, Saturday nights in some of the towns and cities can get a little out of hand too. But the way people drink in the UK is changing. Wine production is on the increase as the climate warms, while boutique breweries and distilleries are springing up everywhere.

Whiskies from Scotland and Northern Ireland are prized around the world, while cider from Somerset, Herefordshire and other parts of England has been perfected since Roman times, and it shows.

People & language
Llanfairpwllgwyngyllgogerychwyrndrobwllllantysiliogogogoch (llan-vire-pooll-gwin-gill-gore-ger-ih-queern-drorb-ooll-llandy-silio-gore-gore-goch) is the longest word in the Welsh language, roughly translating to "St Mary's Church in the Hollow of the White Hazel near a Rapid". It's a beautiful language, but one that is in decline, with speakers down from around 80 percent in the early 19th century to around 30 percent today. Usage of the Irish language in Northern Ireland is also falling, despite repeated promises to give it protected status.

One of the most pleasing aspects of traveling in the UK is the diversity of language and accents in what is a relatively small nation. Witness the way in which residents of Merseyside in north-west England call their friends la. Or how Geordies from the Tyneside area in the north-east use howay to mean anything from "come on" to "good luck". In Cornwall, don't panic if someone asks, "Wasson me cock?" It's simply a Cornish expression for "How are you?" In Yorkshire, take reassurance from the phrase be reight – it will be okay. And the Scots, of course, have no end of engaging turns of phrase. "Yer bum's oot the windae" is an old-fashioned way of telling someone they're talking nonsense.

While in theory the four countries making up the United Kingdom and their governments operate in tandem, in practise the ties that bind them are fraying. In 2014, the Scottish independence referendum resulted in a 55 percent victory for the 'no' camp, but the matter is by no means settled. There is a growing Wales independence movement too, while recent local elections have seen candidates stand from parties seeking Cornish and Northern independence.

Exacerbating the situation is Brexit, the 2016 vote to leave the European Union, which has proved to be the most divisive matter to hit the UK in generations. In Northern Ireland especially, where the political situation has been stable since the end of the Troubles, the threat of a 'hard border' that means it is treated as different to the rest of the UK is a thorny issue.

Still, for the most part these tensions bubble away under the surface. From Land's End in Cornwall to John o'Groats in northern Scotland, visitors are warmly welcomed whether they're from other parts of the UK, or further afield. After all, whatever our differences, there's not much that can't be put right over a pot of tea.
Gifts & shopping
Climbers, mountaineers and walkers in the UK swear by the energy-giving properties of Kendal mint cake, a sweet peppermint tablet that found a place in Sir Edmund Hillary's backpack when he summited Mount Everest, and sustained the sailors of Sir Ernest Shackleton's ill-fated attempt to cross the Antarctic by land.

There are whisky distilleries across the Scottish mainland as well as the islands off its coast. Whether you're walking, cruising or mountain biking, a wee dram now and again is just the thing to warm your cockles, and if you find one you like, it's easy to have a case or two shipped home.

The Scottish weather being what it is, it's no surprise that fishermen have for generations relied on Aran jumpers, known for their waterproof properties. Today, they are not only functional but also fashionable, their intricate stitches carrying meaning derived from farming, marriage, religion and life on the open sea.

Penderyn, from the Cynon Valley, is the best, and the worst, in fact the only Welsh whisky, and definitely worth seeking out when in Wales.

How much does it cost?
Cream tea from an award-winning tea room in Devon: £10

Adult's entry to the Tower of London: £30

Seven-day Travelcard for London covering zones 1-6: £70

Average cost of a pint of Guinness in Belfast: £3.40

Family lifts pass for one day in the Cairngorms National Park: £86.50
A brief history of the UK
The story of the United Kingdom (UK) begins on the first day of the 19th century, with a political union between Great Britain (England and Scotland) and the Kingdom of Ireland. Great Britain, created in the early 18th century, had suffered a difficult adolescence. Fractious Jacobite uprisings in Scotland and Northern England were followed by the Napoleonic Wars, and the loss of Britain's 13 American colonies when the US won its independence.
Read more