Unusual vacations in Spain map & highlights
We like to think unusual vacations in Spain have it all going for them. Not only are they a whirlwind of exciting opportunity, they're often based in some of the most beautiful and unspoilt corners of the country – giving you a peaceful escape away from the headline Spanish tourist crowds, even in peak season, while also doing your bit to ease the strain on the more popular coastal resorts. And with most run by passionate local people rooted in community life you'll be contributing directly to the economy of small businesses and tiny towns for whom tourism can be a culture-saving lifeline.
1. Altiplano de Granada
Dubbed the 'Spanish Lake District' by those few in the know, the sweeping high countryside two hours north east of Granada offers lakes and rivers, perfect for adventures in fresh mountain air – but with the bonus of a pleasantly Mediterranean climate. A stay in one of the region's whitewashed Moorish villages puts you at the center of Spain's cultural heartland, while off-grid hotels make the most of dark, remote night skies with guided stargazing.
2. Andalucía
Pick up a paintbrush and clean that camera lens, the clear air, bright white Moorish villages and springtime flowers are the perfect muse for creative vacations in the company of expert tutors. Alternatively, base yourself in a Spanish school in picture-perfect Granada for language lessons with a twist, or learn the secrets of making traditional Iberian ham.
3. Camino de Santiago
Throw off the stays of tradition and take the road – or waves – less travelled along one of the world's greatest pilgrimages by kayaking the Camino de Santiago sea route between San Vincente do Grove and Padrón – thought to be the route taken by disciples returning the remains of St James to be laid to rest at the Santiago de Compostela cathedral.
4. Canary Islands
Forget 'Lanzagrotty' – that moniker was so 1980s – this spectacularly volcanic island can do top-class eco-friendly as well. Discover an off-grid family-friendly finca offering a selection of luxurious yet off-beat accommodations, from a renovated stone water tower to sumptuous yurts with a shared solar-heated pool. All within a stone's throw of a quiet beach and a traditional Canarian fishing village. No bullish beach resorts in sight.
5. Costa Blanca
Forget lazy days on built-up beaches, the Costa Blanca plays host to some of our favourite boot camp retreats where the sand is for star jumps and detox is the order of the day. Less for fitness fanatics, more for those who crave a holistic start to a new health and wellbeing regime – in a region the World Health Organisation has declared to have one of the world's healthiest climates.
6. Picos de Europa
Northern Spain's rugged mountain range should only be talked about in hushed whispers so as to keep this truly Spanish enclave of heavenly hiking off the major tourist radar for as long as possible. Spanish classes for beginners and beyond help you navigate the markets of tiny mountain villages – full of friendly faces who meet your fledgling language skills with enthusiasm. Pair with yoga classes to truly reinvigorate the mind.
7. Rural Mallorca
Forget the booming Brit-infested resorts along Mallorca's more popular beaches, head inland to its sublimely mountainous interior where your vacation neighbours will be craggy peaks and sleepy traditional villages, home to ancient churches and tiny local cafes. Hiking here is wonderful, and don't worry, weary feet can still paddle but in hidden, turquoise-lapped coves well away from the tourist party crowds.
8. Spanish Pyrenees
Some of the least visited corners of the Pyrenees are found in Spain, and almost-perfect peace can be found in its traditional farming hamlets. In the clear mountain air detox and yoga retreats are just as rejuvenating as more strenuous walking vacations. Consider adding language lessons into your trip to make the most of the warm local – and mostly Spanish-speaking – hospitality.
Unusual vacations in Spain travel advice
Choosing alternative routes
Rasmus Pederson, from our Spain specialist Spain is More explains the benefits of choosing an alternative to the more popular Camino de Santiago routes: "If you're a bit adventurous this is the right trip to take. You don't need to be an experienced kayaker, but you need to be prepared to kayak for some hours per day. However the level is adjusted according to the group and individuals. If you don't feel walking the Camino is something for you, this definitely a great taste of the route, as you will also walk the last stage to Santiago – I'm sure you will be hooked for more."
Insights on avoiding the crowds
"The Camino de Santiago is very popular, but the amount of pilgrims is not a problem. What we try to do is to make sure everyone is aware of basic rules how to keep the Camino clean, how to maintain the wonderful spots etc. But we also talk a lot with restaurants and hotels, to encourage them to maintain a high level of service and quality, so the Camino will attract responsible tourists. This kayak trip is only possible in the summertime, so it is difficult to avoid peak times, but on the water it's not so important, as we will not interfere with other pilgrims."
Responsible tourism tips
Ana Rodríguez García, from our Spanish language school Peak Me Languages shares her advice on combining Spanish courses with hiking and other activities in the Picos de Europa mountains: "The area is quite busy from mid July to the end of August. If you can travel at a different time of year, please do – seasonality is a big issue here. Other than that, it is a National Park, therefore common sense is to be applied when doing any outdoor activity to avoid disturbing wildlife, polluting, etc. Make an effort to understand where you are and get to know the local culture. That's what will keep the area alive!"
Hiking advice
"The area is quite steep, so most walks have quite a height gain. The terrain can be rocky, so good walking shoes or boots are a must. We do have easy access to some flatter walks, but they're probably not as impressive. We adapt the level of difficulty of the walks to the level of fitness and ability of the group, so as long as you are reasonable fit, you'll love the routes in the area. On the plus side, it hardly ever gets too hot to enjoy a walk and the weather is really mild for most of the year (March to October for sure)."
Insights on combining Spanish classes with other activities
"Give it a go! The combination of exercising brain and body is super-enjoyable! Students of all ages really love it. If you're into outdoor sports, the area is a haven: you can practice canoeing, caving, climbing, surfing, canyoning and more. If you have been studying Spanish for a while, it's a great chance to boost your skills and learn about the local culture in a little more in depth."
Our Unusual Spain Vacations
If you'd like to chat about Unusual Spain or need help finding a vacation to suit you we're very happy to help.

Tips from our vacation reviews
At Responsible Travel, we think the best people to advise our travelers are often... other travelers. They always return from our tours with packing tips, weather reports, ideas about what to do – and opinions about what not to.

We have selected some of the most useful unusual vacations in Spain tips that our guests have provided over the years to help you make the very most of your vacation – and the space inside your backpack.

It is possible to enjoy this vacation whether you are a beginner or serious painter but you need to remember that there will be different levels of skill and some people will require more attention from the tutor

"Expect to be immersed in authentic Spain. We didn't hear English spoken apart from our fellow travelers and our teachers. Expect everyone involved in providing this experience to be lovely people!" – Jane Smillie

"Ten out of Ten. Perfect for a family with 8 and 18 year old daughters. Enough activities to keep them happy. Wifi to keep them quiet in between times and other children and teenagers for them to hang out with. This is an area of Spain we will be revisiting and is very different to the Costas." – Dominic Galvin

"Although on a responsible vacation, you'd prefer to be without a car, you will need it! It's a rural location and you will need a car to get the best out of your vacation. The area is quite large, with no other transport links. The terrain can also be quite rugged to get up into the national parks and to get to the beautiful caves, walks starts and places of interest – there really is no other way." – Laura Potterton

"Don't worry about fitness levels even though it is called a yoga boot camp it's very tongue in cheek, it is exactly how far you want to go. Make sure you walk down to the sea every day, lovely coastal path." – Lucy Jenks

"It is possible to enjoy this vacation whether you are a beginner or serious painter but you need to remember that there will be different levels of skill and some people will require more attention from the tutor and her assistant than others. Most people travelled on their own and the painting provided a mutual interest." – Patricia Diango

Don't be afraid of trying your new language skills the local people are very friendly and supportive

More about Unusual Spain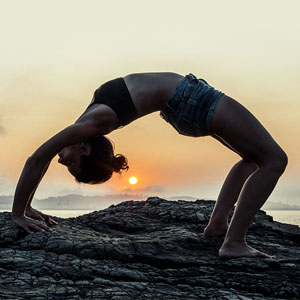 Unusual vacations in Spain offer the warm embrace of real Spanish culture and hospitality and an insight into some of the country's loveliest regions.
From a tour focussing on the production, tasting and cooking of delicious Iberian ham to Spanish courses that can be combined with mountain biking, salsa dancing or hiking.