Vietnam small group vacations guide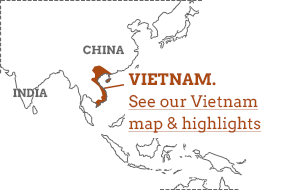 Vietnam delivers sensory overload at every turn. Dynamic cities where streets throng with scooters; the dreamy karst landscape of Halong Bay; diverse and delicious food; the mighty Mekong River; lantern lit Hoi An; the ancient citadel of Hue and sobering reminders of the war with the United States in memorials, museums and war veterans happy to share stories.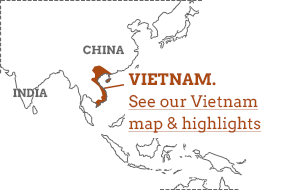 Small group tours to Vietnam take all its hectic cities, ancient sites and spectacular landscapes, and deliver them in a hassle free, expertly guided package.

This is the kind of country you could amble through happily for weeks, drinking in its sights, stories and sensational food, but when time is short – and let's face it, for most of us it is – a small group tour becomes the perfect way to explore. In 10 days or two weeks you can experience key sights and cities, off the tourist trail treats and fun, cultural interactions – a homestay in the Mekong, a cookery class, lunch in a nunnery, a motorbike tour. This is hassle free, time efficient travel, but it's also in depth, taking you to the heart of the country's culture and people in an intense, immersive burst.
WHAT DO VIETNAM SMALL GROUP HOLIDAYS ENTAIL?
Carefully designed itineraries
Carefully designed itineraries
There are numerous small group vacations to Vietnam, so it's easy to find something to suit your budget and available time (although allow at least 10 days to travel the length of the country). A comprehensive tour will take in the celebrated cities, from Hanoi in the north, down through Hoi An and Hue, to Ho Chi Minh City in the far south. A cruise on Halong Bay is frequently added into the mix and, if you have two or more weeks to play with, you can find a tour that ventures further into rural Vietnam, for homestays and farmstays, caves and tea plantations, river cruises, hiking in Phong Nha-Ke Bang National Park, snorkeling around reefs off the Nha Trang coast and exploring the fertile Mekong Delta.
Tessa O'Hara, one of our helpdesk team here at Responsible Travel, recently took a small group trip to Vietnam:
"I did a 10 day trip. When you only have 10 days and you want to see all those places the itinerary needs to have a certain pace or you wouldn't get very far. We had enough time to wander around. We would usually do something guided then have free time to explore. The guide would recommend great places to see and restaurants, too."
On a small group tour, the itinerary is fixed, but there is often free time factored in, for you to explore independently or join an optional excursion. Each itinerary is designed to help you discover the best of the country, which means combining celebrated highlights with hidden gems that independent travelers might miss. Responsible small group vacations also work hard to introduce you to the people of the country, with visits to community projects, local artisans, markets and makers, and homestays, too, for a genuine, real-life experience of Vietnam that goes beyond simple sightseeing.
If
cycling
is your passion, you can find short small group biking tours of three or five days, for instance, that focus on an area such as the Mekong Delta or northeastern Vietnam, while longer trips of 16 days explore more widely, using trains and a support vehicle to help cover the ground in between days in the saddle.
How big is a small group?
How big is a small group?
Small group trips typically run with a maximum of 16 people, sometimes a maximum of just 12, depending on the tour operator. Often, though, tours run without every place being full, so you may be part of a group of only 10 travelers. You will be amongst people of all ages, from around the world, with plenty of solo travelers, too, and as you're all there because of a love of travel, it's easy to bond.
Small group means huge benefits. The group can stay in locally owned, small accommodation, and visit small communities without swamping them, so you enjoy a unique connection with local people. Small group vacations in Vietnam often use local transport, too, including scooters, bicycles and sleeper trains. This is more environmentally responsible and loads more fun, and it throws up more opportunities to meet and chat with local people and understand local life.
Tessa O'Hara, one of our helpdesk team here at Responsible Travel, enjoyed meeting local people on a small group trip to Vietnam:
"We did a cycle tour from Hoi An to some small islands and met families and local producers. We spoke to a veteran of the American war and that was moving, as was visiting the war museum in Ho Chi Minh City – that was pretty intense."
What is the accommodation like on small group vacation in Vietnam?
You'll typically stay in a mix of hotels and guesthouses, with the quality depending on the style and price of the trip (ranging from simple to more comfortable, with en suite facilities). Your tour operator will have an established working partnership with all the accommodation included, so you can trust that's it's a good standard and has proved popular on previous trips. Accommodation is usually on a twin share basis, and solo travelers can share with people of the same gender or request their own room, although this will usually incur a single supplement.
Tessa O'Hara from the Responsible Travel helpdesk:

"We took the overnight train from Hanoi to Hue. It was a lot cleaner and nicer than I thought it might be – you hear stories! The air con can be freezing though so bring something to keep you warm. I had packed a really thin sleeping bag which was really nice to have."
You may spend the night in a family homestay, in the Mekong Delta or in rural central Vietnam, for example. This kind of intimate, unique insight into local life and the traditions of Vietnamese culture is rarely available to independent travelers; and never available to anyone traveling in a large group. Expect accommodation to be simple, with a thin mattress on the floor, a pillow and a mosquito net the typical provision, and shared bathroom facilities.
Your small group guides
Small group tours to Vietnam usually employ a group leader and also local guides at specific sites or for activities such as cycling. The group leader is usually from the country you're traveling in, but not always, and is there to make sure you have the best trip possible and remove any hassles. He or she provides information on the places you travel through, offers suggestions for things to do and see, recommends great places to eat and will introduce you to local people.
The group leader isn't actually a guide, but does have a broad general knowledge – historical, cultural, religious and social – of the places you visit. In addition, on some tours, local guides who have specialised knowledge come on board to help you get the most from key sites. Local guides, and often the group leader, too, are also wonderful at breaking down barriers in your interactions with local people – they've got the language and the cultural know-how to make this possible. Meeting local people and enjoying a chat with them can make the difference between a good vacation and really great, memorable vacation, so the local guides on a small group tour are invaluable.
On a
photography tour
you'll be accompanied by an experienced, professional travel photographer (sometimes as well as a group leader) who is there to provide photography advice, lead workshops, offer feedback and arrange a host of photographic opportunities.
Tessa O'Hara, from our helpdesk team here at Responsible Travel, explains the joy of a small group vacation:
"You don't have to think about anything, it's a nice way to travel. It's very relaxing, with everything is done for you. This is especially great when the language is so different and you can't even read it, but the guide is local and can talk to everyone. This is great, for example, when you're eating out. I'm vegetarian and the guide could check that there wasn't meat in the dishes. Sometimes we'd go out, then some people might go back to the hotel and the rest of us would stay out dancing, and he'd stay with us to make sure we got home safely. He took care of everyone and really looked after us and made us feel safe."
Responsible tourism
Small group tours, by virtue of their size, minimise impact on the countries they visit, but a good small group tour operator will also actively try to include responsible visits and strategies, too, from providing water so you don't need to buy bottled supplies, to taking you to community projects and local charities. This gives you, the traveler, a richer understanding of Vietnam and ensures your tourist dollar is spread wider than the key tourist sites.
Combining other countries
Combining other countries
Seeing Cambodia as well as Vietnam is a well established option, and many small group trips combine these two neighbouring countries. Some begin in Ho Chi Minh City before spending the bulk of time in Cambodia; others take a more balanced look at both countries. A typical itinerary might begin in northern Vietnam with the limestone monoliths of Halong Bay and the heritage of Hue and Hoi An before flying into Ho Chi Minh City. From there, the tour might continue overland and over the border into Cambodia, to take in the capital Phnom Penh before exploring the creeper draped temples of Angkor. You will need a fortnight or more for this level of exploration.
Our top trip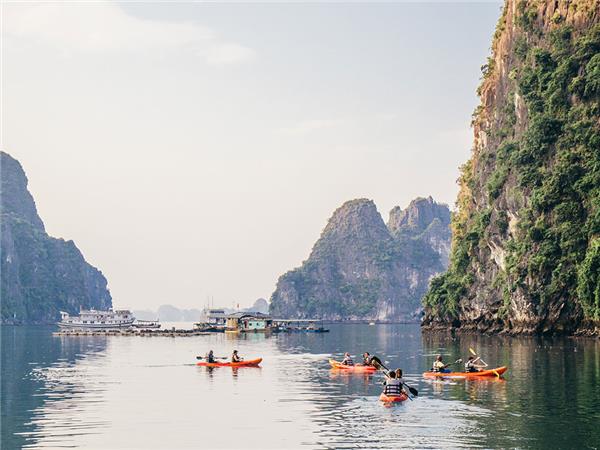 Capture the spirit of Vietnam on this compact adventure
From
US $

1156

to

US $

1605
10 days
ex flights
Small group travel:
Departs every Tuesday, Thursday, Sunday & selected Wednesdays throughout the year
If you'd like to chat about Vietnam small group or need help finding a vacation to suit you we're very happy to help.

Vietnam small group vacation activities
What to do on a small group vacation in Vietnam…
Bring a camera. The lantern lit streets of Hoi An's old town, the limestone karsts and green waters of Halong Bay, sunsets over the Mekong, rice paddies and remote islands – there is much to photograph in Vietnam. If you'd like to make photography the focus of your vacation here, small group tours lead by professional travel photographers take your point and shoot skills to the next level.
Delve deeper into Indochina on a small group tour that takes in Vietnam's neighbours, too. Cambodia and Thailand make great complimentary, but also contrasting destinations, and if you have more than two weeks to spare, small group trips that include Laos, too, are possible.
Vietnam's climate varies from north to south, so do check the weather when you're traveling and pack accordingly. In a single trip, you might need summer gear for the south and waterproofs for the north.
Do read up on Vietnam's recent history and the war with America – to do so is both fascinating and a mark of respect. A visit to the War Remnants Museum in Ho Chi Minh City reveals some of the sobering stories, plus local guides are usually eager to tell you about this chapter of history. You may even meet elderly veterans of the war.
What not to do on a small group vacation in Vietnam…
Vietnamese cuisine is cheap, fresh and abundant, so don't be on a diet. Construct your own spring rolls, slurp pho at a street stall or discover the French-Vietnamese combo of a banh mi baguette. Small group foodie vacations include guided market trips, cookery classes and excursions to discover regional specialities, such as visiting the herb gardens outside Hoi An. Don't dither by the road, hoping for a gap in the traffic so you can cross – it won't come! In Hanoi and Ho Chi Minh particularly, drivers are crazy and the motos don't stop for anyone. You just have to run. This seems terrifying at first, but most visitors enjoy the adrenaline rush after a while, and the satisfaction of acquiring truly Vietnamese road crossing skills. Due to its long, skinny geography, you'll need time to travel through Vietnam so don't expect to do it justice in less than 10 days. Small group tours of nine days exist, some of which focus on an activity such as photography and stick to one or two regions, while other short tours take a whistle-stop approach and include Vietnam and its neighbours. To really see the country, though, allow 10 days or more. Leave space in your suitcase and don't overpack. There is wonderful shopping in Vietnam, from clothes made bespoke by a Hoi An tailor, to ceramics, lanterns, crafts and regional ingredients.
Best time to go on a Vietnam small group vacation

Vietnam's long, narrow footprint makes for a diverse climate, with sharp contrasts between north and south, mountains and coast.

The south of Vietnam is warm and humid all year round. Here, during the May-Nov monsoon season there are brief, heavy showers which don't disrupt travel but may cause flooding in regions around the Mekong. The cold monsoon along the central coast occurs from Oct-Apr and is much less pleasant. In the north, Oct-Dec are warm, sunny months (expect around low 20°Cs) but from late March it is unbearably hot here, climbing to the mid 30°Cs in July and August. When it comes to avoiding the crowds, May, June, Sep and Dec are the best times to visit Vietnam.
Ho Chi Minh City Weather Chart
In January, expect monsoon rain in the northeast and central coast of Vietnam.
Vietnam's New Year celebrations (Tet) take place in January and February. They are a lot of fun, but if you're traveling at this time be aware that some facilities will be closed and travel plans can be disrupted.
March, April and May are hot in the south of the country, with temperatures hitting 40°C. From April, temperatures begin to climb up north, too, with Hanoi experiencing highs of 33°C in May.
From the beginning of June, into July and August, Northern Vietnam starts to experience very hot temperatures which is why it's better to give Hanoi a miss around this time and opt in favour of coastal areas, such as Halong Bay.
The eastern coastal regions can be affected by tropical cyclones from around May to November. This is also when the Mekong Delta is most likely to experience flooding.
September is either the start of the Vietnamese dry season if you're in the north or the wet season if you're closer to Ho Chi Minh. Sea conditions around Nha Trang aren't great for snorkellers or swimmers as October turns to November.
December is one of the best times to go to North Vietnam with warm, but not blisteringly hot sunny days and fewer crowds, especially outside of the Christmas vacations.
More Vietnam small group articles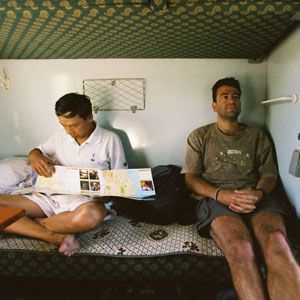 Featuring advice from one of our expert tour operators, and lots of tips from travelers who have been to Vietnam already.