Volunteering with children
From teaching English to kids in Cambodia to helping them learn to swim in South Africa, there are many vacations where you can volunteer with children, making a positive difference to their lives and doing something incredibly rewarding with your own.

In Sri Lanka, you might be assisting local teachers at a community kindergarten, using educational song to encourage children to speak English. In Tanzania you might be pitching in with extracurricular activities in a remote village. And in Madagascar, you could be working alongside conservation research project staff, showing children how they can protect the environment they live in and depend on.

What weíre aiming to show is that there is huge breadth of opportunities when it comes to volunteering with children, but that all of them need to take place within an existing organisational framework to ensure the safety and wellbeing of the child is the core focus at all times. Operators will seek to match your skills with the appropriate project, and you will only find vacations on our website that you can be confident meet our guidelines for safe volunteering.
Our Volunteer travel Vacations
Our guidelines for volunteering with vulnerable children
There are numerous issues when it comes to volunteering with children, but especially vulnerable children in settings such as orphanages. Evidence overwhelmingly shows that family-based care is always going to be preferable for children over any other form of institutional based care, which should always be the last resort.

Responsible Travel have received advice and input from industry experts to help us develop a set of guidelines for volunteering with children to address both the volunteers themselves, and the setting – the priority, at all times, is the safety and wellbeing of the children involved.

Teaching placements in schools should last a minimum of four weeks – and ideally one term – to allow volunteer teachers to develop a curriculum, as well as to build relationships with students and make a real impact on students' language (or other) abilities. Volunteers working in extracurricular activities such as after school support clubs, specialist language schools, or as coaches or teaching assistants may have placements as short as one week, if the sessions have been designed for students with this in mind. When it comes to itineraries and trips that include a day or short visit to a location such as a children's home or a youth center, we only promote them when children will not be present or involved in the visit. We have strict guidelines for any trip that involves volunteering with vulnerable children in any setting, whether that be children's homes; youth centers (including drop-in centers); residential facilities; trafficking shelters; women and children violence refuges and other similar settings.
Our guidelines cover, but are not limited to:
Qualifications, skills & experience
Volunteers must have appropriate qualifications, skills, experience and understanding of vulnerable childcare and our partner must skills-match.
Placement length
Volunteer teaching (curricular) placements must be for a minimum time period of four weeks - extra-curricular teaching placements can be as short as one week: see above
Screening
All volunteers (British) are DBS checked (or national equivalent).
Codes & policies
Partner organisation must have clear and comprehensive child protection policies in place to which all volunteers must agree to adhere.
The setting
Partner organisation must have undertaken thorough due diligence, which means the organisation is properly registered and operating under local law. The children within the setting have arrived through credible government or NGO agencies with the organisation having clear intake procedures and case management files of new children. School age children have access to suitable education.
Read more about our
guidelines for volunteering with children
.
Our top Volunteer travel Vacation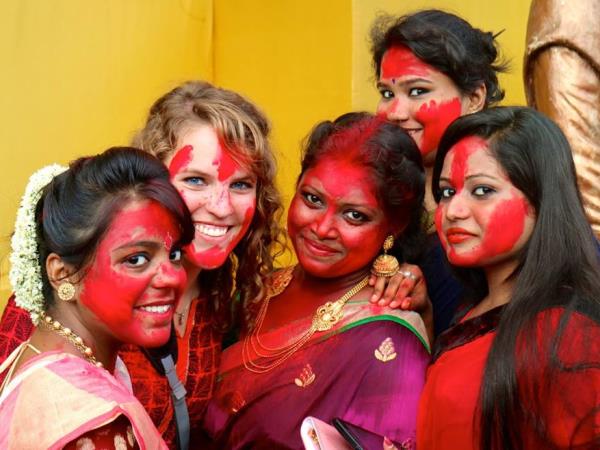 Travel and teach in the gorgeous sunshine state
From
US $

1295
4 weeks
ex flights
Small group travel:
2023: 30 Sep, 7 Oct, 14 Oct, 21 Oct, 28 Oct, 4 Nov, 11 Nov, 18 Nov, 25 Nov, 2 Dec, 9 Dec, 16 Dec, 23 Dec, 30 Dec
2024: 6 Jan, 13 Jan, 20 Jan, 27 Jan, 3 Feb, 10 Feb, 17 Feb, 24 Feb, 2 Mar, 9 Mar, 16 Mar, 23 Mar, 30 Mar, 6 Apr, 13 Apr, 20 Apr
If you'd like to chat about Volunteer travel or need help finding a vacation to suit you we're very happy to help.

The problem with orphanage volunteering
Responsible Travel is completely against orphanage tourism.
It is simply irresponsible for short term and/or untrained international volunteers to work in orphanages. Ample proof exists that constant engagement with a stream of strangers, with bonds forming that are abruptly broken when placements finish, are hugely emotionally damaging to children.
Whatís more, there is evidence that well intentioned volunteers are inadvertently fuelling demand for orphans. In Cambodia, itís estimated that around three-quarters of children in orphanages are not actual orphans. Many of these orphanages turn to volunteering vacations for income and train children to perform and attract foreign donors. You can read more on the
Orphanages Not The Solution
website.
Many institutions are wholly inadequate to meet the complex needs and demands of childhood care and development, with untrained or unqualified staff, poor conditions, or a lack of child protection policies. In such institutions children are at risk of neglect, as well as physical and sexual abuse. Child rights may be further violated, and child safety put at risk, by orphanages that allow visitors or un-vetted volunteers to spend time with children, or that send orphans out onto the streets to canvas for donations, often late at night.
Residential care should be a last resort, but with the growth of orphanage volunteering, parents are tempted to give up their children in the belief that itís the best way for them to be well-fed and educated.
Learn more about the
issues around volunteering with children
.
More about Volunteer travel