Where to go on a volunteering vacation
---
MAKE THE MOST OF YOUR TIME
There's a wonderful world of volunteer placements out there – each as diverse as the countries they are found in. You don't need to go long haul to make have a far-reaching impact; placements can be found in Europe and the UK as well as much further afield. Placements do tend to be in developing countries, and wildlife and habitat conservation projects in particular may involve a long-haul flight followed by a lot of in-country travel to your placement, whether that's in the middle of the jungle or on a remote archipelago. If you'd rather keep traveling time down, a number of placements are in inner city areas, meaning you can fly right in. Here are our top suggestions for where to go on a volunteering vacation.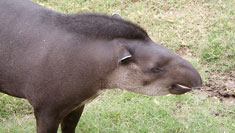 Amazon conservation, Peru
Spanning the high Andes to the Amazon basin, Manu National Park is one of the most biodiverse places on the planet, sheltering rare puma, tapir and spectacled bear. Volunteers here actively track and monitor wildlife, as well as participating in local community projects such as reforestation and sustainable farming – which contribute greatly to the conservation of the rainforest.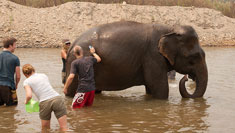 Elephants, Thailand
Thailand's long history of working elephants means there are now sanctuaries across the country full of rescued and orphaned elephants. They need enormous amounts of food, baths and clean enclosures – so there is plenty of work for volunteers happy to get their hands dirty. Many placements are suitable for younger volunteers and families, while fees go towards salaries for local staff, food, medicines and better enclosures.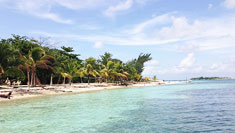 Marine conservation, Belize
Dive the world's second largest barrier reef around Sapodilla Cayes Marine Reserve, monitoring sea turtles and coral degradation, and submitting data on commercial fish species and whale sharks. Placements are suitable for experienced and first-time divers; full training is included. Projects employ local people and train youths to be dive masters, boosting employment in remote coastal Belize.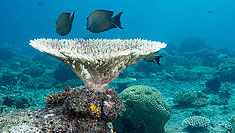 Reef conservation, Indonesia
The coral reefs surrounding Raja Ampat, in eastern Indonesia, are some of the richest and most diverse in the world, with over 1,300 fish species and six species of sea turtle. Volunteers carry out survey dives to monitor the reefs, as well as working on community initiatives and environmental awareness. Experienced divers can jump straight in; PADI courses are available for beginners and more advanced divers.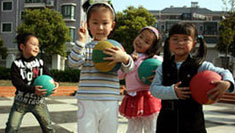 Teach children in China
Mix work and play with a kindergarten placement in China. Working with 3-6 year olds, you can teach English through fun, creative games, supported by a local teacher. Mix English sessions with music, arts and crafts – and improve your Mandarin as you go. It's a real cultural immersion, with options to assist in local primary schools, too.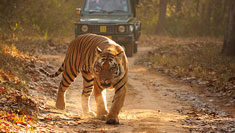 Tigers, India
The tiger is one of the world's most endangered species – and reducing conflict with local communities is key to its survival. Volunteer placements combine conservation activities – such as camera traps and wildlife tracking – with community awareness initiatives including waste reduction, sustainable fuel and visits to the local school. This improves the success of the project – and gives volunteers an in depth experience of life alongside the tigers.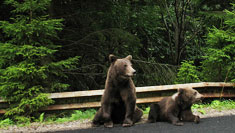 Volunteer with bears, Romania
Romania and bears have a long and troubled relationship. Viewed either as entertainment for tourists or trophies for hunters, attitudes are finally shifting and a sanctuary has been set up to care for rescued bears. Volunteers prepare food, feed the bears and assist with tours, sharing messages about animal welfare. It's hard but extremely satisfying work – with creatures who are in desperate need.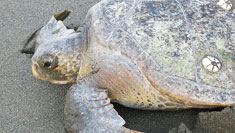 Volunteer with turtles, Costa Rica
Costa Rica is known for its admirable commitment to the environment, and the astonishing range of species living within its compact borders. The sea turtles that nest here are threatened by poaching, fishing and egg theft; volunteers can live beside the beach and guard hatchlings, monitor nests and contribute to data collection that will be used to protect the turtlesand create new regulations to save them.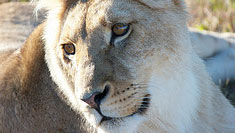 Wildlife conservation, South Africa
Feel like a real researcher in the South African savannah as you track, monitor and collect data on endangered species across Zululand alongside professional conservation teams. Set up camera traps at waterholes, map sightings using GPS equipment and join night tracking excursions. You'll be making a difference to the survival of African wild dogs, cheetahs, rhinos, lions and other threatened species.
Where to go on a volunteering vacation
---
WHAT DO OUR EXPERTS RECOMMEND?

Jon Arnold, from our supplier Oyster Worldwide, offers tips to longer-term volunteers on how to choose where to go:
"For first time travelers who have not done anything like this before, who are doing it as a longer term break – not as just a two-week vacation – then go somewhere that you are never likely to go to again. Go somewhere a little more off the beaten track, where you can't get a direct flight, you've got to go via another country to get to wherever you're heading to. If you've got a longer period of time then it's a good opportunity to go somewhere further away, as you break down the cost of the flight over three months rather than two weeks."
Harriet Whitmarsh, from our supplier, The Great Projects, shares her advice on choosing the right location: "Some projects are located on obscure little islands where travel links are poor and even though that's amazing when you get there, arriving at your destination could involve internal onward flights, or lengthy road travel, which is fine if you're a seasoned and good traveler, but won't be comfortable if you're not. Think about the logistics involved and don't be immediately wowed by the location – places like Mexico and the Maldives are hugely popular marine conservation spots and very easy to get to, but might be a little bit more expensive than somewhere more isolated. Weigh up what's important to you and choose your destination wisely."