You don't need to have a science degree to take part in a marine conservation vacation, or to be an expert scuba diver. In fact, on many trips, you don't even need to know how to swim. The only essential is a passion for the marine environment, and enthusiasm for helping to make a difference.
It's only really in recent years that the health of our oceans and seas has become of widespread public concern – David Attenborough's devastating account of plastic pollution in Blue Planet II was a clear tipping point. Marine environments are incredibly vulnerable to human activity, from overfishing and pollution to unsustainable coastal development and poorly managed tourism. Many coral reefs, the complex ecosystems that support a quarter of all marine life, are tragically already damaged beyond repair.
Volunteering on marine conservation projects
is naturally very popular, given that they often take place in some of the world's most idyllic locations, from tracking dolphins in the Greek Islands to protecting turtles in Costa Rica and monitoring whale sharks in Mexico. Volunteers will typically join teams of trained scientists and researchers engaged on long term projects, pitching in with a wide variety of tasks from collecting survey data to restoring coral reefs and engaging with local communities. What most tend to have in common is hard work and long days, but also the chance to meet interesting, likeminded people and have a great time, too.
Our Volunteer travel Vacations
Do I need to know how to scuba dive?
Marine conservation is often linked with scuba diving, but not all trips require it. Shark monitoring in South Africa for instance involved observing the sharks from the boat, while sea turtle conservation is land-based throughout as you protect eggs and keep track of numbers.
However, if you do want to do a marine conservation volunteer trip that incorporates scuba diving, but you've never strapped a tank on in your life, it's not an issue. Many trips include PADI training, which can be completed in a week. When that's the case, you do of course want a trip that's going to give you ample time afterwards to actually put those skills to good use.
Learning to dive goes beyond the practicalities. Considerable reading and studying is required, as you learn about conservation and attend regular lectures, so if you're not sure that it's of that much interest to you, think about a trip that can be done with just a snorkel and mask, which is an easy way to explore just below the surface without feeling out of your comfort zone.
It's vital, before signing up for any marine conservation vacation, that you check whether the operator follows guidelines for responsible diving and snorkelling, and safe exploration of coral reefs. And before you travel, mug up on how to act
responsibly
while on your marine conservation vacation, too.
Our top Volunteer travel Vacation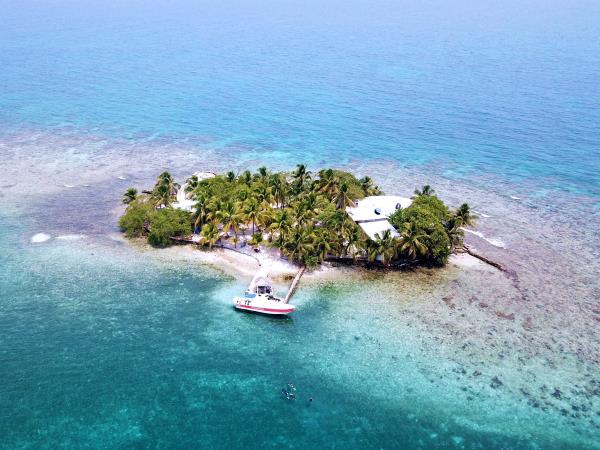 Help us protect coral reefs and marine ecosystems!
From
US $

995
5 days
ex flights
Tailor made:
Departures on weekends but transfers can be made on other days at an extra cost
If you'd like to chat about Volunteer travel or need help finding a vacation to suit you we're very happy to help.

How to choose a marine conservation vacation
Land or water?
Not all marine research projects require you to actually get in the water. If you're not sure that diving is of much interest to you then there are plenty of trips that are land or boat-based. If you're already a diver, you may want to build on that that skill and use it to do something that will benefit the environment, such as helping with reef protection work, collecting data, and identifying fish species. This kind of trip frequently involves early starts, with up to three dives a day.
Do your research
There is great variety between trips when it comes to types of accommodations, the amount of time you'll spend working each day, and how great your involvement will be with the local community, as well as the type of work you'll actually be doing. To ensure a good fit, it pays greatly to spend some time researching to find something that fits your personal interests and skills.
Community work
It's the rare conservation project that can survive without support from the local community. A hallmark of successful projects is the extent to which they work with local people and how well their efforts are perceived. Any initiative you work on is likely to involve at least some contribution in this regard, perhaps talking with children at local schools, discussing efforts to make catches more sustainable with fishermen, or giving presentations to visiting tourists.
Lionfish spearing
There's only one lion we're comfortable seeing dispatched in large numbers, and that's the pesky lionfish. Actually 'pesky' is an understatement – these energetically predatory fish are creating havoc across marine ecosystems from the Caribbean to the Med, even though they're only indigenous to the Indio-Pacific and the Red Sea. They're a particularly big problem in Belize, where it's thought some made their way after escaping from a Miami aquarium several years ago – kind of like a fish A-Team but really bad news. Here they have no natural predators, and ample opportunity to breed, and their numbers have exploded.
Lionfish spearing vacations in Belize
are increasingly popular, and much needed. One cause for hope is that lionfish is actually very tasty, so even if you're not wielding a spear gun, you can still help conservation by ordering it whenever you see it on the menu.
More about Volunteer travel