Family volunteering trips
are not vacations where you have a fairly regular itinerary of beaches and sightseeing with a few 'feel good' activities thrown into the mix. You're not simply a guest, but an active participant. These are trips where you're going to have a lot of fun, you're going to learn a lot, you're going to feel good about yourselves, but you're also going to be put to work.
Such vacations can take many different forms, but usually focus on wildlife and marine conservation, or animal welfare. You might be monitoring
sea turtle nesting on the beach in Costa Rica
, working at a
bear sanctuary in Romania
or conducting a wide range of research tasks around the elephants of Malawi. In most cases you will not be joining lots of other families, but a mix of scientists, conservationists and other volunteers working on established, meaningful projects. Expect to come away as fully fledged converts to the cause of conservation volunteering.
Our Volunteer travel family Vacations
Choosing the right trip for your family
The number one thing you can do to ensure you're
booking a responsible volunteer vacation for your family
is to ask questions – as many as you need. Responsible operators should be completely open about everything from the type and extent of work involved on a trip, to where your money goes, and how the project benefits from your efforts.
Be wary of assuming that an expensive trip must necessarily be high-quality. In fact, in some cases the opposite can be true. Operators should be willing to put you in touch with previous volunteers which is often a good way to really establish how much value a trip will offer, and whether it's right for you. You can also learn about the type of
volunteering projects that it's best to avoid
, such as orphanage tourism.
Age ranges vary according to the trip and the type of activities you'll be participating in. To
help out at a wildlife sanctuary in Thailand
the minimum age is 12, but 14 for those that want to work with the elephants, due to their size. Families with kids as young as 10 can help with enrichment, food prep and enclosure cleaning at a bear sanctuary in Romania.
Ten really is about the cut-off age for family volunteering vacations. Children aged 10 and up are going to really be able to enjoy mucking in and get a lot from the trip. This kind of vacation is also perfect for teenagers who have already flown the nest to go to college or university; those that have adjusted to a new life but are still keen to be involved in family vacations in some way. And, of course, there is no maximum age limit on family volunteering trips – active grandparents are more than welcome.
As trips usually last at least a week, and the longer you can stay the better, for most people the
best time to go on a family volunteering trip
will be during the school vacations. There are plenty of opportunities that fit neatly into these arrangements, for instance at
February half term
you might swap the ski slopes for South Africa, or in
October half term
head to Costa Rica for some autumn sun and volunteering with turtles.
Of course you can also tie some volunteer work into a longer vacation and in many locations there will also be activities available during your downtime, from snorkelling to village visits – another key factor to keep in mind when considering a trip.
About the most responsible thing you can do when volunteering with your family is appreciating differences. On pretty much any volunteer project abroad you'll be immersed in cultures and lifestyles some way from what you're accustomed to, and it will be on you to adapt to the routines of your host community rather than the other way around. You'll also need to adapt to different climate, food, and accommodation, so really it's all about preparation and flexibility. Again it all comes back to asking plenty of questions before travel.

There is no standard 'type' of family that suits a volunteering vacation, but there do tend to be personality types that veer towards them. If your family generally has a desire to be active on vacations rather than limit themselves to the beach and the pool, if you enjoy learning new skills, and engaging with different cultures, you may find this kind of trip very appealing. And of course given that many trips involve wildlife conservation, a passion for the natural world goes a long way, too.

You will need to put more time aside for planning than you probably would for a regular vacation. Although you will be dealing with an expert volunteering organisation that will handle all the logistics on your behalf where the project is concerned, the rest will be up to you. These are not 'click once and book' trips. You may need to research flights, transport to the volunteering site, insurance and any further travels or adventures within the country after your volunteering time. Operators may well be able to offer assistance or advice in all these areas, but not always.
Teamwork is central to a volunteering vacation. Every member of the family will be able and expected to contribute in some way. Everybody has something to offer, and actively engaging in a culture and working together really develops family bonding. You will be well-briefed in advance about the type of work involved, what to expect from your accommodation, safety issues, location and so on, so that you will be ready to hit the ground running.
Children with special educational needs are more than welcome so long as the parents are happy that the facilities and ambience on site will be appropriate. Our responsible volunteering organisations will be open to all questions to put any concerns to rest or indeed advise that, with a child's particular needs, it might not be suitable. Do note, however, that at the present time, mobility needs can be difficult to cater for on many volunteering trips, due to the fact that the terrain is often quite rough. But it's always worth double checking with the volunteering organisations.
Our top Volunteer travel family Vacation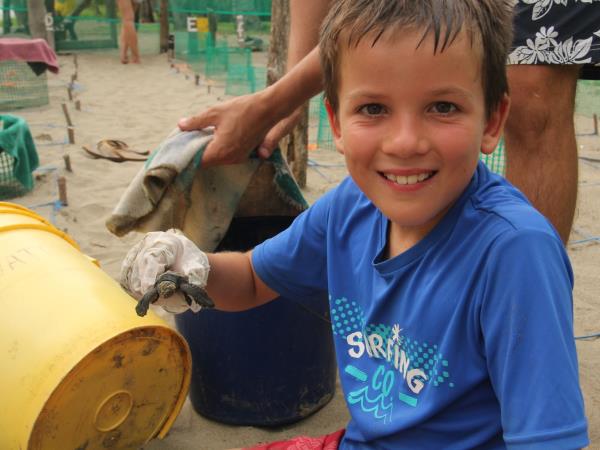 Family turtle conservation volunteering in Costa Rica
From
£

1302
7 days
ex flights
Tailor made:
Tailor made: Flexible departures July - December (nesting season)
If you'd like to chat about Volunteer travel or need help finding a vacation to suit you we're very happy to help.

FAMILY VOLUNTEERING ADVICE
Jon Arnold, from family volunteering specialist Oyster Worldwide:
"If this is their two week vacation that they're doing over the summer, it's giving the kids much more of a cultural understanding, it's giving them a lesson in how great it is to volunteer, and really making the most of their vacation time. They're not just staying in an all inclusive vacation resort and lying on a beach. They're actually doing something really worthwhile with those two weeks. And these are projects that we've picked particularly because there are things for the children to do and to contribute to as well."
Ellie Petrie, from volunteering specialist Pod Volunteer:
"Our horse rehabilitation project accepts families. It's a lovely project as you can really get involved in the family environment that they have there. It's run by two women originally from Gloucestershire, then they moved over there and set up the project about 20 years ago now. The volunteers get involved with helping out with the horses and helping with the rehabilitation of an individual horse if they're there for over four weeks. But while they're there, they get involved in the local community, in whatever the family's doing, and just mucking in wherever they can. So it's really nice for families to go along and help in all the aspects. We have different minimum ages for each project, and for that project there's a minimum age of 12."
Tim Williamson, Responsible Travel's Director of Marketing and Content, had a wonderful experience in Swaziland with his sons, then aged just nine and six: "When planning our three months volunteering in Swaziland it was really tough finding the right organisation. Information was inconsistent and difficult to find, but luckily some friends in the volunteering sector introduced us to All Out Africa and their very organised programme in Swaziland. Volunteers act as teaching assistants in their pre schools for orphaned and vulnerable children, as long as they commit to at least one month. After three months, teacher Gugu told us she had seen a dramatic improvement in the children's English because they wanted to speak to our sons, rather than because of our expert assistance!"
More about Volunteer travel