Where to walk in Portugal
---
OUR PORTUGAL WALKING HIGHLIGHTS
A walking vacation is the perfect way to appreciate this country. You can be surprisingly close to Lisbon or the touristy Algarve coast, yet hiking through peaceful, unspoiled scenery. Opt for centre based, self guided walking in the westerly Sintra-Cascais Natural Park or through the rolling hills of eastern Algarve. For a great overview of the western Algarve and Alentejo, trek point-to-point on the Rota Vicentina, tackling manageable daily sections of 15-25km. Choose a trip with luggage transfer and you're free to hike light, cooling your feet in clear rivers or the rolling Atlantic at the end of each day. Our map below gives more inspiration on where to walk in Portugal.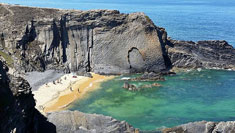 Alentejo
The Parque Natural do Sudoeste Alentejano e Costa Vicentina is the largest coastal park in Europe, a rolling landscape of river valleys, dramatic cliffs and golden beaches. The Fishermen's Trail, part of the Rota Vicentina, sits within it, hugging the cliffs for 120km and often skirting precipitous drops. Views are long and spectacular and there's wildlife to spot, from rare fishing eagles to the world's only shore-living white storks.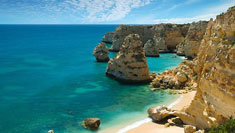 Algarve
Base yourself a mere 10km inland from Faro and you're perfectly placed to access the Algarve's most unspoiled walking routes. Follow the 'backbone' of northern Algarve on the Via Algarviana, head for the wild west coast between Sagres and Odeceixe or explore the unspoiled east, with its rolling hills, rivers, sandy beaches, natural parks and elegant towns such as Tavira.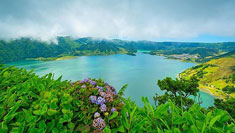 Azores
This lush, green archipelago of volcanic islands in the Atlantic Ocean, peppered with steep craters, feels a long way from Portugal. Each of the nine islands is ideally explored on foot, so you can get close to the lava plateaux and volcanic lakes. You'll have flat, well-maintained paths under your feet with the odd stretch of rough terrain, too.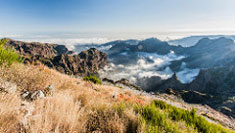 Maderia
Madeira has a great mix of walking for such a compact island. Trek the remote, dry eastern tip at Ponta de Sao Lourenco or the spectacular north coast path, or stroll along the flower-lined levadas, the irrigation canals that thread through the island. Want to test your calves? Hike through chestnut and eucalyptus woods, fragrant with wild thyme, to climb the 1,862m Pico Ruivo.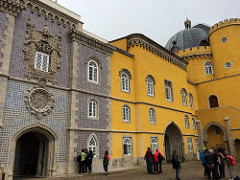 Sintra-Cascais Natural Park
Just 25km from Lisbon, this UNESCO World Heritage site is home to the Serra de Sintra mountains, where dry stone walls divide fields between picturesque villages. Its wild landscape stretches right to the coast, where Cabo da Roca is continental Europe's westernmost point. The park contains miles of walking trails, with centre based trips popular here, and its mild Atlantic climate means you can explore year-round.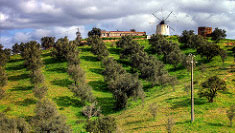 The Historical Way
Part of the Rota Vicentina, the Historical Way stretches from Santiago do Cacém in Alentejo to Cabo De São Vicente in the Algarve. This ancient pilgrims' trail crosses wildflower valleys and cork forests, with sections such as San Luis to Odemira revealing a verdant side to inland Alentejo. It's dotted with churches, old country houses and pretty time-warp villages like Odeceixe where locals love to chat.


PORTUGAL WALKING HOLIDAYS TRAVEL ADVICE
---
TIPS FROM OUR FRIENDS IN PORTUGAL
When to walk in the Algarve
---
June Zaft, from our supplier Country Walks:
"It's definitely too hot to walk in July and August in the Algarve, when temperatures reach 30°C plus. The rest of the year is perfect for walking. The Algarve's 300+ days of sunshine a year make it a particularly attractive destination during northern Europe's colder months and prices are very reasonable. For nature lovers, the spring is particularly wonderful, with carpets of wild flowers covering the ground in a mosaic of vibrant colours, arguably the best in Europe."
Why opt for centre based?
---
June Zaft, from our supplier Country Walks, gives her insights on walking in the Algarve, from where and how to when: "It's easy to do a centre based walking vacation and more relaxing since one does not have to pack and unpack every day. Our base is in a lovely rural village, Estoi. It is central to all the best walks, to the north, south, east and west. A car is essential to be able to experience all the different landscapes and driving is very easy on uncrowded and excellent, EU-funded motorways. Route finding is also very easy and we provide full directions. The driving time varies from 20 minutes to 60 minutes to reach the start of walks."
Packing advice
---
Ricardo Estevao from our supplier Aventuractiva:
"Hiking boots are a must if taking the sandy trails along the coast of Alentejo and the Algarve, as well as a hat and sun protection. I would also suggest a 25-litre backpack to carry a picnic and plenty of water. The Fishermen's Trail in the Alentejo Region is the most spectacular area, ideal if you only have a few days to do it. Walk along deserted beaches with stunning cliff areas and a great landscape variety; I love the stretch from Porto Côvo to Odeceixe village."
How fit you need to be
---
June Zaft, from our supplier Country Walks: "Walking in the Algarve can vary quite considerably, depending on choice of area. The walking on our vacations is fairly easy and relaxed and well within the capacity of any active, normally fit person. There are no very steep gradients and all the walk include places for an enjoyable lunch in village restaurants. We also include cultural commentaries to provide visitors with background knowledge to enhance their vacation and increase their appreciation and understanding of the land through which they are walking."
PORTUGAL WALKING HOLIDAYS TRAVEL ADVICE
---
TIPS FROM OUR TRAVELLERS
At Responsible Travel, we think the best people to advise our travelers are often... other travelers. They always return from our tours with, packing tips, weather reports, ideas about what to do – and opinions about what not to.

We have selected some of the most useful walking in Portugal vacation tips that our guests have provided over the years to help you make the very most of your vacation – and the space inside your suitcase.
"Bring binoculars so you can get a closer look at the storks and their nests, cleverly situated on remote, high rocks by the sea. And bring plenty of socks as the sand may well end up in your shoes as it did ours! Be prepared for spells of walking/ploughing through tracts of soft sand which inevitably slows down the pace a bit." – Rosemary Cunniffe

"The Rota Vicentina is very reliable and marked with great frequency, but make sure you become acquainted with the marker system of the trails before you begin. The markers even go so far as to let you know when there may NOT be anything to follow for a while. For those afraid of heights, parts of the Fisherman's Trail will prove challenging. The fishermen who carved this original trail were, in a word, crazy! There are times the trail literally skirts a sheer vertical edge 130m above a pounding sea. It is very stable ground, but intimidating. Most of the time there is an alternate route." – Jeffrey Fish

"Pack light, carry plenty of water and a First Aid kit. In short be prepared for any conditions. We were provide with a GPS downloaded with the trail maps. This was an excellent tool." – Barry Corbett

"Be prepared for weather in Alentejo to be unpredictable in March. Bring a fairly heavy rain poncho and a warm hat that covers the ears - it can also get windy at the coast - or come in April when the sun is more common." – Kathy House

"In Sintra, consider hiring a guide to really get the most out of your visit. Our guide was extremely pleasant and knowledgeable and added so much to the whole experience." - Joanne Deller