WHERE TO GO ON A WATER SPORTS MULTI ACTIVITY HOLIDAY
Whichever part of the world you're interested in there's a water sports multi activity vacation to suit your interests and energy levels, be it snorkelling and wildlife spotting in the Galapagos Islands; rafting rushing rivers in Croatia; or getting some caving action in the French Pyrenees. Whatever your destination, make sure you take time to try the cuisine, chat to the local people and soak up the scenery around you – it will make the experience all the more worthwhile.
1. Croatia
Water sports activity vacations in Croatia
offer a huge amount of variety and are suitable for families, couples and singles alike. Sea kayaking past idyllic coves along the Dalmatian coast, white water rafting the grade three rapids of the Cetina River, or cliff jumping, swimming and snorkelling in the waters surrounding low-key Vis Island are just some of the many highlights.
2. France
France's mountains are the ideal destination for some
water based action
. A trip to the French Pyrenees, for example, could include exhilarating days descending the rapids of the Gave de Pau River, refreshing swims in the Glere Lakes, canyoning around the caves and rivers or taking an icy shower in the refreshing spray of the Grande Cascade – the highest, free hanging waterfall in Europe.
3. Galapagos Islands
These world famous islands are known for their incredible wildlife and scenery, and a
Galapagos Islands activity vacation
lets you enjoy it all with some heart pumping adventure on the side. You could paddle a kayak through clear seas past seals, penguins and tropical birds; or snorkel in clear waters where sharks and tropical fish and rays make their home.
4. Greece
Greece's turquoise waters are just the ticket when it comes to
water sports activity vacations
. As well as bay to bay sea kayaking, snorkelling, scuba diving and swimming around one of the country's many gorgeous islands, you could also head for the mainland to try some adrenalin pumping white water rafting on the mighty Loussios River.
5. The Maldives
These swoon inducing islands are not just for honeymooners; the Maldives is a first rate destination for an
adventurous water sports activity vacation
. Highlights include snorkelling and scuba diving in pristine reefs, kayaking through clear waters and using the breeze to your advantage to windsurf, surf or sail.
6. Turkey
Turkey ticks plenty of
water sports activity
boxes. You could base yourself in the waterfront town of Kas, from where you can swim, snorkel or explore the coastline by kayak, paddling over one of Turkey's most famous sites, the sunken city near the island of Kekova. Or, head inland to go tubing through the dramatic scenery of Saklikent Gorge.
If you'd like to chat about Water sports multi activity or need help finding a vacation to suit you we're very happy to help.

WATER BASED ACTIVITY HOLIDAYS ADVICE
IS PREVIOUS EXPERIENCE NEEDED?
Ana Vujakovic from our Croatian supplier, Huck Finn Adventure Travel:
"No prior experience is necessary to take part in one of our activity vacations. To participate in the activities guests would need to know how to cycle or swim, but they do not need to practice any of the activities regularly or be particularly fit in order to enjoy the vacation."
Ivana Grzetic Vlahov from our supplier Adria Adventure, also in Croatia:
"No previous kayaking experience is necessary providing you can swim, your health condition is good, and you are reasonably fit. Practicing your favourite sport during your free time would definitely be useful, in fact doing any type of physical activity before the tour would be great."
Danniell Saunders from our supplier Uncover the World on the Maldives:
"No previous experience is required for our Maldives trip as all the activities include a coaching session with your own instructor. Just bring along your sense of fun and adventure! It is designed for guests of all ages, fitness level and ability. Guests should be able to swim, but no snorkelling or SCUBA experience is required. Every activity offers training and coaching for new comers and plenty of time to gain confidence as well as free time to give it another go."
ARE WATER SPORTS ACTIVITY HOLIDAYS SUITABLE FOR FAMILIES?
Ana Vujakovic from our supplier Huck Finn Adventure Travel:
"Our activity vacations are great for families, though they work better for older children. The minimum age required for booking one of our trips is eight years old, and they need to be accompanied by their parent(s)."
WHAT'S THE BEST TIME OF YEAR TO COME?
Ana Vujakovic, Huck Finn Adventure Travel:
"Our season is May to September in most areas. We start operating select trips and tours in April and continue until October. May is usually warm enough for swimming in the south of the country, for example in Dubrovnik. Croatia gets busy in July and August, which is the school vacation period. September tends to be warm and sunny and the crowds are usually gone by then."
Ivana Grzetic Vlahov from our supplier Adria Adventure:
"Our season is from the beginning of May until mid October; and July and August are our high season, when sea temperatures can reach as high as 27C. If you want to go kayaking, June and September are usually the nicest months."
Danniell Saunders from our supplier Uncover the World on the Maldives:
"The Maldives can in fact be visited year round depending on your criteria for a vacation. If surfing is your main priority, then the low season of June to September is the best time of year. For diving, snorkelling and exploration it can be a round year destination. December to March is high season when rates will be at their highest though there's usually calm seas and plenty of sunshine. The basic rule is that reef life is more varied, and visibility is better on the western side of any atoll from May to November and on the eastern side of any atoll from December to April."
WATER SPORTS ACTIVITY TIPS FROM OUR TRAVELLERS
At Responsible Travel, we think the best people to advise our travelers are often... other travelers. They always return from our tours with packing tips, weather reports, ideas about what to do - and opinions about what not to.

We have selected some of the most useful water sports multi activity vacation tips that our guests have provided over the years to help you make the very most of your vacation - and the space inside your suitcase.

Everything about the vacation was mesmerising. The location is perfect, the view impeccable: an azure, crystal-clear river

- Julie Stolyarchuk, watersports activity vacation in Croatia
"Shoes to go in the water with are essential! And fingerless gloves for paddling/rowing to save from blisters would also be very good!" - Lucinda Whitehead, water multi sport vacation in Croatia

"My two boys (aged 10 and 12) really enjoyed this trip, with a new activity every day from rafting and sea kayaking, to cycling and hiking in the beautiful Greek countryside. Our guides were warm, friendly, knowledgeable and competent. They really brought the group together and we all had a fantastic time." - Rebecca Sutherland, multi activity vacation in Greece

"For us the most memorable part of the vacation was that we were treated like friends rather than paying guests, showing us the culture, history, sights and wildlife of the Island. We were able to do as much or as little as we wanted with or without a member of the team, all of whom do their upmost to make your vacation one to remember" - Alison Grifin, Vis Island activity vacation in Croatia

Do not even clean teeth using local water. Sea water can be quite cold (especially at Kicker Rock). Wet suit hire is cheap and advisable for some. Good mosquito prophylaxis is essential.

- Elizabeth Powell-Brett, Galapagos wildlife and activity vacation
"Be prepared for cold and wet weather in the mountains – it can happen, and we experienced it for a couple of days before it turned beautifully warm and sunny." - Caroline McGregor, Montenegro multi activity vacation, surf and turf

"Be flexible – nature (i.e. the weather) determines your rhythm and activities and not your itinerary. Our guides daily words: always carry sunscreen, drinking water, your camera and a rain jacket." - Pamela Krueger, Galapagos Adventure Vacation

"Everything about the vacation was mesmerising. The location is perfect, the view impeccable: an azure, crystal-clear river with hidden alcoves and a waterfall, rolling hills, fantastically huge stars against an ink-black sky... It's absolutely off the beaten track and the sports activities immerse you in the essence of the nature of mainland Croatia." - Julie Stolyarchuk, watersports activity vacation in Croatia
More Water sports multi activity articles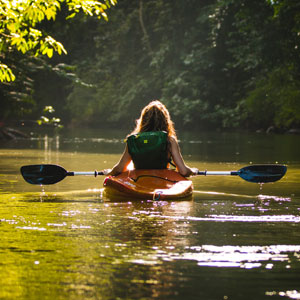 Get your over and underwater kicks in a multitude of different ways, while getting to know a new part of the world.