Where to go on a wolf tracking vacation
---
Make the most of your time
Wolf numbers in Europe are on the rise – around 12,000 animals live here – but that doesn't mean they're easy to spot. Living in small packs or alone, they are shy, well camouflaged and often move around at night. The Carpathian Mountains of Slovakia and Romania and the primeval forests of Poland are wild, exciting places to track wolves, but you could be lucky and spot one in France or Sweden, within a short drive of Stockholm or Nice. For a higher chance of a sighting, try Canada or the USA, with Yellowstone National Park a hotspot, home to around 100 wolves.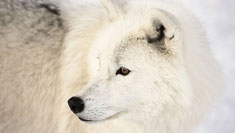 Canada
Visiting the remote tundra of northern Quebec, tracking in the twilight of the midnight sun, is a unique wilderness experience. This is remote terrain, demanding various flights to reach, but with the right guides who have knowledge of the migratory, hunting and den cycle activities of wolves in the area, there's a great chance of seeing these amazing creatures.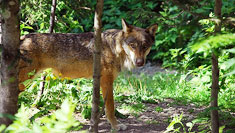 French Alps
Wolves were wiped out in France at the beginning of the 20th century, but in the 1990s, a handful loped over from Italy and now live in the Southern Alps and Mercantour National Park. They are a rare sight anywhere in Europe, but especially this side of the Italian border, but if the star doesn't show, mouflon, chamois, wild boar and eagles make a fine supporting cast.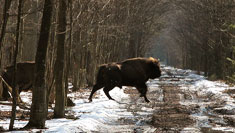 Poland
Sightings of wolves in the mountains of southern Poland happen several times a year, and tracking trips run here in autumn, or head to the Bialowieza Forest, a chunk of the huge primeval forest that once covered Europe. Come in winter to track wolves, bumping into European bison, wild boar, red deer and even lynx, too. A guide steers small groups to carefully chosen sites where wolves have been seen before.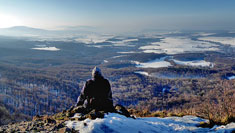 Slovakia
The Carpathian Mountains of Slovakia are home to wolves, bear and lynx. Most vacations here take a conservation angle, and anyone with a sense of adventure and love of wildlife can join. Wearing snowshoes to track these large carnivores through snowy forest and meadow habitats, you will work alongside international scientists, gathering data and even radio-collaring animals.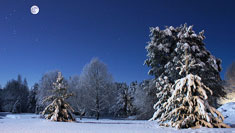 Sweden
Wolf tracking vacations here take place in the center of the country, but wolves in Sweden are very shy, so the main focus of a trip here is to listen for howls, search for prints, territorial markings and killed prey and to feel their presence, even if you don't see them. Track wolves across frozen lakes and through dense spruce forests in winter. In summer, spot roe deer, moose and beavers, too.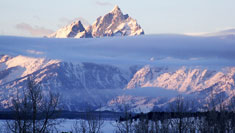 Yellowstone National Park, USA
Reintroduced to the park in 1995, wolves can be spotted close up with thrilling regularity, outside of the busy summer months. Winter is the best time to see them and the north of the park remains open to road vehicles. Here, head for the Lamar Valley, dubbed the Serengeti of North America, for the chance to spot wolves hunting herds of bison and elk.


Wolf tracking vacations travel advice
---
Tips from our wolf-tracking friends
Wolf tracking in the USA
---
Martin Royle, Director of our supplier Royle Safaris: "By far the best time to try and see wolves in the USA is during winter. This is due to the fact that after the annual rut of the bison and elk the males are very tired (near constant fighting and mating for weeks on end) and so they are easy pickings. The wolves also dominate the ecosystem during this period as the bear species are hibernating. It is the main breeding season for the wolves and so they are more active in trying to find mates and establish new packs. So I would recommend January – February for wolf watching in the USA."
Wolf tracking in Poland
---

Lukasz Mazurek of our supplier Wild Poland explains the best thing about wolf tracking in Poland:
"There are three or four packs in the Bialowieza Forest, so around 30 wolves. We don't hear them so often over winter, but being close to pristine nature and tracking wild wolves, knowing that they have just been here last night, that the prey we found was hunted down last night or so, is an unforgettable experience. Then we revisit the prey on the next day and can once again see their fresh activity."
Traveling with a guide
---
Martin Royle, Director of Royle Safaris, our supplier specialising in wolf watching vacations in the USA, on the value of a good guide: "Make sure you have a good guide – invaluable when you are looking for an intelligent, top level carnivore that is naturally elusive and shy. They also have huge territories and very rarely stay in one place for very long, so someone who knows the area is vital. Also someone who knows the wolves and the individual packs and pack members and subtle variations in temperature, weather and prey movements can affect where certain wolves and packs are likely to be. We use a Yellowstone ecologist for our wolf watching tours here and he has direct access to the wolf biologists who study the wolves on a daily basis."
Wolves on film
---
We received a tip from some children who have been learning about wildlife through their local youth center. John and his tutor Rachel sent us a link to a website which explains
how video surveillance can be used to learn more about wolf behaviour
. Take a look at the videos to learn about pack dynamics, how wolves mask pain and tolerate extreme weather conditions.
Wolf tracking in Sweden
---

Marcus Eldh our supplier from Wild Sweden gives the lowdown on winter wolf tracking:
"It is not a hard trip since we sleep at a nice guesthouse, and this is Central Sweden, not Lapland so the winter conditions are not usually too difficult. But we always advise to bring proper winter clothing and dress in layers. We provide hot drinks in thermoses and sauna in the evenings."
Winter temperatures in the Alps
---
Sally Guillaume from our supplier Undiscovered Mountains, gives this insight into winter weather in the Alps: "The temperatures where we wolf track in the Alps can get as low as -12°C (I've only had this cold once) and high as 15°C in January. I would say on average -4°C to 10°C in winter. It really depends on the day. Suffice to say you need to be prepared for the cold, but in layers so you can strip off when it gets warm! Also worth mentioning that the cold is a very dry cold so doesn't get into your bones in the same way as it does in damp climates. The refuges we stay in are also heated with wood burners and can get quite hot."
Wolf Tracking Travel Advice
---
Tips From Our Travelers
At Responsible Travel, we think the best people to advise our travelers are often... other travelers. They always return from our tours with packing tips, weather reports, ideas about what to do – and opinions about what not to.

We have selected some of the most useful wolf tracking vacation tips that our guests have provided over the years to help you make the very most of your vacation – and the space inside your suitcase.
"Follow the equipment list exactly. We needed everything on the list, and felt well prepared. Sun hats to winter woollies; all came in use!" – Sophie Tyrrell, in France
"If you go in winter, dress properly and you will be fine. If you are after wolves, be realistic, it is not easy to spot them. Bring a good pair of binocular, lots to see but often from a distance. The most memorable part of the vacation was… the silence of the forest and just being in such pristine nature. The forest itself was overwhelming." – Amanda Tappenden in Poland
"The best thing was hearing the wolves howl but the walk through the woods looking for signs of wolf and moose activity was also magical. Standing in the woods silently, in the dark waiting for the howl is an intense experience. Go determined to enjoy all parts of being in the outdoors with wildlife experts. Hearing or seeing wolves should be an extra bonus if it happens." – David Green in Sweden
"Make sure you dress in layers as you can get very cold when standing around, but you can also get warm when trekking through the snow. You need a decent level of fitness for the wildlife tracking, otherwise you probably won't enjoy the vacation." – Tamara Lee in Transylvania
"This tour was memorable for all of the right reasons. If the aim of the company is to ensure guests 'collect memories not things' then they certainly delivered. The ethereal scenery sets the tone for the tour, each day going with the flow of nature and it's wildlife. The anticipation of finding tracks or wildlife sightings is all part of the fun. It is food for the soul." – Rachel North, in Sweden