Family adventure vacations in Canada
There are Olympian gods and a Lightning Thief battling it out along the wild Pacific Coast. Oh wait, no, it's Ethan Hunt on his
Mission: Impossible
, shinning his way down the Shangri-La skyscraper in Vancouver. And is that Wolverine (or is it Rambo?) sprinting through the distinctively mountainous Pacific Northwest rainforests?
There's a familiar look to Canada, largely because it doubles as one big film set. Vancouver is 'Hollywood North', with a film industry
only beaten by Los Angeles and New York City
. Even Godzilla has had a go at stomping all over the country for the 2014 remake. Massive tax breaks aside, there's a reason why loads of action-adventure flicks are filmed here: the landscape lends itself to drama.
Our Canada family Vacations
Lights, camera, action
It's hard to be half-hearted when going on vacation in Canada, so most family vacations are adventure vacations. You don't just look at the mountains; you hike them. You don't float downriver; you white water raft it. You don't drive an hour to the next town; you drive for eight hours through glacier fields. The forests don't just home sedate brown bears; there are 300kg grizzlies to avoid, too. It sounds like a challenge, but it isn't. Canadians are really, really good at making adventure accessible to families.
The best family adventure vacations in Canada are designed by travel specialists and steered by guides who know that you're being forced to travel in peak vacation season, and therefore ease you away from the crowded viewpoints and take you to lesser-known adventure outposts instead. They'll help you carefully navigate a country that refuses to pull any punches.
Top 6 family adventure activities in Canada
1. Zip (line) around Whistler
What with the snow cannons and alpine ski hills, we wouldn't recommend touching Whistler village with a bargepole in winter. But it is pretty good at encouraging year-round tourism, so you'll find the runs swapped for mountain bike trails and mountaintops swapped for high-rise hikes in summer. Whistler is unapologetically geared towards adrenaline junkies, and there are usually kid-friendly versions of every adult activity. It's also home to the longest zipline in North America – 'The Sasquatch' – which unspools through 2km of mountains at the foot of the Canadian Rockies.
2. Kayak in whale country
Nothing quite teaches you respect for nature like sitting in a kayak while an orca's 2m-high dorsal fin glides past you. It's not dangerous – unlike in captivity, there haven't been any incidents of human-orca conflict in the wild. That's because you're not a threat: you and the family float peacefully in a cove, while your guide reveals what you're watching – perhaps a resident mama orca teaching her calf how to corner salmon in a fjord, or a lone out-of-towner chasing seals up the Georgia Strait.

Some of the biggest – and most endangered – pods of orcas in the world kick around Vancouver Island, so most family vacations that include sea kayaking will take you there. They share their patch with humpback and grey whales, plus a float of sea lions, seals, sea otters and bald eagles, so keep your peepers peeled for those too.
3. Set up camp in Jasper National Park
Let an eagle screech be your alarm call when you camp in Jasper National Park. Some camps pitch up by the rushing Athabasca River, some beside Honeymoon Lake, while others offer a glacier view from the opening of your tent.

Most family adventure vacations in Canada will include a few nights camping in Jasper National Park, putting you up at a campground ready-made for families. Bear-proof lockers, firewood, log cookhouses and late-night alcohol curfews are often part and parcel. Campsites book up well in advance in the summer vacations, but your vacation company will be able to get you permits.
4. Stand your ground on the Athabasca Glacier
The Columbia Icefield is the biggest icefield in the Canadian Rockies, corking the continental divide between British Columbia and Alberta. Athabasca is the star of the glaciers here – a stark reminder of climate change, having retreated more than 1.5km in 125 years. You can hike a segment of it, making sure to look out for the date markers and the ice-blue streams trickling metres below your feet. A guide will steer you clear of the crevasses and its people-packed peak hours.
5. Shoot down Kicking Horse River
Like most rollercoasters, Kicking Horse River lulls you into a false sense of security by drifting along the upper canyon… before laying out 22km of roaring Class III-plus rapids. Your vacation company will match you up with local guides who know these white waters – and how to rocket over them – completely, so you can concentrate on paddling your heart out until you get to the barbecue spot. Just remember to look up from the rapids when you get a moment – you're lurching through some of the grandest canyons in the Canadian Rockies.
6. Canoe around Emerald Lake
Ditch the crowds at Lake Louise and head to Emerald Lake in Yoho National Park instead. Its canoe launch is just as well set up for families, but far less known (although no less expensive). There can be coach crowds, but they rarely venture further than the first lake shore they hit, so escape to the wildflower trail that lassoes the turquoise water. Read up about the
history of the canoe
, too. Long appropriated by European colonists, the vessel was first used by Aboriginal Canadians for trading and transport.
Our top Canada family Vacation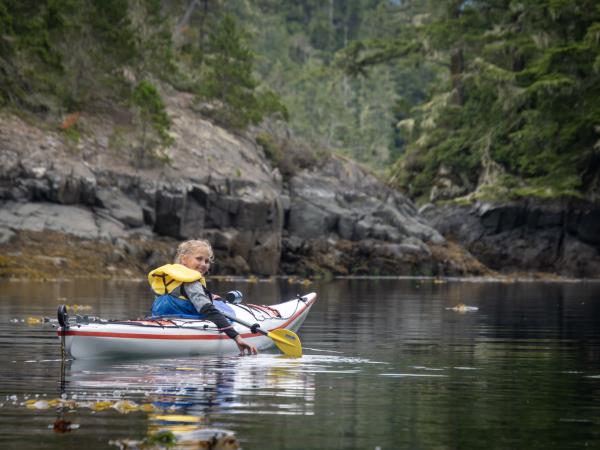 The perfect family adventure in a wilderness paradise
From
CA $

1995
4 days
ex flights
Small group travel:
2023: 15 Jul, 21 Jul, 2 Aug, 8 Aug
If you'd like to chat about Canada family or need help finding a vacation to suit you we're very happy to help.

Why choose a small group vacation?
The Goonies, Stand By Me, Stranger Things… Some adventures are just better shared. That's why family adventure vacations in Canada are usually small group trips. You'll spend nights around the campfire – and the kids don't have to put up with boring adult conversation. Plus, many hands make light work of washing up, pitching tents and campfire cooking. Not too many hands, mind you – most small group family vacations are a maximum of 12-16 people.
The tour guides are experts in family travel, too. They're pros at herding, inspiring and chatting with children, sure, but – in typical Canadian fashion – they're also genuinely excited to share the country they love with the next generation of adventurers.
There'll be a day of two of downtime, too, so you'll get the chance to take some time for yourselves – if you can separate the kids from their new BFFs.
Some activities are included, but lots of optional ones are offered too, so budget for extras. Activities like helicopter rides can be like taking out a mortgage. Many adventure activities set an age minimum of eight years old. You're dealing with Canadian distances and day-long activities, so you'll need a couple of weeks for an adventure vacation. Accommodation is usually a mix of camping (BYO sleeping bag), hotels and motels. Many meals and all national park permits are included, and you can usually request your own tent for a supplement.
More about Canada family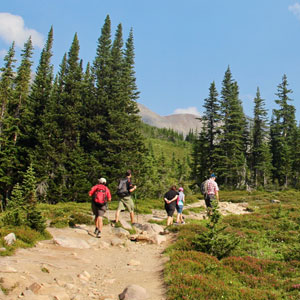 The best time to go on a family vacation to Canada often wars with the only time to go. Most trips run in summer.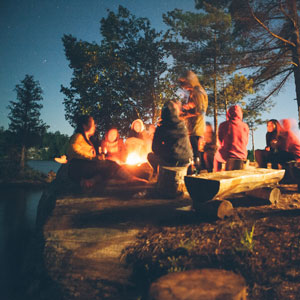 Family vacations in Canada are for the storybooks: kayak around the coves of Vancouver Island and road-trip through the Rockies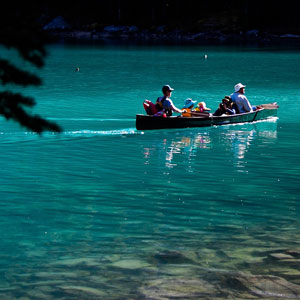 Wondering about where to go on a family vacation to Canada? Take a look at our map and highlights, for the best picks.