Highlights of a family vacation in Canada
Canada is huge. Most family vacations to Canada head for the wild west, where British Columbia and Alberta spread out on either side of the Rocky Mountains. It's national park after national park here, including Banff, Jasper and some lesser-known parks that only in-the-know vacation companies head for. You'll have some long drives, but you'll also have mountain vistas, glacier lake picnic stops and the chance of seeing bears foraging along the roadside. Elsewhere, the Pacific Coast is a popular spot for families, especially if you're after sea kayaking in whale country. You'll need about two weeks to explore properly.
1. Banff National Park
It's all fire and ice in Banff National Park, where it's rocky mountains above and broiling hot springs below. The first national park in Canada, Banff was set up to prevent over-development through tourism – although whether that's been achieved in places like Lake Louise is debatable. Still, there's plenty of alpine meadows and ice fields to explore via cable car, helicopter or hiking.
2. Icefields Parkway
There won't be any 'are we there yets' along the Icefields Parkway – a 232km road that hooks together Banff and Jasper. You could put your foot down and get it over and done with in three hours, but the best vacations take a whole day, stopping off at turquoise Peyto Lake and the Athabasca Glacier along the way.
3. Jasper National Park
Jasper National Park is the largest park in the Canadian Rockies and considerably less commercialised than Banff. Camp under startlingly starry skies, bike from lake to lake via first-growth elk forests, or see spread-eagled Angel Glacier from the wildflower trails around Mount Edith Cavell.
4. Vancouver Island
Vancouver Island is a 460km-long strip of surf beaches, rainforest and salmon rivers – all wrapped up in a patch of ocean that's one of the best places to see orcas and humpback whales in the wild. A camping and kayaking trip here can be tailored to families, including food and camping options. If you're lucky, you'll get to meet an orca eye to eye.
Wells Gray Provincial Park
5. Wells Gray Provincial Park
Wells Gray Provincial Park perches itself high up in the Cariboo Mountains. Coach tours have a habit of rocking up to the viewpoint at the 141m tiered Helmcken Falls and continuing on their way, but the best family vacations do the opposite, taking their time to see the falls, before exploring the 40-plus other waterfalls that spout from the forested mountains here.
6. Yoho National Park
Yoho National Park is happily overshadowed by Banff and Jasper. It's your chance to break from the summer vacation hordes and take a breath of mountain air on emptier meadow trails and emerald canoeing lakes. Plus, Kicking Horse River is one of the best places for white water rafting in the Rockies. Families with older children can take on the more challenging trails over Takakkaw Falls.
If you'd like to chat about Canada family or need help finding a vacation to suit you we're very happy to help.

At Responsible Travel, we think the best people to advise our travelers are often... other travelers. They always return from our tours with packing tips, weather reports, ideas about what to do – and opinions about what not to.

We have selected some of the most useful family vacations in Canada tips that our guests have provided over the years to help you make the very most of your vacation – and the space inside your suitcase.

The walk to the Plain of Six Glaciers was truly spectacular! Be flexible, respect other travelers and the tour guide and make the most of opportunities available.

"If you're a family like us, complete novices in the art of camping and who have never visited this part of Canada in the summer, then this is the perfect place to start. Rob and Troy were our guides on half day hikes, full day hikes, on our day of heli-hiking and on the 'boy's day' of mountain biking. Their years of experience in the mountains leads you, the novice, to feel safe in 'bear country'. Their knowledge of the area is second to none. The trails they hike are well-kept secrets and as such the hidden lakes and valleys you discover with them are awesome. It was a privilege to be in their company and to have access to their most favourite and remote spots." – Susan Brooks

"Get a good mat to sleep on." – Susanne Mayes

"If you want to avoid buying stuff then you can do the trip with minimal amounts of equipment. The one thing I would recommend you invest in is a good rain jacket." – Asif Abbas

"Be prepared to open your imagination, experience new challenges every day, and leave with some incredible memories." – Iain Buchanan
More Canada family articles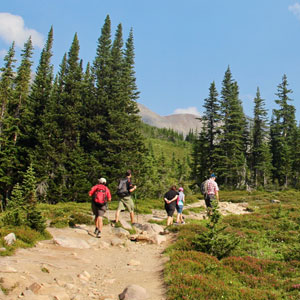 The best time to go on a family vacation to Canada is often the only time to go.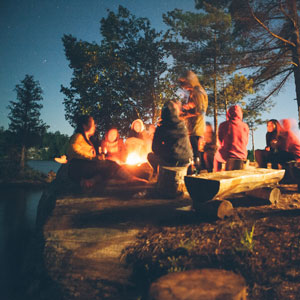 Family vacations in Canada are for the storybooks. Read more in our travel guide.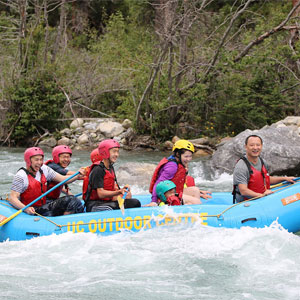 A family vacation to Canada is an adventure vacation. There's nothing half-hearted here.