Sundowners
Mary Anne Nelson from our supplier Journey Latin America sings the praises of unique sunsets in her Chile travel advice: "Few sights leave people speechless, but a sunset in the Atacama is definitely one that does. Arrive in the Valley of the Moon in the afternoon, when the colours of the sand change from yellow to bronze. But it's when the sun goes down that the show starts – the sky gradually moves from deep blue to an impossible red which is then reflected in the salt below and the volcanoes on the horizon – the effect is bewildering. Little by little all goes dark, but long after that you're still trying to believe your eyes!"
A tantalising trio
Alan Lyall from our supplier Andean Trails picks out three contrasting countrywide highlights in his Chile travel advice: "Watching the sunset in the Valle de La Luna (Valley of the Moon) outside San Pedro de Atacama. The play and contrasts of colour and shadow over the desert are inspiring. Eating your packed lunch at the base of the Torres del Paine shortly after having climbed the final moraine to get to your destination. The view of the granite spires towering over you whilst you eat is the ideal condiment to your meal. Tasting Carmenere wine in the winery where it is made after having strolled through the vines guarded by the majestic Andes Mountains."
Chilean cornucopia
David Orrock from our supplier Pura Adventure highlights the dazzling variety of distinctive experiences in his Chile travel advice: "There are so many… wrapped up warmly, star gazing in the Atacama Desert; staying in a family home on the Pacific Coast of Chiloé tucking into the freshest seafood and sipping delicious Chilean wine; traveling by boat upriver into Torres del Paine national park rather than bouncing around on a gravel road. We spend as much time out and about in the open air to make sure people get a sense of Chile every day of their trip."
HEALTH
Anyone traveling above 3,000m in Chile – and there are plenty of places that high – should be aware of altitude sickness, known locally as soroche or apuniamiento. Symptoms can be dangerous as well as simply debilitating – they include breathlessness, nausea, headache and extreme tiredness. Try to avoid rapid changes of altitude – on foot or otherwise. If moving from the coast to the Altiplano perhaps spend a night at an intermediate altitude, such as in San Pedro de Atacama. Symptoms usually pass after 24 hours but if they persist, descend as far as you can – even a few hundred metres can help. Locals say chewing coca leaves can ease headaches and exhaustion.
Hypothermia is a real risk at high altitudes and in Chile's southern region. Take all the usual precautions in terms of clothing and when camping.
Sunburn and dehydration are issues to be wary of, particularly in the hot, arid northern regions of Chile. Be sure to carry plenty of water if hiking in the sunshine, and wear high-factor sunscreen and broad-brimmed hat. But be cautious in the south too – you won't feel how quickly you're burning in the cool mountains, but the altitude – as well as the remnants of the hole in the ozone layer in the Southern Hemisphere – will scorch you much faster than you think.
SAFETY
Hikers need to be well-prepared in Chile – trails can be challenging, with few other hikers if you get into any problems. Take all usual precautions in terms of water, sun protection, good maps and compass. Also carry extra layers of warm clothing, as temperatures can drop suddenly, particularly after sundown. Chile is a very safe country, but take usual precautions against theft in cities. Chile sits on major earthquake faults, and has suffered some devastating quakes; its 1960 quake was the largest ever recorded, notching 9.5 on the Richter scale. You can't protect yourself against earthquakes, but the odds of one affecting your vacation are vanishingly small.
Our top Chile Vacation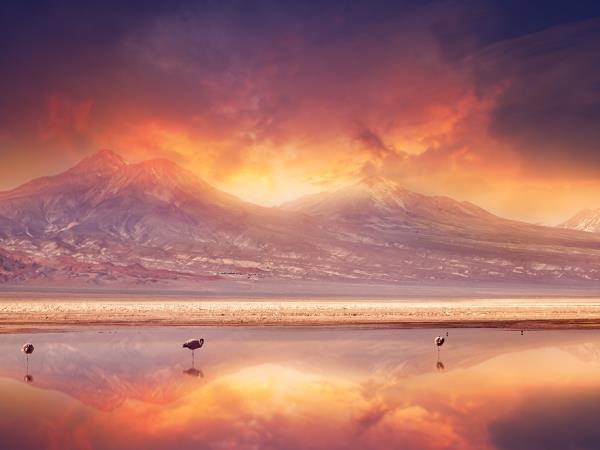 10-days: Santiago, Atacama, Patagonia & Torres del Paine
From
£

2795
10 days
ex flights
Tailor made:
This trip can be tailor made throughout the year to suit your requirements
If you'd like to chat about Chile or need help finding a vacation to suit you we're very happy to help.

Tips from our travelers in Chile
At Responsible Travel, we think the best people to advise our travelers are often... other travelers. They always return from our tours with packing tips, weather reports, ideas about what to do - and opinions about what not to.

We have selected some of the most useful Chile travel advice that our guests have provided over the years to help you make the very most of your vacation - and the space inside your suitcase.

Bear in mind that arrangements may change a bit in terms of times and order – but everywhere the people are friendly and helpful.

"Decide what you would like to visit before you go, and get your tour company to work out an itinerary. And bear in mind, especially in Atacama, that arrangements may change a bit in terms of times and order – but everywhere the people are friendly and helpful." - Jenny Maddick

"Hiking in Patagonia. bring a roll of toilet paper. Walking sticks should be an essential." - Terry Brannigan

"The ability to speak a little South American Spanish would make it a lot easier. Also make sure you take some warm clothing for early starts and high areas visited. But don't forget the sun hat and sun screen as well." - Dave Thalrose

"In the Atacama, be ready for no internet. But the experience is worth it." - Victoria Edwards

Make sure you're in good shape in Torres del Paine for long and sometimes challenging hikes.

"Do some walking beforehand, if you want to get the most from it. Also, don't forget a camera, or you will be truly sorry!" - Chris Senior, Atacama and Patagonia hiking vacation

"If you are not on a direct flight back to the UK – we changed planes at Madrid – you may have to change terminal and the authorities will take any liquid duty free off you. I'm still cross about my vintage wine!" - Patricia Stott

"Drink plenty of water and be ready for some long walks! You see it said everywhere but I can't stress it enough. My brother struggled with a combination of the heat and the altitude. Drink plenty and wear a hat! We weren't ready for the nature of the walks, they really are proper hikes!" - Joe Davis, Atacama vacation

"Make sure you have appropriate footwear (hiking boots). There is no need to bring a sleeping bag as these can be hired at the time (and they are good sleeping bags)." - Frank Sperling, Patagonia overland