Atacama Desert vacations, Chile
Don't believe the hype – the chances that any of us will ever set foot on Mars are vanishingly small. But if you've ever dreamed of exploring an extraterrestrial landscape, the Atacama Desert in Chile is about as close as you will get on Earth.

This narrow plateau running along a strip of Pacific coast, west of the Andes, is among the driest and oldest deserts on the planet. It is dotted with abandoned salt mining towns, colourful Andean lakes and eye catching geological formations. The Atacama Desert is an inhospitable place, yet it is capable of sustaining life, most notably the large populations of flamingoes that gather around the lagoons. With light pollution bordering on zero, it's also a sublime location for stargazing, which only adds to that otherworldly feel.
What do Atacama Desert vacations entail?
Vacations in the Atacama Desert normally use the town of San Pedro de Atacama as a base. Beyond being well located for exploring the desert, it also has a range of locally owned accommodations and restaurants. There are different ways to get around the desert but two of the most popular are hiking as part of a small group and self driving tours. Both allow you to discover locations and viewpoints that escape larger tours.

Hiking is not especially strenuous, and it's immensely enjoyable in these spectacular landscapes, along ancient shepherd paths, at the feet of towering pillars of salt and around vividly tinted lagoons. Self driving gives you organisational support, but crucially the opportunity to set your own agenda. So you can visit the El Tatio geysers at dawn when the jets of water are at their most powerful, and stick around in Moon Valley until sunset when the canyons and mountains are brilliantly illuminated.

Some itineraries incorporate opportunities to meet local Atacameños to learn how they survive and farm in such hostile conditions. Packing-wise you'll need a sense of adventure of course, but also a swimsuit, layered clothing and hiking boots and perhaps a telescope, to make the most of the crystal clear sky at night.
Our top Chile Vacation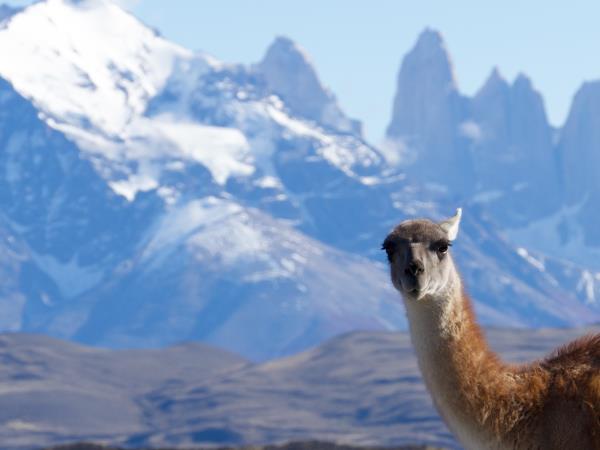 Explore Chile on foot Atacama Patagonia Walking Vacation
From
£

4595

to

£

5170
14 days
ex flights
Tailor made:
This trip can be tailor made throughout the year to suit your requirements
If you'd like to chat about Chile or need help finding a vacation to suit you we're very happy to help.

When to go to the Atacama Desert
The Atacama Desert is a major destination in Chile. Some of the best known natural attractions such as the El Tatio geyser field can be busy during the high season of December to February, when the days are pleasantly warm and the nights not too cold.

From June to August it gets a lot colder, and after dark the temperature frequently drops below freezing, with the chance of thunderstorms. However, the 'rainy' season (such as it is here) does mean that desert wildflowers are beautiful in winter.

The shoulder seasons of September to November and March to May are probably the best time to visit the Atacama Desert. Nighttime temperatures are warm enough to take advantage of the wonderfully clear skies for stargazing and there are far fewer people around than in the summer, so you can better appreciate the stillness of the desert.
Atacama Desert highlights
Los Flamencos
This huge nature reserve close to San Pedro is made up of seven sections, among them the Salar de Atacama. The salt flats, and emerald green lagoons are populated by an astonishing range of birdlife, including of course the Andean and Chilean flamingoes for which it is named, as well as eagles and condors.
El Tatio Geysers
4,200m above sea level lies one of the world's largest geyser fields, that bubbles away gently before every so often blasting a jet of scalding, steaming hot water up into the cold air. The geothermal activity is at its most intense early in the morning, and if you plan to visit then don't forget your swimsuit so you can take a pleasant dip in the hot pools.
Valley of the Moon
Perhaps the most striking, and starkly beautiful, of all the landscapes in the Atacama Desert is the aptly named Moon Valley. Some of the salt mountains amid the rugged scenery here reach over 2,600m. It's an incredible place to hike or drive through, especially at sunset when the colours in the rock are really brought out by the dying embers of the day.
Salar de Atacama
The horizon of Chile's largest salt flat is dominated by imposing mountains and volcanoes, its lunar-like landscape surreally mesmerising. The Salar de Atacama was formed by water flowing down from the Andes into a basin with no outlet, which then evaporated to leave gigantic salt deposits, and saline-rich lagoons where you can bathe, floating as you would in the Dead Sea.