Traveling in Chile with kids
---
What does responsible travel recommend?
Traveling in Chile with kids is fantastic – just match them to the right things. Nature-loving children will love diverse wildlife: penguins, pumas and pygmy deer; whales and condors; plus a host of cute llama-like beasts! Fit kids will love wilderness hikes (from gentle to hardcore), or burning energy kayaking icy fjords, rafting wild rivers, surfing – or paragliding. Horse-mad types can ride dramatic trails or marvel at Chilean cowboy skills at colourful rodeos. Let them discover that Chile has scary-but-awesome mummies a lot older than Egypt. And learn about the stars beneath the glittering desert skies of the Atacama.
Things to do in Chile with kids
---
ACTIVITIES FOR FAMILIES
Get active
Burn off youthful energy on land and sea. Kayak around the fjords and glaciers of Patagonia (double/family boats available), or thrill doing whitewater, wild river rafting. Chile's vast tracts of wilderness offer wonderful hiking trails for all levels through forest and plains – or climb a smoking volcano.
Spuds!
The potato is a Chilean staple, and novel dishes show kids there's much more to this nutritious nosh than chips! Try mayocan (spud, seaweed and dried shellfish stew), colao (potato cakes with wheat, pork fat and crackling, cooked in hot embers) and papas rellenas – mash filled with meat or fish.
Strange beasts
Chile is home to plenty of quirky but enchanting animals: the giant flightless rheas of Torres del Paine are like ostriches but prettier. Add cute guanacos (soft-furred cousins of the llama), waddling penguins and blubbery elephant seals, plus adorable pygmy deer and the comic leaps of the chinchilla-like vizcacha.
Tips for families
---
responsible travel asks the experts
Alan Lyall from our supplier Andean Trails reels off some Patagonian pleasures to make traveling in Chile with kids a real pleasure: "Walking trails in the Torres del Paine National park. Seeing if you can spot a fox, pudu (miniature deer) or ñandu (rhea). Zip lining in cold rain forest, floating on emerald coloured rivers, exploring volcanic caves, picking shellfish and crabs on rocky beaches. Spotting shooting stars in immaculate clear desert skies, horse riding and so much more. Active kids = happy kids."

Mary Anne Nelson from our supplier Journey Latin America reveals a panoply of possibilities for traveling in Chile with kids:
"Chileans are very friendly towards children. For active adventures, the Lake District hosts white water rafting, horse riding, volcano climbing and much more. The glaciers and mountains of Patagonia plus the Atacama Desert in the north bring geography books to life. And Chile will amaze parents with its comfortable infrastructure, good food and wine!"
David Orrock from our supplier Pura Adventure says adventure makes traveling in Chile with kids a real thrill: "In July and August families can ski in the Andes followed by adventures in the Atacama desert - mountain biking, hiking across sand dunes, riding horses. In summer, central Chile – Santiago south to Puero Montt – is one enormous and beautiful adventure playground. For families with younger children, flight times perhaps make Chile too much of a stretch, plus they won't be able to fully enjoy the adventures Chile has. But once children are 10+ they should be doing the rafting, volcano climbing, mountain biking, hot spring soaking with the best of them!"
Active adventure vacation in Chile's Lake District
From
US $

1310
4 Days
ex flights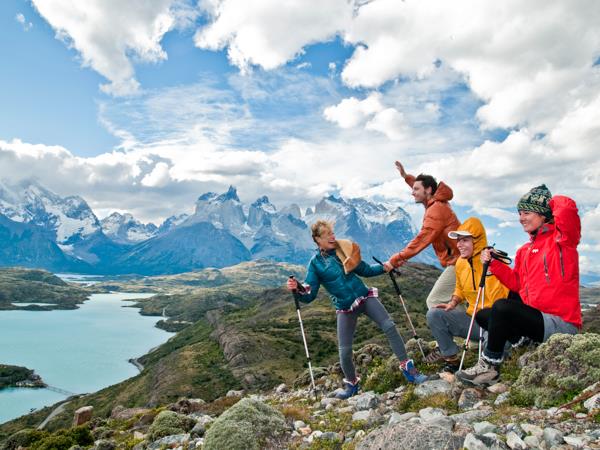 Discover true wilderness on this adventurous family vacation
From
£

6085
16 days
ex flights