Highlights
Marijana Filipovic of our supplier Cycling Croatia, shares her tips on Croatia's cycling highlights: "Don't miss our mountains in the Gorski Kotar region. Most of the tourism focuses on the blues of the coast, but this is the green heart of Croatia. You might even spot bears up there if you are lucky.

"We want people to enjoy themselves on vacation, so if they get too hot or tired, we have a backup van to pick them up and travel back with us. We just want to create trips for people who want to enjoy visiting off the beaten track by bike, but we don't want them to be exhausted."
Our Croatia cycling Vacations
Weather
Andrew Appleyard from our supplier of Exodus Travels:
"Whilst Croatia has a fantastic coastline don't forget there are some hills to negotiate. And it's worth remembering that the weather on the coast can be very different to a few miles inland. Make sure you take your bike to Mljet, which is a national park, as it's easier to see the whole island this way. And make sure you take your trunks for a swim."
Routes
Ana Vujakovic from our Croatia cycling vacations supplier, Huck Finn Adventure Travel, shares her Croatia cycling advice: "When planning a cycling vacation in Croatia, it is highly recommended to explore the routes you wish to take prior to your arrival due to a lot of traffic on all roads in summer months. Taking local roads is a safer way to travel or explore the area. We recommend going with a local operator that can provide bikes and has already planned routes for a good cycling vacation in Croatia. Always have a lot of water, sun cream and snacks while on the road."
Ilija Miloš, from Fiore Tours has this advice about cycling in Istria:
Best time to go
The best time for cycling in Istria is April, May, June, September and October. Not just because at that time of year it's not as hot as July and August (and it is less busy), but because Istria offers a lot of gastro and culture events at that time. During April and May you can try dishes based on wild asparagus which are ready for picking at that time. In September white truffle season starts, it's another specialty of region. In Livade – center of truffles – you can find a truffle fair with gastro events. I don't need to mention that September and October are the grape and olive harvest so you can really enjoy a local experience while you cycle.
Border crossings
The border between Italy and Slovenia doesn't exist any more. There is a toll-free pass which you won't even recognize while you bike. Between Slovenia and Croatia there is still a border with tolls but controls are not restricted. All you need to do is show your ID or passport. Croatia is at the moment in the process of establishing the Shengen zone so we hope there won't be a border in the next two years between Croatia and Slovenia.
The terrain
The terrain is mostly small rolling hills. We use roads with less traffic as much as possible. These take you to small villages but sometimes when you are approaching bigger towns (Poreč, Umag, Rovinj) you will notice more traffic. Hilltop town Motovun is 260m from sea level but once you arrive there you will forget all the effort you needed to get up. For those who think that the tour might be too hard we have solution – E-bikes.
Overtourism
During July and August the region has more tourists than in pre and post season so we would always encourage cyclist to arrive in less busy seasons and help the local community to extend the season.
Andy Ross, head of cycling at Exodus, has this to say about Croatian culture:
"My main comment would be that close fitting cycle clothing really isn't culturally appropriate in quite a few destinations. It is the duty of a tour operator to ensure that clients are aware of this and to implement it on the ground. You may have paid a lot of money to visit, but you are only a visitor!"
HEALTH
Take out the appropriate travel insurance, making sure it includes cycling, plus any other activities, like sea kayaking, that you're planning on doing whilst you're here. Members of the EU can use the European Health Insurance Card (EHIC) in Croatia to prove they're entitled to free healthcare.
Make sure your cycling guides are aware of any medical issues you have – from a dodgy knee to diabetes, and make sure you have the right medication with you for the trip.
Make sure you take enough water. Whatever the weather, cycling on the undulating coastal roads around Croatia is thirsty work, and it's best not to rely on there being alternative water sources around.
Even though many of the routes in Croatia aren't particularly challenging, it's good to take padded cycling shorts. Chafing is the average cyclist's mortal enemy, so take some cycling cream – or Vaseline or Sudacrem – to target problem areas.
As soon as you get your bike, don't be afraid to adjust it to your requirements, even bring your own saddle if you want. Anything to make sure that it's the right height and specifications for you. By day three in the saddle your body will thank you.
Always carry a basic first aid kit with you, especially if you're on a self-guided tour.
Remember your sun protection. The sun can get very strong in Croatia so a hat, sunglasses and good sun cream are all necessary every day.
SAFETY
If you're on a self guided tour, keep all emergency contact numbers close at hand. The general number for the emergency services in Croatia is 112, the same as much of Europe. Just because you're on vacation, it doesn't mean usual road safety doesn't apply. Never cycle whilst on your phone, and don't wear headphones. You'll normally be asked to bring your own helmet on your cycling vacation – and you won't be allowed to cycle without one. A puncture repair kit, spare inner tube, and bike lights should be included with your bike. Brush up on your puncture repair skills before you go for peace of mind. When cycling on roads, keep in single file. When you're cycling in a small group, your organizer might split you into packs so that cars can overtake with ease. Keep an eye on the weather forecast. The weather in Croatia is generally very good, but occasionally strong winds can blow onto the land. The mistral comes in summer, whilst the bura is more likely to come in winter, bringing stormy weather.
Our top Croatia cycling Vacation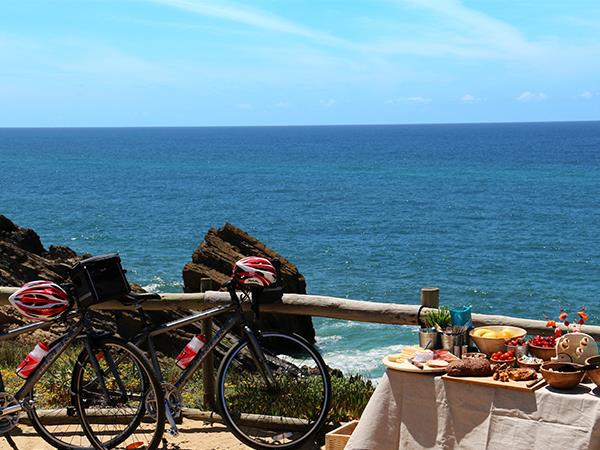 Family Cycling Vacations in Portugal | Self-Guided
From
€

845

to

€

1068
8 days
ex flights
Tailor made:
This trip can be tailor made throughout the year to suit your requirements
If you'd like to chat about Croatia cycling or need help finding a vacation to suit you we're very happy to help.

At Responsible Travel, we think the best people to advise our travelers are often... other travelers. They always return from our tours with packing tips, weather reports, ideas about what to do – and opinions about what not to.

We have selected some of the most useful Croatia cycling travel tips that our guests have provided over the years to help you make the very most of your vacation – and the space inside your suitcase.

Be prepared for hilly conditions and know that there are virtually no shoulders on the roads in Croatia.

"Bring good quality earplugs for sleeping (Dubrovnik and Mjlet were noisy), bug spray, a daypack, plus a few bungee cords. Pack light if cycling! Some areas are hilly, so being fit is essential. We're a couple in our early 60s – one of us used an E-bike, which did ease the hill climbs. We were able to strap the daypack on the E-bike rack." – James Shatford a self guided biking tour in Croatia

"It was nowhere near as intense as I thought it would be and we were well looked after by the organisation. We got to meet great people and have new experiences – really recommend the food and at each place you stay there is a new visit or learning to do. For example our best bit was visiting the cave system in the Bosnian mountains in Zavala. We also went on to explore Sarajevo despite the biking ending up in Mostar." – Juliette Goddard booked a Croatia Ciro Bike Route Tour, Dubrovnik to Mostar

It is worth going off route to visit towns that are not necessarily included on the route. Take the opportunity to visit local wineries, olive oil farms and small villages which are known for local produce and delicacies.

"A decent level of fitness is required as there is quite a bit of climbing involved, which are obviously rewarded by some nice long downhills. We did the cycle at the beginning of August which is peak season here. There were so many foreign cars on the sections of main roads that we went on, so we can imagine that out with peak seasons the roads would be a lot quieter." – Margit Matthews booked a Croatia self guided cycling vacation, Istrian Peninsula

"Our trip started in Trieste and we were offered a lift with the bikes out of town to start there. We valiantly refused as it felt like cheating... in hindsight it would have been a better idea as getting out of Trieste was the least favourite part of our cycling. Do take a trip down to the fjord between Porec and Rovinj. It's well worth the 4km climb back up and puts in to context one of the abandoned towns passed the day before. Plus they do the most amazing chocolate cake at the café at the bottom!" – Sue McNuff booked an Istria self guided cycling vacation in Croatia
More about Croatia cycling