It's often called Croatia's Tuscany; Istria, the nation's most westerly region, is the county that's geographically closest to Italy. It loves truffly pasta dishes and has a wine obsession, plus most people here can speak both Italian and Croatian. Istria is intriguing like that.Whilst the area gets lots of central European tourists here for the coastal resorts, come here for cycling, not sunbathing and you won't be disappointed; its bike trails are even better than its beaches. Cycle along the Parenzana Railway to take in the heart of the country from a repurposed railway line and you'll get fewer crowds, and more of Croatia for yourself.

Flick down through the gears and pedal up to the next hill town – there are truffles at the top.

This peninsula is mostly Croatian, but little slithers are owned by Slovenia and Italy too. It's often referred to as the 'heart-shaped' – but the Istrian Peninsula is shaped like an actual, anatomical heart: a rich wedge of land with the rest of Croatia on one side, and the Gulf of Trieste on the other. It's certainly a big-hearted region when it comes to food: asparagus in spring, and rare white truffles snuffled out in autumn. Yes, if you cycle on your stomach, you'll fall in love with Istria.
Our Croatia cycling Vacations
What do Istria cycling vacations entail?
This is a busy corner of Croatia, with lots of continental visitors. More recently, a wider audience has discovered the area's 'quieter than Dubrovnik' appeal, and its gastronomic advantage. It's best to cycle in spring or autumn to help the area extend its season. Go for between five days and just over a week to get a proper taste of the area.

Istria's landscape undulates in waves of green as far as the eye can see. As you look across, you'll spot silver-grey towns capping the occasional hilltop. You can bet you'll be cycling up to visit many of these: it's where you'll find your lodgings and your dinner – and beautiful views. It sounds clichéd, but the sunsets in this part of Croatia are particularly beautiful. The sun peers, orange, through the arched openings in the bell towers. And you on the hilltop, with your trusty two wheels under you, will feel like you've truly earned the view.
What are the routes like?
The Parenzana Railway is one of the most popular cycling routes in the area. As a former railway, it's never very steep, though it does undulate and gain enough elevation to hit various hill towns on its way: Grožnjan, Livade, Motovun, meaning there are a few climbs as it wends its way inland and then back out to the coast again, finishing in Porec. Aside from the railway, there are coastal routes, quiet roads, and some larger roads that take you into the bigger towns.
Small group or self guided?
The Istrian peninsula is great for self guided tours as its main route, the Parenzana Railway, is fairly self explanatory and there are plenty of places to stop along its course. The most popular routes take between five and eight days, cycling between 30km and 60km each leg, depending on whether you want to take shorter or longer routes between the hotels.

You could also do a small group trip – which is great if you don't like navigating. The other advantage of small group trips is that you can find more adventurous vacations – maybe involving mountain bikes, maybe involving a border crossing, and a choice few of Slovenia's best mountains.
What kind of bike do you need?
Bike hire is normally included, and you'll probably be offered a hybrid – which combines all the best bits of a mountain and a road bike so you can take on all terrain. You will probably want to bring your own helmet. If you're British, chances are you might not be used to E-bikes. E-bikes, or electric bikes, are fitted with a battery and a motor. Once you start pedaling, the motor kicks in and gives you a boost of power. You might not be familiar with them, but they've been big on continental Europe for a while – they're the norm in Holland and Germany. If you're feeling unsure about your fitness for a full week of cycling, an E-bike can help you travel with confidence.
Families
Kids from the age of seven will be up for cycling in Istria. There aren't particularly hard routes, there are often short options, and at the end of each trail pizza and ice cream awaits. E-Bikes can level the playing field help multi-generational parties cycle all together.
Making the most of your pit stops
It sounds outrageous to fuel up on truffles – but you are right in the heady heart of truffle country, and a bowl of fresh pasta with a potent, flaky veil of black – or even rare white – truffles, could be exactly the boost you need to get up the next hill. Your vacation might end up being gastronomic tour as well as a cycling tour: the food in this area is brilliant, like asparagus in early spring or freshly-caught Adriatic tuna. Homemade brandy – flavoured with myrtle, or with figs, or in fact anything the bottler had to hand – makes a good souvenir. And speaking of bottles, another good souvenir would be wine: Istria grows plenty of grapes, including Muscat and Sauvignon Blanc. Lower your food miles, support the local economy and sustain yourself in the most gourmet way possible in preparation for the next incline.
Our top Croatia cycling Vacation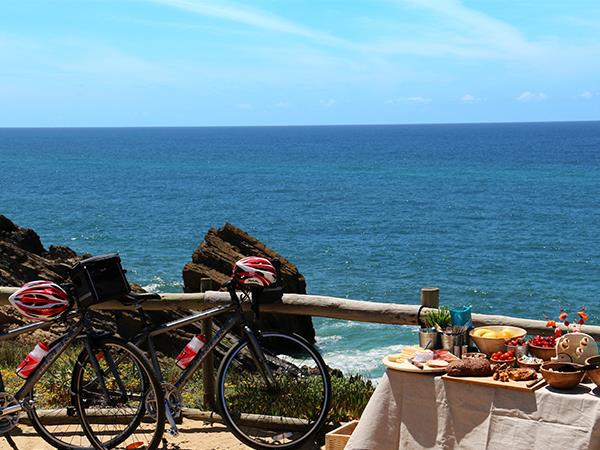 Family Cycling Vacations in Portugal | Self-Guided
From
€

845

to

€

1068
8 days
ex flights
Tailor made:
This trip can be tailor made throughout the year to suit your requirements
If you'd like to chat about Croatia cycling or need help finding a vacation to suit you we're very happy to help.

Where to go on an Istria cycling vacation?
The Istrian peninsula is 90% Croatian, but if you want to cover it in its entirety, you'll also have to pass through Slovenia and finally a little slither of Italy. Trieste, Italy is a good starting point for your Istria trip, though it sits just outside the region itself. Once you get into Croatian Istria, you'll find it split into two parts – inner and outer. The outer part, known colloquially as 'Blue Istria', is comprised of pretty coastal resort towns many with ferry links to Venice. These are pretty, but Pula and Porec can get very busy in high summer. Inland, in 'Green Istria', there are charming hill towns. Two of the most attractive, Motovun and Grožnjan, are found in the large Mirna River Valley. To make the most of 'Green Istria', most cycling trips follow the Parenzana Railway at least some of the way; it nips inland and back out again to connect 33 cities from Trieste all the way to Porec (formerly known as Parenzo – the railway's namesake).
Grožnjan
Grožnjan has an arty reputation. The hill town was all but abandoned at the end of World War II. But the town was re-established in the 1960s – partly by giving houses to artists. There are some twenty art galleries in town, which vie against the cobbled streets, jasmine-hung walls and surrounding countryside to be your source of inspiration as you wander round with a camera.
Motovun
The climb to Motovun might take you a breathless 260m from sea level, but this hilltop town is dwarfed by a gigantic story. According to a tale by Croatian writer Vladamir Nazor, a giant farmer named Veli Joze once lived here, before departing on many adventures. Nearby is Livade – an important center for truffles – for those in need of a decadent detour.
Parenzana Railway
Cycling is as easy as 1-2-3, thanks to the remains of a 123km narrow-gauge railway built here at the turn of the 20th century. A railway, you say? That doesn't sound like it will be steep. You're correct: whilst there are some climbs, there's nothing a train – or your family couldn't handle. Follow the old route through its brickwork tunnels. Conveniently, the Parenzana Railway hits many beautiful hill towns along the way.
Porec
This busy tourist resort sits on one end of the Parenzana Railway, on its own peninsula. Like many attractive Croatian cities, there are marbled streets and a veil of Venetian influences, and lots of tourists in the summer vacations. The town's star attraction – aside of its seafront location – is the Euphrasian Basilica, with its glimmering interior mosaics.
Pula
Many of Istria's visitors start in its biggest city. A busy harbour, Pula still feels a little Roman, mostly thanks to the 1st-century amphitheatre slap-bang in its center. It's the sixth largest in the world and is remarkably intact. Gladiators once fought in front of 20,000 spectators here. In medieval times, it was repurposed for knights' tournaments. It's still in good nick today, hosting the city's summer film festival.
Rovinj
Like many of Istria's port towns, Rovinj (pronounced 'Roveen') doesn't quite fit onto its designated headland. It balances its historic buildings precipitously close to the surrounding water, whilst a very Venetian-looking campanile belonging to the church of St Euphemia, crowns its hill. A scattering of islands off the coast make the area very scenic indeed.
When to go on an Istria cycling vacation
The season for getting on your bike in Istria generally lasts from March to October – more tours operate from April – and some tailor made trips can be made all year round. It's hot in summer: average daily high is 28°C in July and August – also the busiest time in the area. Instead, consider going in late spring for wildflowers – meadows become precious pincushions for tiny orchids which you'll have to dismount to examine properly. Autumn is lovely too. The leaves slowly slip from green to yellow at the edge of the water and there's a 10 weekend-long truffle festival in Livade and other hill towns, which celebrates the search for the region's rare white truffle.
Some of the most popular cycling routes around Istria involve border crossings into Slovenia. These are normally issue-free, you'll just need your passport to hand. You can also easily get to Italy from Croatian Istria by heading towards Trieste, or getting a ferry to Venice from one of Istria's port towns.

Most trips include bike hire, but you often need to bring your own helmet – and any other gear you want to use, like a different saddle or different pedals. Cycling shorts are a great idea, even if you're not a serious cyclist, as after a couple of days in the saddle your 'sitting bones' might start to ache. This can be alleviated a bit by doing a few bike rides before you go. Other preparation you might want to do before you embark on a bike trip is basic bike repair: learn to fix a puncture and replace an inner tube.
More about Croatia cycling