You can tell a happy cyclist by the flies in his teeth – and you can tell a happy cyclist on the Dalmatian Coast by the ice cream in their hand and the dust on their cycling shoes. Cycling is a great way to see the famous section of Croatian coastline in all its glory, at a cracking pace, or at your leisure, but most importantly, away from the crowds.

Many places on the Dalmatian Coast have monosyllabic names – Hvar, Brac, Split, Vis, making them easy to say when you're out of breath at the top of a hill. You'll get your breath back on the way down

Prepare yourself for a bit of island-hopping. Croatia's Central Dalmatian Islands are packed close together, making the views between them lovely interplays of rolling hill and sparkling sea. Thanks to the multiple islands, your cycling excursions have natural breaks – rather than just relentlessly following the same road for days on end, you can relax on the ferry. The islands have another advantage: the most crystalline water you've ever encountered. Up alongside Cyprus and Malta, Croatia has the best sea swimming water in Europe. You'll soon dry off on the next downhill freewheel, as the wind whips across your knuckles.
Our Croatia cycling Vacations
What do Dalmatian Coast cycling vacations entail?
The Dalmatian Coast is very relaxed and very beautiful. If you're staying on the coast, you'll almost certainly visit a few of the islands on your route – usually reached by hopping on a public ferry with your bike – though a few cycling and activity vacations come with their own boat, so you can cruise from island to island under your own steam. Boat-based cycling trips also work well for families, as the pace can be a little more leisurely.
What are the routes like?
Most often your cycling route will be a linear one, with pick up at the end. This way you can cycle from Dubrovnik to Split, or vice versa. Whilst inland Croatia has more mountainous terrain, the average hobbyist won't need to be super fit to tackle the Dalmatian Coast. There are a few hills (how else are you going to get the best view?) – some steep ten to twelve percent grade slopes, but you're not looking at all day uphill slogs: instead it's an undulating coastline, with some sea level to summit climbs on the Central Dalmatian Islands. This is primarily sealed road cycling, with a few gravel tracks on the islands. The roads that most tour operators choose are quiet and safe, but there aren't many hard shoulders. Your tour guide will normally break the group up into sections, so that cars can overtake safely.
Small group or self guided?
You can do a self guided tour, in which case you'll be given detailed route instructions. You might be given a satnav to follow as well. Trips can be tailor made to your requirements, but you'll normally look to cover around 30km a day for a moderate vacation. This is a comfortable day's cycling, leaving time for pit stops, swims and sights along the way. There are more adventurous routes, but these don't stay on the Dalmatian Coast for long. Instead if you want a bigger adventure,
head inland to Bosnia-Herzegovina
and take in a bigger bulk of the Balkans.
Small group tours move at a moderate pace. You'll be in an international crowd: Croatia has been popular with visiting Italians, Germans and Austrians for decades – and more recently has seen more North American visitors. If you don't want to spend your whole vacation in the saddle, you could always book a
shorter activity break
, and combine cycling with kayaking and stand-up paddleboarding.
Making the most of your pit stops
Croatia has a growing agrotourism industry, and it's great that by bike you can hop along to little establishments with ease and refuel on tasty local produce. In fact, you can make cycling the Dalmatian wine roads the main focus of your vacation – just make sure you use the spittoon when you're tasting so you're in a fit state to get back in the saddle. As you're enjoying the countryside, remember that not all the Dalmatian islands have great waste disposal, so be careful with your rubbish and do your best to protect the beaches from pollution.
Our top Croatia cycling Vacation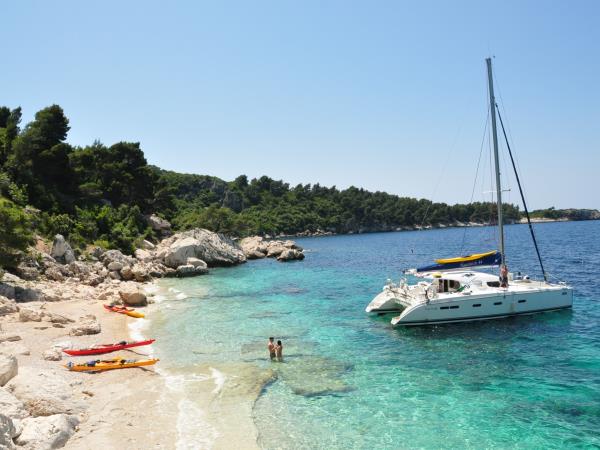 A multi-activity adventure sailing cruise in Croatia
From
€

580

to

€

790
4 days
ex flights
Small group travel:
2023: 26 Jun, 11 Jul, 24 Jul, 25 Jul, 29 Jul, 3 Aug, 5 Aug, 10 Aug, 14 Aug, 15 Aug, 17 Aug, 21 Aug, 22 Aug, 24 Aug, 28 Aug, 29 Aug, 31 Aug, 7 Sep, 18 Sep, 19 Sep, 20 Sep, 21 Sep, 23 Sep, 24 Sep, 25 Sep, 26 Sep, 27 Sep, 28 Sep, 30 Sep, 1 Oct, 2 Oct, 3 Oct, 4 Oct, 5 Oct, 7 Oct, 8 Oct, 9 Oct, 10 Oct, 11 Oct, 12 Oct
If you'd like to chat about Croatia cycling or need help finding a vacation to suit you we're very happy to help.

Where to go on a Dalmatian Coast cycling vacation?
Island hopping is the order of the day. The Central Dalmatian Islands are a few dozen kilometres across, making circumnavigating a really nice day out in the saddle. On Hvar, you can climb away from the crowds, whilst on Mljet you're wrapped in national park. On the mainland, busy cities are interspersed with long, rural roads. Between Split and Dubrovnik, the Peljesac Peninsula features, incredibly, the second longest defensive wall in the world at Ston, and down beyond Dubrovnik the lesser explored Konavle Valley dips down between Cavtat and Montenegro, under a boundary made by the Sniježnica Mountains.
Dubrovnik
Think of Dubrovnik as your dramatic gateway for a big cycling adventure. From this walled city, deep in the south of Croatia, you can dip in and out of different Balkan nations. You're just a day's cycle away from Trebinje in Bosnia-Herzegovina and a short hop from Montenegro. Take the Ciro Bike Route up to Mostar in Bosnia and Herzegovina. This former railway line only reopened in 2017 as an exciting new biking trail.
Hvar Island
Hvar Town has a reputation for hedonism, but Hvar's hills have a reputation for challenging your quads. Roman roads climb up steep gradients into the center of the island. You'll pass through Brusje's famous lavender farms and countless olive groves. The island is long and skinny – and gets skinnier towards the east: as you ride towards Sucuraj you can get lovely views of the sea on both sides.
Konavle Valley
Southeast of Dubrovnik, the Konavle Valley, with its three rivers and multiple old towns, runs all the way to Montenegro, and there are plenty of good, longer routes through it for cyclists. From Gruda you can cycle to Cilipi and all the way down the Prevlaka Peninsula. For a shorter cycle, head from Cavtat to Zvekovica and on to Ljuta.
Korcula Island
Make like Marco Polo and be an explorer on Korkula. This island is his birthplace and it's beautiful: all hushed villages, lush groves of olives, silvery holm oaks and the sharp smell of Mediterranean pines. A night on Korkula gives you ample opportunity to cycle between some of its historic towns: Korkula Town has marble-clad alleyways, whilst Lombarda has sandy beaches (rare here).
Mljet
This attractive island doubles as a national park. Mljet National Park cloaks its western end, and paved roads lead inland to two unusual saltwater lakes. They're very scenic – one even has a tiny island monastery at the center, which is now a cafe. Make sure you have a swim, as the water is warmer here than in the open sea, and very pleasant.
Peljesac Peninsula
The slim finger of vineyard-clad land that makes up the Peljesac Peninsula dips into the Adriatic, as if testing the waters. It nearly touches Korkula Island – in fact you can get a ferry to one end of the Peljesac Peninsula from Korkula (landing in Orebik), or approach it from Ston at the other end. There's less traffic down this natural cul de sac, making for pleasant cycling.
When to go on a Dalmatian Coast cycling vacation
Trips on two wheels can start as early as March, and most run until October. Croatia's Dalmatian Coast is one of the most popular areas in the country to visit, so avoid traveling in high summer otherwise you'll be part of a huge, sweaty peloton of tourists. Not only this, but there are daily highs of over 29°C and you might have to queue for the ferry. Support the local economy outside of peak season and travel in spring and autumn. The weather might be a little less settled, but it's still warm and the sea is great for swimming from late May to late October. The grape harvest happens in September – the aroma of fermenting grapes hangs in the air when you stop at a vineyard, making this month a lovely time to visit.
Most, but not all trips include the hire bike in their price. However, most people bring a lot of their own gear so they can kit out their bike to their requirements and you will probably need to bring your own bike helmet. Your first morning on a small group trip might look like an episode of Pimp My Ride, as people attach their preferred saddle – and maybe their own pedals –and slot their reusable water bottle in place.

Before you go, make sure you know how to fix a puncture. You might also want to do a little training. Cycling can make you 'saddle sore' – you might start to feel your 'sitting bones' aching on day two or three. It's one of the reasons some people prefer to bring their own saddle. Do a little preparation before you go, and wear proper cycling shorts – these have protective padding, which might look desperately unflattering, but certainly helps you feel more comfortable. If you're struggling on a group trip, you can always sit out the next big climb and travel in the support vehicle instead.

It's important to be comfortable, and most people will wear cycling shoes, and sunglasses (to protect your eyes from the dazzling Dalmatian Coast water) alongside their cycling shorts. Remember, cyclists love lycra, but most churches aren't so keen, so be careful about where you visit if you're in tight-fitting gear.
More about Croatia cycling