When journeying over 2,000km from London to Malaga by train, some highlights are obvious: staying overnight to explore the pintxo bars of San Sebastian, say, or heading out onto the pilgrimage paths of the Basque Country.
Others are a little less expected – like the train stations.
"Bordeaux's train station is magnificent," says Carmel Hendry, from our small group tour specialists Explore Worldwide, which organises our
London to Malaga train tour
. "On arrival, you walk over a bridge that gives a bird's eye view into the station. You can see the scale of it – lots of people take pictures which basically end up being pictures of a train station."
It's just one of many grand entrances on a journey that takes you from London to the Costa del Sol – and all without stepping on a plane.

Bordeaux's train station is magnificent… I hate the airport experience; the train experience is incomparably better.

The trip starts at St Pancras International in London, with its gothic fairy tale spires and swooping glass ceilings. Look up – and up – to glimpse Tracey Emin's
I Want My Time With You
art installation scrawled across the top floor. It also marks the spot from where Eurostar trains sweep passengers directly to Paris in just 2.5 hours. That's about the amount of time you'd spend hanging around an airport waiting for a plane to depart – and all while
using a fraction of the planet-warming emissions
.
In Paris, you'll disembark at the Gare du Nord, with its vast echoing insides and fanciful Beaux-Arts façade. Further south and into Spain, Madrid Atocha has transformed its old train shed into a tropical greenhouse.
There are stories to be told in the more unassuming stations too. San Sebastian station is a relatively no-nonsense gateway to the Basque Country. However, the earth-red paint job is more political than practical, matching the red of the regional flag,
ikurrina
, that was banned when Franco's dictatorship tried to stamp out Basque culture.
"Unless you really need to carry loads of luggage, getting the train will always be more enjoyable, more relaxed and more flexible," says Carmel. "I hate the airport experience; I think the train experience is incomparably better… You can look out the window and enjoy the scenery… It's so much more enjoyable to read a book or play cards."
How do I get from the UK to Malaga without flying?
Our rail tour offers the best train route from the UK to Malaga: London to Paris (2.5 hours direct) > Paris to Bordeaux (2 hours direct) > Bordeaux to San Sebastian (3.5 hours; one change at the French border) > San Sebastian to Segovia (5 hours direct) > Segovia to Malaga (3 hours; one change in Madrid).

Despite using a mix of high-speed and reliable regional trains, our small group train tours don't believe in rushing things. The trip gives travelers a week to roll from London to Malaga, staying overnight in some of the prettiest cities in Europe along the way.

There are no worries about finding the right platform, either. You'll travel with around 11 other travelers and a guide. "It's like someone holding your hand the entire way through," says Carmel. "You don't have to think about anything or what time the train is departing. The tour leader will just say, 'Let's all leave the hotel together at this time.' It's seamless; the tour leader carries all the documents you need."
London to Malaga in a week: the highlights off the rails
Bordeaux
Beautiful station aside, Bordeaux in south-west France is best known for its surrounding wine regions, which have been striped with vines since the Romans were around. It's all about the terroir here; each wine reflects the exact patch in which the grapes were grown. The Bordeaux Wine and Trade Museum, set in the old wine merchants' district, swirls together history lessons and wine tasting in warren-like cellars.

Afterwards, shake off the claret cobwebs with a wander around Bordeaux to see how the wine trade helped fund the extravagant plazas, colonnaded theatres, churches and landscaped gardens that shape much of the city.
San Sebastian
San Sebastian is a 3.5-hour hop over the Spanish border when you travel by rail. Long popular for its scallop-shaped bay and sheltering pine-forested headlands, this northerly Basque city welcomes over two million tourists yearly. That's why a guide comes in handy – they'll lead you through the car-free streets of the old town to the thing that San Sebastian is most famous for: its pintxos bars.

"Almost every bar in the old town of San Sebastian is a pintxos bar," says Carmel. "They're really small – you go in and it's an old-school wooden bar offering plates with small bites. Traditionally, you'd eat at the bar or a standing table with a glass of red wine. A lot of the pintxos are on a slice of crusty bread with herring, salmon, lamb or mushrooms. Even a piece of Spanish omelette comes on bread so you can pick it up and eat it."

Pintxo bars are hugely popular with both local people and tourists, so grabbing a table for even a small group can be a challenge. Booking ahead isn't the done thing. Thankfully, your tour guide comes armed with a hit-list of the best spots to try.

"On our trip, we went to two pintxo bars as a group, and then some people wanted to walk around and do their own thing," says Carmel. "Four of us solo travelers went back to a pintxos bar – that's when you can sit down and really chill out."

"Doing the wine tasting in Bordeaux and the pintxos in Sebastian gives a good contrast," adds Carmel. "The cities aren't that far away from each other in distance but when you get into the Basque Country, everything is so different."
Camino de Santiago
"This part of the tour tends to be everyone's highlight," says Carmel. "First you go to San Sebastian, which is such an awesome city… and then the next day you go on the Camino de Santiago walk."
The 
Camino de Santiago
is a rambling network of routes used by pilgrims to get to the holy city of Santiago de Compostela, where the revered remains of Saint James are said to lie. With a night in San Sebastian, this trip gives you the chance to join the Camino del Norte route that trundles past the city as it makes its way along the coast of northern France and Spain.
"It's really nice because a lot of train travel is through cities, but this is rural," says Carmel. "You walk straight out of San Sebastian. The initial ascent is a bit steep, but then once you get to the coast, on a clifftop, you walk through lush woodland. There are ferns; there are orchids."
This is the Costa Verde, where woodland cloaks the coastline between San Sebastian and Bilbao.
"It's beautiful," says Carmel. "You walk to Pasaia, a fishing village, and get a small water taxi across an inlet and have a fish lunch. It's a really great day."
Segovia
A five-hour train trip takes you south to Segovia, north-west of Madrid. The Roman aqueduct is the city's crowning glory – 167 arches and 20,400 blocks of stone held together solely by the force of ingenious mathematics. Think of that as you're standing beneath those two-ton bricks for a sunset selfie.

Free time in Segovia allows for a wander around cobbled lanes lined with honey-stoned synagogues, churches and courtyards before emerging at the two highest points of the tightly wound streets – Segovia Cathedral and Alcazar (from al-Qasr – or "castle" in Arabic).
Malaga
One week after departing London, the final train of the tour rolls into Malaga on the sand-swept Costa del Sol. Malaga is a perpetually underestimated city, often overlooked by the European tourists who flock here for its sunny climes.

As everyone else hops in a taxi from the airport to the beach resorts, you'll be on a different path, exploring the city center. Climb up to the medieval Moorish palace, wander around the Roman amphitheatre, and visit the many art museums – Malaga is, after all, the birthplace of Picasso – before bidding your travel companions adios with a tinto de Verano spritzer on a sun-trap terrace.
… and beyond to Morocco
At this point, you could reluctantly make your way back home –
or
you could turn a leisurely train journey into an epic voyage by joining a tour that explores Andalusia and hops across the Strait of Gibraltar to Morocco. "Half of our customers traveling from London to Malaga add on our
Andalucia and Morocco rail trip
," says Carmel. "That's 20 days in total, which turns it into more of an expedition."
Our Escorted rail vacations Vacations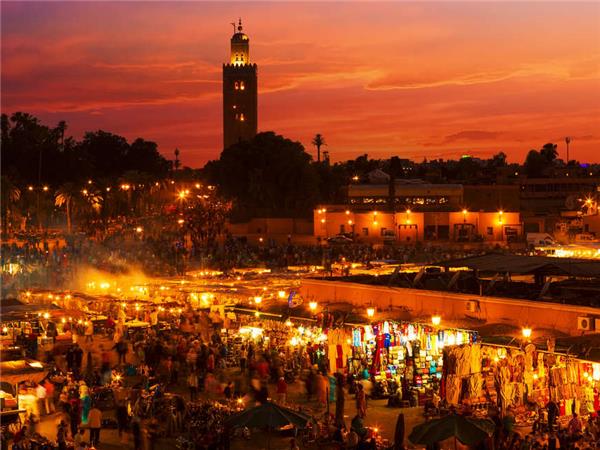 Visit villages and Moroccon cities
From
US $

2080

to

US $

2410
13 days
ex flights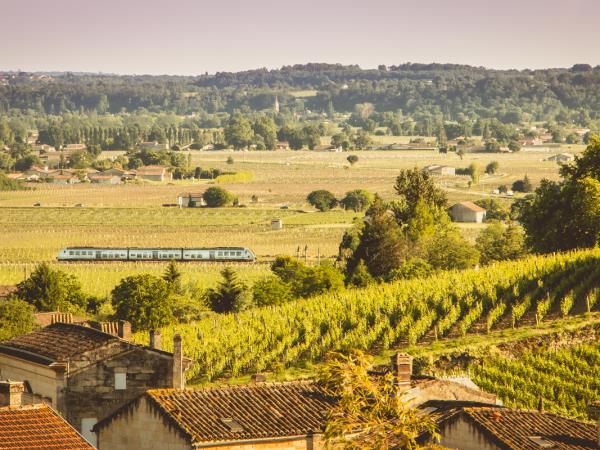 Discover Bordeaux & the Basque Country on this rail journey
From
US $

2410

to

US $

2490
7 days
ex flights
If you'd like to chat about Escorted rail vacations or need help finding a vacation to suit you we're very happy to help.

More about Escorted rail vacations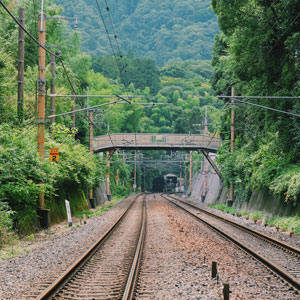 Let our escorted rail vacations guide whisk you away to India, Japan or the wilds of Scotland with a guide, so you can get the most out of your trip.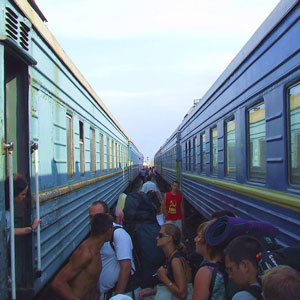 Use our map and highlights page to decide where to go on an escorted rail vacation. But consider these map points as starting points, because shouldn't expect to stay in one place for long.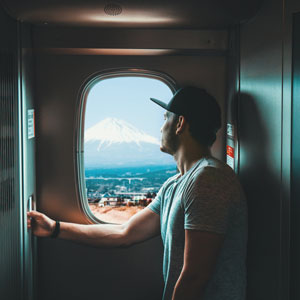 Escorted rail journeys: the name makes them sound old-fashioned, as if these vacations should come with a Bradshaw guide and a maiden aunt as a chaperone. But the reality is far more intrepid.