FAMILY ACTIVITY HOLIDAYS IN MONTENGRO
As if wild swimming, horse riding and white water rafting weren't enough to keep kids, and parents, active outdoors, Montenegro also boasts wild tortoises and giant land snails – great finds for amateur Attenboroughs. Even hard-to-coax hikers will be converted amongst the mountain peaks and glacial lakes of Durmitor National Park, with zip wiring over the Tara River Canyon bound to be mentioned at family dinner tables for many more meals to come. Jeep safaris, mountain bike rides and breaks for hearty Montenegrin lunches – you have to try the kačamak – all add to the fresher feel of rural life in the north.
In southern Montenegro, Lake Skadar National Park provides a blank page for active families to write their own adventure. Kayaking through a lily covered lake to secret coves and mysterious island monasteries fires the imagination on so many levels, especially when hundreds of Dalmatian pelicans decide to take flight. Walking to a waterfall through a valley of walnut trees is just as enticing as it sounds with the chance to take a dip in a cool, spring fed pool the perfect precursor to a barbecue back at base.
Things to do
Jump into a deep, deep river from a bridge; zip-wire over Europe's largest canyon; go horse riding and drink from a freshwater, underground spring; keep an eye out for golden orioles, hoopoes, lizards, horseshoe bats and Dalmatian pelicans; kayak through water lilies to an island monastery; go wild swimming in secluded streams or vast lakes or hidden waterfalls; wade into water fights; scramble over rocks as you enter a cave filled with bats; visit vineyards; taste plum brandy; stay up late or go to sleep in the back of a minibus after an alpine trek through pine forests.
Why families love Montenegro
There's something about the mountains in Montenegro that help families relax and get back to basics. The same can be said for the lakes and rivers; it's like the clock's been wound backwards, and simple things bring the most pleasure. There's no real need to hire a car as transfers to activities are included or take place directly from the base. Montenegro is wonderfully old fashioned and generous both in its natural beauty and cultural charm.
Our top trip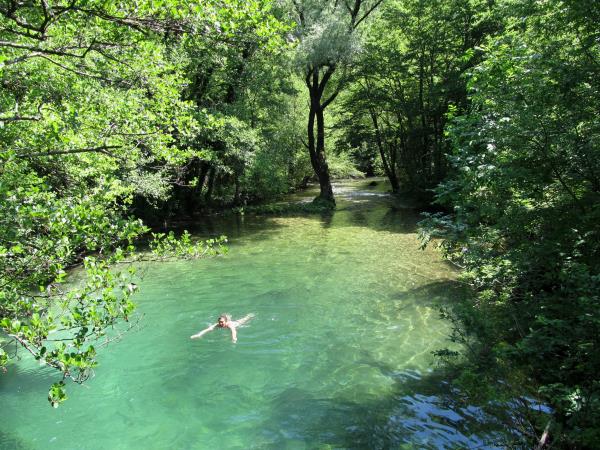 An active villa vacation at stunning Lake Skadar, Montenegro
From
£

745

to

£

845
7 days
ex flights
Small group travel:
2024: 7 Apr, 14 Apr, 21 Apr, 28 Apr, 5 May, 12 May, 19 May, 26 May, 2 Jun, 9 Jun, 16 Jun, 23 Jun, 30 Jun, 7 Jul, 14 Jul, 21 Jul, 28 Jul, 4 Aug, 11 Aug, 18 Aug, 25 Aug, 1 Sep, 15 Sep, 22 Sep, 29 Sep, 6 Oct, 13 Oct
If you'd like to chat about Family activity or need help finding a vacation to suit you we're very happy to help.

TIPS FROM OUR FRIENDS IN MONTENEGRO
Safety first
Sanja Janovic, from our supplier Adventure Montenegro:
"We are very serious when it comes to safety and activities, especially when it comes to children. Wear cotton clothes in summer when it is hot, or only natural fibres; when you wear acrylic clothes, it will be much hotter. In terms of safety and tides, we are in Kotor Bay, so it is very deep, but safe with no big tides, waves or currents. On the Tara River, however, there are strong currents, so you must always go with a guide. We can't take children under eight years old on river rafting trips."
Be prepared
Brett Smith, Director at our supplier Green World Vacations, offers some top tips for families visiting Montenegro:
"Be prepared for anything! The weather in Montenegro, especially in the mountains, can change from one day to the next. Sun hats, neck protection, sun cream and shades are just as essential as stowaway waterproofs and sensible shoes. A reusable water bottle is definitely worth packing for each member of the family, as is a small day sack. Also, don't be shy if offered snacks and fruit for a horse ride or hiking trip; they're vital for energy and it's better to have them in your bag and not use them rather than leaving them back at base and getting hungry."
MONTENEGRO MEMORIES FROM OUR HOLIDAY REVIEWS

My son and daughter both loved the off-road trip with the Land Rover. They jumped from a village bridge into a river!

"My best bits were simply being in an amazing part of the world, with a group of like-minded people, hiking through woods, wild water swimming, jumping in a waterfall, and visiting an island monastery. My son and daughter both loved the off-road trip with the Land Rover. They jumped from a village bridge into a river!" – Kyra De Coninck

"This vacation was made especially special by the warmth, enthusiasm and local knowledge of Ben and Emma. Their choice of itineraries are varied and fun, from kayaking to hiking. My son (16) even got to drive their Jeep! I saw lesser horseshoe bats in the most beautiful setting. My husband made use of the bikes and enjoyed early morning cycle training. We also saw tortoises ambling along in their own environment and jumped into rivers on a hot summer's day – what a tonic!" – Jane Morris

we swam and hiked before ending up at a floating restaurant where they could jump into a deep, deep river from a bridge

"The day trips were all amazing but when I asked my children (aged 13, 10 and 6) which was their favourite they said the day we swam and hiked before ending up at a floating restaurant where they could jump into a deep, deep river from a bridge (all very safe). This was followed by a drive across flood plains looking at birds which felt more like Africa than Europe. Every day was amazing but that was the winner." – Steph Bowler

"We are always keen to hire a car when visiting new places so we picked one up in Podgorica. However, on reflection, we feel a car is not essential. The road infrastructure and parking facilities in Montenegro are not that well placed for even a modest influx of tourists in peak season (July/August), and some of the more idyllic lake and beach locations are quite challenging to drive to. We even found it quite difficult to park in the village at the bottom of the hill. It was much more relaxing to stroll down (20mins) and then seek out a taxi driver to drive us back up for a couple of Euros – all we had to do was mention Ben and Emma to any of the locals and as if by magic a taxi would appear!" – Emma Sewell
More Family activity articles