FAMILY ACTIVITY HOLIDAYS IN CROATIA
Croatia certainly has found herself back on the vacation map, and not just due to dominating Dubrovnik. Base your family on the islands of Vis or Brac or in Omiš, Podstrana or Trogir, on the Split Riviera, and you'll quickly find out why. The Cetina River has endless opportunities for outdoor action with white water rafting, tubing, canyoning and kayaking all ideal for families with kids aged eight and up. Podstrana has pedal boats, a water assault course and accommodation near the beach, with a pool. Omiš, too, boasts Blue Flag beaches, plus a cracking walk to a cliff top castle to provide more than a match for overcrowded coastal resorts. Life simply isn't complete until you've enjoyed a grilled fish supper and a cool bottle of Ožujsko after slipping and sliding down the river rapids at Gubavica waterfall. Take teens to Croatia and they'll thank you forever, and not just because they got the chance to watch mum jump off a rock into a gloriously green plunge pool.
Our Family activity Vacations
Things to do
Canyoning, white water rafting and tubing on the Cetina River; snorkelling, swimming and kayaking in the Adriatic; chilling on a Blue Flag beach or screaming on a zip line; sliding, jumping and plunging into natural pools and waterfalls; singing 'rafting on sunshine'; skippering your own mini raft; switching off the Snapchat; stand up paddle boarding, fishing, sailing, scuba diving or yoga by the sea; cycling around an island; paddling into secluded bays and secret sea caves; pedalling to vineyards; drizzling homemade honey on your uštipci. Yum.
WHY CROATIA'S COOL FOR KIDS
Why Croatia's cool for the kids
Croatia's been capturing hearts for a while now and not just for its Adriatic islands. Families with teenagers, in particular, never tire of the Split Riviera where water assault courses, Blue Flag beaches and the pirate town of Omiš, provide more than enough options for hanging out with new pals. Islands like Vis and Brac are varied, too, and you can tailor a vacation to include as many or as few activities as you wish. Croatia's coastline does get busy, especially around Dubrovnik, but it doesn't take much to escape. Just ask a local activity instructor, they've been safely taking small groups down the Cetina River, and beyond, for years.
Our top Family activity Vacation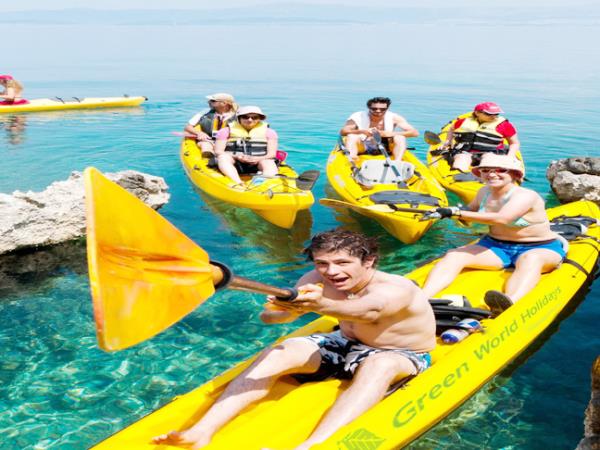 Croatia adventure island, land & sea activities for families
From
Ł

995
8 days
ex flights
Small group travel:

If you'd like to chat about Family activity or need help finding a vacation to suit you we're very happy to help.

ADVICE FROM OUR FRIENDS IN CROATIA
Age is just a number
Croatian family activity tour leader, Maria Budimir-Bekan
"We had a grandfather on the trip with his 12 year old grandson. John, the grandfather, phoned because he was a bit worried that he might not be able to do all the activities. I reassured him that if at any stage he felt uncomfortable, we have professional guides and support, so he could step away and the guides would help out his grandson. So he decided to come, and fair play to him. When the cycling day came, he was worried. But do you know what? He was probably the best on the cycling day. He did everything on the trip. Canyoning and white water rafting were his favourite activities. At the end of the week, he gave our guides a gift, and told them 'You know, if you need some help next year, I can come to help you!' So, age means nothing really. It is just a number."
Read the whole interview with Maria.
Bring on Brac
Brett Smith, Director at our supplier Green World Vacations, shares his recommendations for active families visiting Croatia:
"I am a big fan of Brac Island where we have one of our adventure bases. I have taken my family here and it is just so pretty, safe and well set up for nature and sports lovers. It still has that lovely peaceful island charm and is affordable when you are there, which is important for parents who have teenagers with hollow legs and irrepressible appetites."
CROATIAN TALES FROM OUR HOLIDAY REVIEWS

The sea swimming was exquisite. Simply stunning.

"The most memorable part? I think for the adults it was definitely canyoning. For the children, white water rafting was a hit especially as all the kids were in the same boat. The river rope swing behind the hotel was also mentioned, a lot. Water shoes are a must although, don't bring too many clothes with you as you're in swimmers for most of the vacation." – Catherine Raja

"Our 11 year old son and 13 year old daughter benefited from the experience, not only because of enjoying and feeling challenged by the activities but also because of the place itself being so easy to navigate. They could enjoy a bit of vacation freedom without worrying or feeling overly supervised by us, the parents. The sea swimming was exquisite. Simply stunning." – Jeneva Patterson

Teenagers were happy, so were we. Tour leaders were really helpful and engaging – an arranged extra activity boat trip on our rest day was excellent.

"The white water rafting was favoured by all four of us in terms of pure fun, closely followed by the cycling day. That said every day was terrific but the most memorable aspect is probably the great group of people we shared our experience with. All I can say is our boys feel it was the best vacation they've been on and we concur. In the literature we were given at the start it said that on average you laugh 13 times a day but on this vacation we laughed a lot, lot more!" – Sandra Oxton

"Excellent for families who don't just want to sit on a beach but don't want a bootcamp or just one activity. You can kayak, mountain bike, snorkel, swim, jump off rocks into the sea, practise yoga and walk in the cool of the day. The house is in a great position near several coves. Very unspoilt area, not a single shop. Cash only, no credit cards, accepted in the two local restaurants. Good accommodation, Craig and Xania have a flair for design, very comfortable, easy living and very good (vegetarian) food" – Fiona Harper

"Teenagers were happy, so were we. Tour leaders were really helpful and engaging – an arranged extra activity boat trip on our rest day was excellent. We also booked the zip wire and our teenagers were raving about it for the next two days." – Rebekah Leadley
More about Family activity