Children's ages for family vacations
It's always a problem balancing children's ages for family vacations, their needs and interests. The world celebrates the milestone age of 18, but in terms of the family travel world, the age of eight is often seen as a critical coming of age. It's when children are given their own kayaks instead of having to share with Mum….embarrassing. Or allowed to do cool things like zip wires or canyoning, instead of pretending that going on a 'bonding walk' with Dad is going to be just as exciting. The really embarrassing thing for children, however, is that there is rarely a maximum age for activities on family vacations. You thought Mum was embarrassing in a kayak? Wait until you see granny abseiling. Minimum children's ages for family vacations are all clearly marked on Responsible Travel trip listings
Baby friendly
When you are still in the world of nappies and night time awakenings, you are more likely to go for an 'accommodation only' vacation, but you do want to check that the vacation provider truly gets what you need as a family to make your vacation as restful as possible. Is the pool gated off, is there a highchair, cot, steriliser, secure garden, shops nearby, safe roads for pushing a buggy along and so on. If you also have older children who want to get involved in other activities, go for a tailor made vacation with one of our family specialists, who will know how to accommodate a wide range of age ranges.
Five to eight
Generally, being able to swim or cycle is going to make a family adventure vacation for under-eights more enjoyable. However, it is not always a prerequisite for kayaking, for example, where sturdy buoyancy aids keep you afloat. Height is sometimes an issue, however, with 114cm usually around the minimum for activities with safety equipment, in order to ensure it fits. We recommend a tailor made adventure vacation for this age group, so that you can ensure your needs are met.
Eight to twelve
Ah, the blissful age of eight, when you can start doing all the things your parents never thought they would let you do, like canyoning, coasteering and white water rafting. What makes a good instructor excellent, for this age group, is when they can teach you how to gain that sense of freedom and exhilaration through adventure, while still respecting the rules of safety and environmental sensitivity. And also one that puts the adult's mind at ease.
Teenagers
Trips aimed at teenagers are usually small group vacations, where families can be matched age wise, they can stretch their adventure skills such as in kayaking or mountain biking more than they could with other age groups, and tour operators understand issues like needing food on tap at all times, and having later starts in the morning. They are often trips of a lifetime too, celebrating that rite of passage into adulthood, such as a South African safari for families with teenagers, an adventure vacation on the Amazon in Peru, or a family vacation to Burma aimed at teenagers.
Multi-generational
One of the most unsold and untold aspects of family vacations is that there is never a maximum age. Long gone are the days when grandparents just want to go on a Saga cruise. Many are fit and feisty, boasting a sense of adventure that often increases with age. Just ask the older members of your family if they are up for kayaking around Croatia's archipelago, husky sledding in Lapland or discovering China. You'll be surprised how many are.
Our top Family Vacation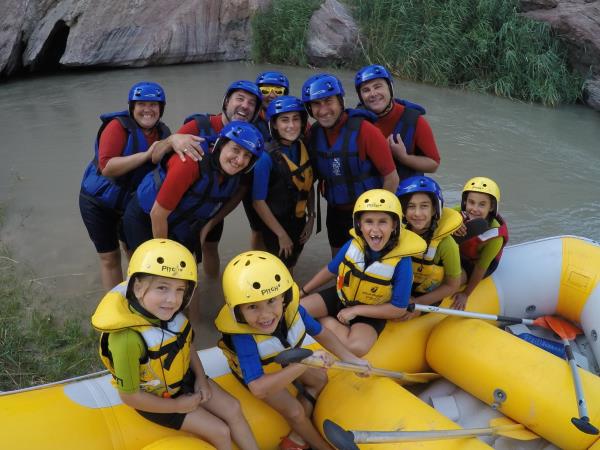 Multi-activity family vacation in the Spanish Lake District
From
€

450

to

€

700
8 days
ex flights
Tailor made:
This vacation is available April to October and can be tailor-made to suit your requirements.
If you'd like to chat about Family or need help finding a vacation to suit you we're very happy to help.

Responsible Travel asks the experts
Chloe Knott, from our supplier, Exodus, shares her advice on traveling in France with kids: "France is very suitable for families. There are a lot of different areas and a very diverse terrain, so where to go depends on what style of vacation your family wants. If you want a multi-activity vacation in the Dordogne for instance, it's best to travel with kids of age five and up because it's helpful if they can swim and cycle to get the most out of it. There are more coastal areas where you could happily take any age child and Provence is great for families who are happy to spend their time relaxing and looking around the fantastic markets there. The characteristics of the Alpine areas are predominantly steep surrounding valleys and even with the more gentle hills, more effort is required, so I wouldn't recommend that for younger kids."
Sally Guillaume, from our supplier, Undiscovered Alps, shares her advice on traveling in France with kids: "In the summer particularly we get lots of families visiting the Southern Alps, especially with teenagers; I would say that France overall is a great destination for families, but the mountains are probably best for children aged seven and upwards simply because children of that age can get involved more with the activities. The most popular activities for teenagers are canyoning, whitewater rafting and via ferrata – often the parents do all of the activities alongside their children, but you don't have to be an outwardly adventurous family to get involved, although part of the fun for teenagers is definitely seeing their mum go down the canyon; it's a great opportunity for family bonding and raises the kudos of the parent in the child's eyes!"
Vo Thi Bich Ha, from our supplier Haivenu, is Vietnamese and has travelled in the country with her two young children. She shares her tips on traveling in Vietnam with kids: "I wouldn't advise traveling with toddlers because the facilities are not very child friendly. It's nothing like what you're used to in England – the toilets are difficult with a young child, the restaurants and museums don't have changing tables and other facilities. But kids from eight upwards who like to explore will love Vietnam. They can ride a pony in Sapa, go rafting down the river, paddle a large basket boat, make decorative lanterns from silk in Hoi An. You can also learn to make spring rolls, salads, noodles... the children go out to the markets with a guide to get the ingredients and come back to cook and eat them."