Planning a family vacation can be stressful at the best of times. The prospect of traveling on your own with the kids, particularly if it's the first time, might produce apocalyptic visions: screaming toddler in one arm while scrabbling for your passports with the other; your six-year-old doing a disappearing act at Disney; teenagers vocally hating every moment…and you dreading travel day.
The first thing to remember is that you're not actually alone when you travel as a solo parent. One: you've got the next generation of travelers at your side to share the world with. How exciting is that? Two: there's a host of vacation companies out there that specialise in giving you as much or as little support as you need. Some even match-make you with other families to hike, bike and surf alongside.

You'll never walk alone on a solo parent vacation. A great family tour operator will hop in their TARDIS and identify obstacles before you've even started packing. And they make it their mission to minimise them.

A boatload of factors affect what type of vacation you might want to go for, from flight times and the age of your children, to whether you'd like to join other families or invest in some WhatsApp-free time with just you and the sprogs. Although you need to be mindful of your children's limits, you don't have to sacrifice your own preferences. What part of the world do you love and want to share with your kids? Keep reading to find out how single parent vacations don't have to be insurmountable challenges.
How to choose a solo parent vacation
Planning vacations as a solo parent or guardian can appear an overwhelming task. So why not pass on the organising baton to specialists who know exactly which vacation is the best fit for you and your family? They'll ask the salient questions: children's ages, accessibility needs, accommodation preferences, destination wish list, flight time tolerance limits, and so on. They'll sort out transfers, so that you don't ever get to the point where you're wrangling yourself, a wriggling toddler and luggage onto an airport bus.

Be kind to yourself. Don't feel like you have to backpack around Sri Lanka with a toddler in tow to prove that you can. But on the flip side, pick a trip that's as much for you as for the kids.

The family tour operators we work with are the experts, so they know their regions of choice back-to-front. They'll know that packed European cities like Venice or Rome can be overwhelming at the best of times – let alone if you're herding three children under the age of 10 on your own. Instead, they'll suggest the
best time to go
– or surprise you with places you hadn't considered, like a crowd-free Croatian island or an organised tour of the gorges and deserts of Oman.

You're showing your children that it's okay to travel alone – that there's value in it, in fact. They might not appreciate it at the time, but you might just find that it inspires their own independent travels.

Family vacation specialists will also work out which type of vacation is best for you as a parent flying solo. Tailor made vacations give you room to create a bespoke itinerary. Everything from vacation duration (three days or 30?) to accommodation type (safari lodge or French gîte?) can be tweaked to your preference. You can pick 'n' mix activities, too.
Small group vacations are great for solo parents or guardians who'd prefer to pair up with other families. If you'd like to clink a beer over a campfire with likeminded parents or swap tales of your terrible teens, then these fixed-itinerary trips could be for you. Kids often really do make friends for life while on these sorts of vacations.
There's one thing every family vacation has in common: they're all run by specialist tour operators that excel at organising the tough stuff for you. They can recommend accommodation with adjoining rooms and give you the lowdown on whether single supplements apply for the guardian. (
In many cases
, they don't.) They might even have vacations
specially designed for single parents
, or adapt one of their existing vacations to your needs.
This high level of expertise will give you confidence in your ability to travel with the kids on your own. And no matter what you do – whether that's hiking in Morocco or camping out under the Northern Lights – the vacation companies we work with will always have your back. If you get stuck or need advice, just give them a shout.
Our top Family Vacation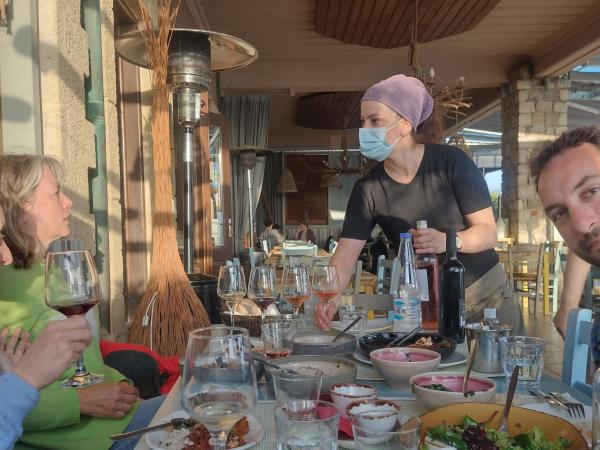 Mediterranean vegetarian cooking steeped in local flavours.
From
£

1255
6 days
ex flights
Small group travel:
2023: 15 Apr
If you'd like to chat about Family or need help finding a vacation to suit you we're very happy to help.

Packing tips for solo parents
Many tour operators will give you packing lists for your vacation. Essential items could range from head torches for exploring bat caves in Transylvania to a snorkel for your Belize diving trip. XXL reusable water bottles are a good call, too; it's easy to forget to tell kids to rehydrate when it's just you in charge.

Stock your pockets with snacks, snacks and more snacks. And possibly a flask of whisky.

At times, the entertainment will be all on you. Bring every kind of reading material that you can fit into your bags (football sticker books, crosswords, Harry Potter, scrapbooks and glue, comics). Travel games are essential, whether that's Top Trumps or Uno. The fewer pieces the better; we know from experience that no one wants to be scrabbling around an aeroplane floor for stray travel Monopoly pieces. It's great to try to limit screen time for a while, but don't beat yourself up if things don't go quite as planned. There's only one of you, so be kind to yourself. Playing Nintendo in the back of the car on a road trip never did you any harm, anyway.
Solo parent vacation tips
We asked around the Responsible Travel office for tips on traveling solo with kids. Read on to find out our thoughts, from the art of compromise to essential packing tips.

If you have more than one child, consider vacationing with friends and their kids.

"You need to share the adventure with the children, rather than just dragging them around and pretending you're a free adult. Be happy when you get a quiet moment, but don't expect it. If you're sleeping in one room, be prepared for lights out at 8pm. Bring a head torch to read or just go to sleep when they do and wake up at 2am. It's a selfless and prepared parent that has the least amount of stress." – Chris Owen

"Some of my favourite memories as a teenager are of traveling around Europe with my mum. We laughed, we bickered, we became close travel companions and Uno pros. And we still crack up about that time I left my bag (passport, phone and all) in the X-ray machine at French security and had to run up a down escalator to get it back." – Catherine Roberts

"When they're young, go for easy – center based, loads of activities nearby, maybe a pool. If you have more than one child, consider vacationing with friends and their kids. Pack loads of games, activity books, regular books, anything to keep them off screen for a little while. Bring a hipflask." – Rob Perkins