Mexico's Day of the Dead Festival
Colourfully painted miniature skulls have become something of a kitsch adornment in recent years; their floral designs and hollow eyes peering out from around Mexican-themed bars, quirky souvenir shops and Halloween party venues. They feature on greetings cards, key rings and fridge magnets, but how many of us know the skulls' origins, or what they symbolise?
The skull – calavera in Spanish – is a motif that features throughout indigenous Mexican art, dating back several thousand years to the Aztecs. This ancient culture created intricate skull reliefs in stone monoliths and ceramic pots, carved skulls from jade and obsidian, and embroidered them into their clothing. Far from being a gruesome reminder of our own mortality, the skull symbolised resurrection, and worship of death was a rather cheerful affair as it also worshipped new life.
While the Spanish conquest – and the Catholicism that came with it – forced these pagan beliefs and rituals underground, the skeletons never truly disappeared. With Mexican independence, many indigenous traditions were openly celebrated again, and the varying belief systems began to fuse into the Day of the Dead that we know today.
While the Aztecs' main celebration of death and life took place in early summer, following the Spanish conquest, Día de Muertos moved to coincide with the Christian celebrations of Halloween (All Saints' Eve), All Saints' Day and All Souls' Day. The food offerings and feasting, long practised on these dates by the Spanish, combine with the traditional Mexican skull imagery, cemetery visits and the creation of altars on the graves of loved ones, in a syncretic display of beliefs. The skull remains a key feature of the festival, in which participants wear skeleton masks, make offerings of sugar and chocolate skulls, and bake sweet, skull-shaped bread. Since 2008, Día de Muertos has been recognised by UNESCO, and it is now just as popular with tourists, and with Mexican communities overseas, as it is in its original birthplace in central and southern Mexico.
Why is Day of the Dead celebrated?
The 'Day' of the Dead is in fact a three-day festival. 31 October, All Saints' Eve, marks the start of the event, and many visitors will note echoes of Halloween, as children knock on doors to ask for sweets and money. Indigenous tradition states that on this night, the dead may cross temporarily into the world of the living, and friends and family members will create altars at loved ones' graves, piled high with items including family photographs, corn tamales, candles, marigolds and more. The following day is the most contemplative of the festival, as it honours children who have passed away, giving it the names Día de los Angelitos, (Day of little Angels) or Día de los Inocentes. Today, the souls of the dead children return to their family homes, and there is much baking of cookies and sweets, while toys are placed on the altars. On 2 November, All Souls' Day, deceased adults are remembered.
How to see the Day of the Dead festival
While it may seem odd to join a Mexican family as they gather together to remember their loved ones, do remember that this is not a sad funeral, but a celebration; it's a life affirming event. It's seen as an opportunity to reconnect with late family members, whose souls return to their homes at this time.
Visiting Mexico at this time, you can wander through markets selling all manner of colourful goods which people will use to decorate their homes and the graveside altars. Bright marigolds are a favourite, as are the decorated sugar skulls. Depending on where you go, you may see parades with stilt walkers, marching bands and fantastic costumes. By night, you can wander through the cemeteries as they heave with people and glow red with the flames of votive candles. We highly recommend joining an organised vacation to see the Day of the Dead festival. These types of tours will take you to some of the more isolated indigenous villages, and you may be able to visit or even stay with a local family, who will welcome you to celebrate along with them.
There is plenty of symbolism in the parades, decorations and feasts, and a local guide will be able to decode these for you, explaining the origins and meanings of the costumes, muertos bread and figurines, from the famous Calavera Catrina (a skeleton dressed in a wide bonnet) to the ubiquitous 'pierced paper' bunting.
You can also explore artisan workshops in local villages, where craftspeople specialise in black pottery, wood carving and special Día de Muertos artworks, all giving insights into indigenous Mexican folklore. Take a cooking class to learn how to make Oaxacan Day of the Dead quesadillas, and tuck into lunch with your host family.
Our top trip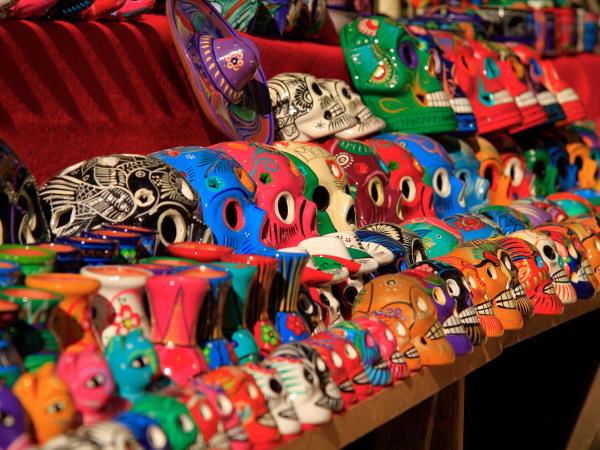 Explore rainforests and volcanic islands
From
US $

4340
16 days
ex flights
Small group travel:

If you'd like to chat about Festivals or need help finding a vacation to suit you we're very happy to help.

Where to see the Day of the Dead festival
Celebrations take place across Mexico – and beyond – but Día de Muertos originated in the Aztec and Toltec heartlands of Mesoamerica, in today's central and southern Mexico. This is still where the biggest and most traditional celebrations are held today. Only in the last few decades has the Day of the Dead been celebrated in northern Mexico, after the Mexican government made it a national vacation.
Vacations to see the Day of the Dead festival in Mexico will focus on the southernmost states of Chiapas, Oaxaca and Campeche, in the Yucatán Peninsula, which have diverse indigenous populations. Ethnic groups here include Mixtec, Zapotec, Maya and Mazateco; indigenous languages are spoken throughout, and some residents do not speak Spanish.
During the three days of the festival, you may spend time in cities such as Oaxaca, and/or in indigenous villages, to give you a fuller sense of the festivities. Meeting local people is a highlight of these trips, and our tour operators and local guides have built up meaningful relationships with families in this region, to ensure your experience of the celebrations is as authentic and respectful as possible.
Responsible tourism during the Day of the Dead
Although this is a celebratory time, Día de Muertos does hold great spiritual significance for many Mexicans, and you should be respectful at all times. Do not take photographs inside places of worship, and if you wish to take pictures in the cemeteries it is advisable to ask permission first. Try and greet people in Spanish; if you are spending time with indigenous people, ask your guide to teach you a few words – good morning, thank you, good bye – in the local language.
Do remember that the kitsch skulls, facepaint and bunting that have been exported around the world are not what this festival is about. Go into the celebrations with an open mind, accept the food and drink that is offered and join in with the activities, but remember, this festival and its religious beliefs are extremely personal and meaningful to the local people you are visiting. You should observe what is happening in order to ensure you are behaving as respectfully and appropriately as possible.