Nadaam & Eagle Festivals, Mongolia
Mongolia's annual Nadaam festivals, that take place around the country, are great sporting and social events, while attending an eagle festival is a rich cultural experience, and a chance to mix in the company of people from small towns, nomads and Kazakh hunters. Many organised vacations to Mongolia include a visit to a Nadaam or eagle festival, with the added bonus that you'll have a local tour guide help explain the traditions and rules of the competitions taking place throughout each day.
Nadaam
The Nadaam festival celebrated throughout Mongolia in July each year is an unmissable social occasion and community event. It forms a major part of the calendar for most Mongolians, when they celebrate who they are, how proud they are to be Mongolian and the qualities that produced the warrior nation of Genghis Khan.
People gather in towns and villages to catch up with family, eat together and enjoy horse racing, wrestling and archery competitions, known as 'the three games of men'. These sports have changed little from the 12th century when Genghis Khan ruled, with many ancient details preserved, from the type of saddle to the riding style, the archery equipment to the targets.
Horse racing is central to the Nadaam, because horse culture remains at the heart of Mongolian life. There are more than 50 words for horse whinnies, and 200 or so to describe a horse's colours and markings. At the Nadaam, boys aged between five and 13 race, sitting well forward on their horses. They sing to their horses before each race and while caring for them, to keep them well; songs that Genghis Khan would recognise.
The races are cross country events of between 15 and 30km, depending on the age of the horse. Up to 1,000 horses from all over Mongolia participate, racing across the herb rich grasslands of the steppe in a test of the horse's skill and endurance. The horse that comes in last in the two year old horse category is called bayan khodood or 'full stomach' and gets a special song sung to it, wishing it better luck for next year.
Watching the wrestling competitions is something the whole family enjoys, and the spectacle of hefty men wearing sturdy pants grappling each other on the grass attracts huge crowds. The unusual sleeves the wrestlers wear, which leave their chest exposed, are less traditional than the sport; they were introduced after a particularly powerful woman won the Nadaam disguised as a man.
Unlike in sumo and other forms of wrestling, there's no specific ring or bout limit to Mongolian wrestling, and fighters often tumble dangerously close to the crowd. Apparently, it's good luck if one lands on you. The victor performs an eagle dance, arms spread like wings, to celebrate.
Unlike with the men-only wrestling, women and children are allowed to take part in the archery. It was once the most important of 'the three games of men', and Mongol archers struck fear into the hearts of the Eurasians they invaded in the 12th century. Today, it's less celebrated than wrestling and riding, but still lovely to watch, with contestants typically wearing traditional deels, a long belted coat often made from brightly coloured silk. Judges traditionally announce the scores by singing.
The biggest festival, the National Nadaam is held in the capital Ulaan Baatar from 11 to 13 July in the National Sports Stadium. There are impressive opening and closing ceremonies with parades of mounted cavalry, athletes and monks, but some argue that spectacle has overtaken the sports that are at the heart of the Nadaam. If you can, visit a rural Nadaam celebration, which is great fun and gives a fascinating insight into local life. These smaller, grass roots events have a truly festive, country fair atmosphere and, unlike at the National Nadaam, there's usually no need to queue to watch the games. They aren't held on fixed dates – each community picks its own auspicious date – but they usually take place in July. There's a great Nadaam held in Khatgal on the banks of Lake Khovsgol in the far north, and there's a big festival in Bulgan, to the northwest of Ulaan Baatar, too.
Our top Festivals Vacation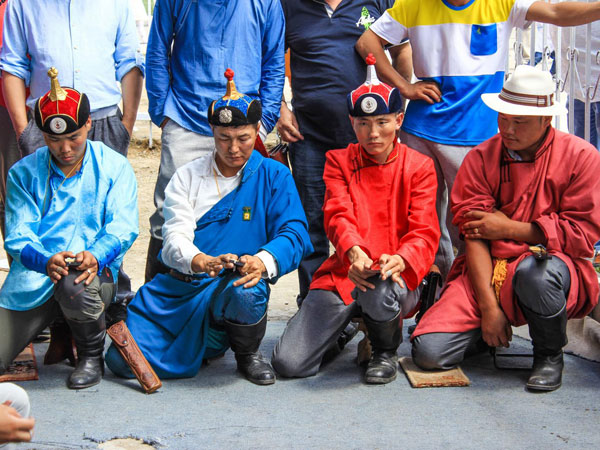 Mongolia tour with Naadam Festival departures
From
US $

5049

to

US $

6179
15 days
ex flights
Small group travel:
2024: 8 Jul, 21 Sep
If you'd like to chat about Festivals or need help finding a vacation to suit you we're very happy to help.

Eagle Festivals
There are three Golden Eagle Festivals in Mongolia's westernmost province of Bayan-Ulgii that showcase the astonishing skills of the Kazakh golden eagle hunters. They are becoming increasingly popular with tourists, but the festivals' origins are not as ancient – or traditional – as they may appear.
The Altai Golden Eagle Festival was founded in 2000, a collaboration between two tour operators and local Kazakh eagle hunters. It has taken place in the first week of October each year since then; a slightly smaller festival was founded in 2002 in nearby Sagsai, and is held each September. These festivals are aimed primarily at spectators, comprised of local Kazakhs, and Mongolian and foreign tourists. A third festival was launched by another travel company in March 2018
The festivals' huge success has been credited with raising awareness of eagle hunting in Mongolia and abroad, and of encouraging young Kazakhs to take up the practice. In 2011, eagle hunting was added to the UNESCO Representative List of the Intangible Cultural Heritage of Humanity, as an example of 'living human heritage'.
WHAT HAPPENS AT THE EAGLE FESTIVALS?
What happens at the eagle festivals?
As the festivals take place in September, October and March, which are just before or after the winter hunting season, it is rare that any actual hunting takes place. Instead, the competitions between the hunters will showcase traditional falconry skills and demonstrate the communication between the hunter and eagle, which is key to a successful working relationship. Unfortunately, during the autumn festivals, the eagles will have been idle throughout the summer months so communication is somewhat rusty – and it's quite common for the eagles to simply ignore their handlers and fly around doing their own thing, to the great amusement of the assembled Kazakh crowd.