Best time to go to Finland in winter

Depending on location, winter in Finland begins in November and can last up to five months, with temps ranging from a balmy zero to a lung-freezing -35°C.

You don't really need us to tell you the best time to go on a Finland winter vacation. But you may want to ask a Finn, because they claim that there are eight seasons here, depending on how far north you go. So there is still snow in
Lapland
in
April
and as early as
November
. The
Northern Lights
come out to play in
September
, right through until
March
.
December
to
mid January
are deepest, darkest winter, but people still get out there enjoying saunas and freezing lake swims. And countrywide,
mid January
until the
end of February
is full on winter activities.
Things to do in Finland in winter
Things to do on a Finland winter vacation…
It's a dog's life in Finland, and although husky safaris are not a traditional way to get about (they began in the 1960s) it's a terrific way to do so. For any dog lovers out there, let us put your mind at rest. If you go on a husky vacation, you will soon realise that the Finns adore their dogs. There is no shouting or coercing of the animal; the human is being led by the dog, not the other way around.
Cross country skiing and snow shoeing are very much part of local culture as is outdoor life. It is a wonderful sport to adopt, whether you are eight or 80, and once you realise that it isn't all about posing on the pistes but rather about being at one with nature, you will be hooked. From the greater Helsinki area to the wilds of Oulanka or Hossa National Parks, there are carved out tracks everywhere. Read an in depth interview with one of our travelers on a Finland snow shoeing vacation.
Finland is awesome when it comes to the Aurora Borealis because there is a lot of very dark inland terrain, particularly in Lapland. Lakes Inari and Menesjarvi, for example, are top spots, where glass roofed cabins are all the rage so that you can fall asleep under the greatest light show on earth. Or trust your guide's 'Aurora alarm' when you are woken in the middle of the night to be taken off to some distant woodland spot.
Things not  to do on a Finland winter vacation…
Forget the indigenous Sámi people, who have been stewards of these incredible landscapes for generations. When you see reindeer, remember that the Sámi are the traditional herders. If you are lucky enough to see the Northern Lights, and do so from a traditional Sámi kota tepee, remember that traditionally the lights were thought to be the souls of Sámi ancestors. And if you hike on ancient paths, remember that these may have been semi nomadic Sámi trails, or a route to a seita - a holy stone and gateway to the spirit world. It is well worth taking the time to meet with them and support their tourism initiatives.
Wander off into the wilds of Finland alone. If cross country skiing, for example, and a newbie either to the sport or to the country, you are best doing so with a local expert guide. If you are having a day to yourself to explore, always tell your hosts where you are going and when you are due back. And definitely never go wild skating without a local expert and all the necessary safety equipment.
Leave your children behind. Finland doesn't understand the phrase 'family friendly' because it would be unheard of not to include young people in everything. No wonder Santa comes from here. Step away from the commercial aspect of Christmas, however, and embrace magic in a different way by snow shoeing across winter plains, being stopped in your tracks by an elk posing like a mirage, having saunas then running into the snow, going reindeer sledding in Pallas-Yllästunturi National Park, and the list goes on.
If you'd like to chat about Finland winter or need help finding a vacation to suit you we're very happy to help.

Finland winter travel advice
Cross country skiing tips
Urpo Heikkinen, of our Finland supplier, Upitrek:
"I really recommend cross country skiing. You go from place to place, spending each night with different people – you feel like you're having an adventure. The rhythm is flexible and it's much easier than walking – you can cover great distances while still seeing wildlife and tracks in the snow. On the downhill sections you'll enjoy the speed. In these remote areas people still have a more traditional way of living. They have gardens where they grow their own vegetables; it's always Finnish food made with local ingredients, so no pizza or pasta! It all comes from very close by. Skiing from place to place is also an environmentally friendly way to see Finland – it's much better than traveling by car."
Family vacation tips
Ali McLean, from our supplier, Activities Abroad, and a dad:
"A couple of years ago I was at Lake Inari, standing on a frozen lake waiting for the Northern Lights. It was -27°C and the kids were sitting inside a hut under blankets and next to a fire. About midnight the lights came out and I ran in asking them to come and see the display. My daughter looked at me and said, 'nah dad, we've already seen them.' Kids have to be a certain age to appreciate them; I'd say anyone below their teenage years doesn't have enough of a grasp of what they are and gets too tired and too cold for the hunt. It tends to be a trip for the older generation while the kids get stuck in to all the great winter sports."

Laura Greenman from our Finland winter vacations supplier Magnetic North, and a mum:
"The outdoor life helps family life as young and old can connect in nature – perhaps working together or enjoying a stunning sight. Our guides pass on their love of the outdoors to the younger generation; partly for fear that society is becoming too sedentary! Many trips are adapted for a wide age range such as dog sledding, snow shoeing, reindeer sledding, camping in the wild, and ice fishing."
Snow shoeing tips
Tom Wilkinson, snow shoeing expert at our supplier, Exodus Travels: "If you can walk you can snow shoe. There are of course techniques/tips for going up and down, and through deeper snow, but really this is the winter sport anyone can do. With snow shoes a beginner can access places usually reserved for red hot off-piste skiers – and you're far less likely to crash into a tree! Aside from thinking you'll be using tennis racquets (modern snow shoes are sleek and light) people can forget that if you're walking in deep snow, walking in single file means the person at the front does all the work breaking the trail, though good etiquette is to take turns doing that!"
Cultural tip
Laura Greenman, from our supplier, Magnetic North:
"When we organise trips or experiences with Sámi people, we have to be really careful that what our travelers are seeing is genuine. Sometimes they might see Sámi in traditional costume for example, but we believe they should only see it if the locals were going to be wearing it anyway; we don't want people on our trips to experience a 'show'. We want people to spend time with reindeer herders and see what their day is like and see how they live with their families. These experiences aren't forced and are in fact very personal and we find that people get so much more out of that than being shunted around a set-up situation."
At Responsible Travel, we think the best people to advise our travelers are often... other travelers. They always return from our tours with packing tips, weather reports, ideas about what to do - and opinions about what not to.

We have selected some of the most useful Finland winter vacations travel tips that our guests have provided over the years to help you make the very most of your vacation – and the space inside your suitcase.

Get some hand warmers for your mittens.

"It was easy to put too many layers of clothing on when doing sporting activities such as skiing. Take your own balaclava or two and glove liners. You can rinse out your clothes it you get too sweaty and dry them in electric dryers that each hotel has. So you don't need to go over the top with too many winter clothes. The warm winter clothes they supply are excellent and all you need are some thermals for a couple of days." – Thomas White

"Get fit before you go. Get some experience on cross country ski techniques, especially if you are an alpine skier like me - crsos-country is different! Take clothes that you can layer on top for when you stop skiing... I really enjoyed the total immersion in the beautiful Finnish wilderness and the ability to enjoy its peace on your own, at your own pace, whilst also knowing you had a great team to catch up with. The locations and cabins were just stunning. The best thing about the whole trip was the peace. By Day 3, skiing was a meditation and I simply enjoyed the peace... take a day to visit Helsinki on the way home – very cool city." – Paul Cundy

Plan to take naps during daylight so you can stay awake longer for the night time aurora hunting.

– Malcolm Raggett on a Northern Lights vacation
"Do it! Buy some good thermal underwear. Buy a bulk pack of hot hands hand warmers from amazon as they were worth their weight in gold!... It was wonderful. We all loved different activities... The cross country skiing and snowshoeing required more skill than we expected. However, the scenery for every activity was stunning and definitely the star." – Susannah Stewart

"Pack light – the outer gear provided is good. Get fit – chopping frozen reindeer meat, lugging wood and water to the wilderness cabins is hard work in deep snow. Bring a camera – our camera worked but our phones switched off in the cold." – Ruth Stevens on a husky safari vacation

"Take a lot of socks." – Louise Robertson

"Be reasonably fit and you will enjoy the trip more, and don't go directly from a warm climate without acclimatising somewhere for the cold beforehand... The scenery was just fantastic, and I really enjoyed being with the huskies. The whole experience was like nothing I've ever done before." – Jonathan Gilbert on a winter activity vacation
More Finland winter articles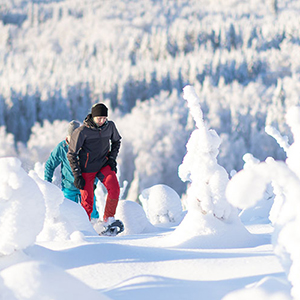 Highlights of where to go in Finland in the winter & what to expect.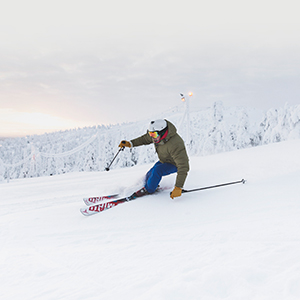 Combine skiing with forays into the frozen landscape to seek an audience with the aurora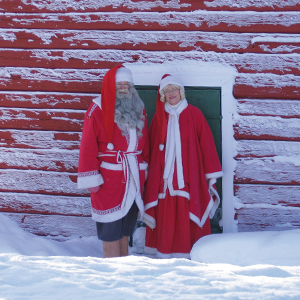 Visiting Santa in Finland is a once-in-a-lifetime experience to share with your family.