Finland winter travel guide
Dear Santa, I am starting to get a little bit fed up with the fact that Christmas is starting earlier every year, that it has been commercialised to within an inch of its life and, that after the main event, I feel a bit empty. Any tips...?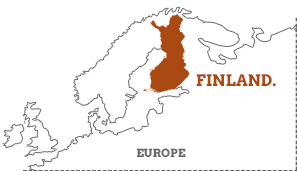 The Finns have a way of embracing wilderness and winter that is not only second nature and admirable, but also innately fun. They've got this.

Dear traveler, Check out my Finland winter vacations travel guide. This has all the ideas you need to shake off that winter malaise. Our responsible vacations do also start early here, but only because nature invites it. You can see the Northern Lights before they have even started thinking about hanging up the Oxford Street ones. Go snow shoeing through wilderness instead of surviving the storm of shopping centers. And swap that 'empty feeling' by cross country skiing through exquisitely empty, snowy woodlands. You've been really good this year. Go have fun in Finland. S x
Is a Finland winter vacation for you?
Go on a Finland winter vacation if…
... you want wilderness and you want it now. There are lots of airports in Finland that can get you either to Helsinki, which is in easy reach of rural areas, but also as far as the Arctic Circle.
... you love to hike in summer and are fed up with hanging up your boots in winter. Snow shoeing is the most sublime seasonal segue, with wonderful spots such as the Wild Taiga right up there on the northern border with Russia taking you into a whole other world.
... you want to try cross country skiing. Even if you are a beginner, this a wonderful country to start in, as it is so ingrained in the local culture - a bit like cycling in Holland. Also, you don't have massive peaks to take on.
...you want to experience both the Aurora Borealis with some snowy adventures. Finland has this one sussed.
Don't  go on a Finland winter vacation if...
….you don't like being outdoors. Finland is all a bit feral. In a good way, with superb activities, staying in wilderness huts, enjoying saunas, and husky safaris, but yes, definitely outdoors.
… you want to do a flying visit to meet Santa and go again. That's like saying you've 'done' France because you went to Euro Disney. Finland should never be fleeting, but will always be fun.
… you want guaranteed Northern Lights but lack patience if things don't go to plan. There is no planning the Aurora. You just have to go with the flow, and choose a vacation with plenty of winter activities to keep you happy if peace and wilderness isn't enough.
...Chalet chic or piste parties are your bag. Finland is all about being au naturel, donning practical gear and wilderness stargazing. With saunas and rolling in the snow thrown in to the magical mix. Not because it's cool, but because it's normal.
Finland winter map & highlights
You know you are onto a winter winner when you can go to a country's capital city, enjoy its city life but then, within an hour, be immersed in national park natural nirvana. Wilderness is everywhere, and Finns also don't run away from it in winter. They jump into it. Ideally straight from a sauna into the snow. See the Northern Lights in Finnish Lapland, but do so wrapped in reindeer blankets sitting by a fire. Swap the adrenaline of downhill skiing for a natural fix of cross country in remote Hossa National Park. Travel with huskies from hut to hut in Pallas-Yllästunturi National Park. Finland feeds all of our feral cravings.
Cross country skiing, Hossa
1. Cross country skiing, Hossa
A brand new national park, designated in 2017, Hossa is ancient wilderness in many parts. The
cross country skiing
loipes are well trodden however, given that they have routes through ancient pine forests and around Lake Somerjarvi for - literally - ages, as the Stone Age rock art at Värikallio depict so beautifully. This is real cross country skiing, from one wilderness hut to the next. With saunas.
Family activity vacations, Lapland
2. Family activity vacations, Lapland
An antidote to 24-hour Santa trips, with authentic Finnish Lapland so much more appealing than sitting on a stranger's lap, being given a tacky present and going home again. Snow shoe around fells, forests and lakes of Kuusamo. Learn to kick sledge, go reindeer sledding, experience a husky safari or try ice fishing around Luosto.
Family winter activity vacations
aren't bah humbug; they're pure ho ho ho.
3. Helsinki
Helsinki
raises the bar in terms of winter city breaks, offering so much more than Christmas markets and steamy museums. Tailor your vacation to enjoy city highlights as well as time at nearby rural spots. These include Lohja where you can skate on the frozen lake or Fiskars Village with its fantastic collection of artisan workshops. Like Santa's grotto for grown ups. And check out fine Finnish fare on a culinary tour.
Husky safaris, Pallas-Yllästunturi
4. Husky safaris, Pallas-Yllästunturi
With over 1,000km
2
of boreal forest and high fells and over 500km of hiking and cross country skiing trails, this is a dream for winter wanderlusters. In Finnish Lapland,
husky safaris
are one of the most popular ways to discover these frozen landscapes, which the dogs know like the back of their paws. Speed through the fresh powder of the snow covered forest floors, or across frozen lakes and plains.
Northern Lights, Lake Inari
5. Northern Lights, Lake Inari
Not only is this a magical, remote spot to see the
Northern Lights
but also one for learning about the local
Sámi culture
. The Lights have a deep spiritual significance for the Sámi, as they believe that they are the souls of the dead. They certainly move the soul when they arrive, especially if you sleep out in an exquisitely designed bubble made for that purpose. The local Siida Sámi Museum is a must.
6. Snow shoeing, Wild Taiga
Dominating the
Kainuu region
, snow shoeing never seemed more sublime. Feb-Mar are when the trails are at their best and days are getting a little longer. Trek across frozen wetlands and blanketed ancient forests of Hossa or Riisitunturi National Parks. Or around along Karhunkierros Hiking Trail in Oulanka. And when the Northern Lights come out, it's Taiga Taiga burning bright.
If you'd like to chat about Finland winter or need help finding a vacation to suit you we're very happy to help.

More Finland winter articles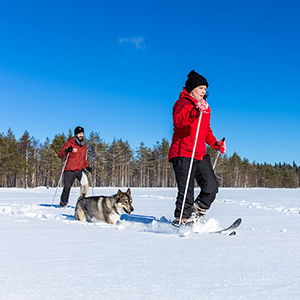 The best time to go on a Finland winter vacation? The clue is sort of in the title.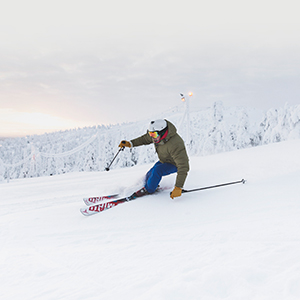 Combine skiing with forays into the frozen landscape to seek an audience with the aurora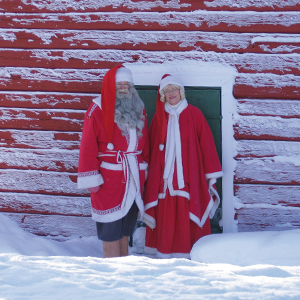 Visiting Santa in Finland is a once-in-a-lifetime experience to share with your family.