Chimpanzee tracking in Uganda

Chimps are one of our closest relatives, sharing around 98 percent of their DNA with humans. If you fancy hanging out with your extended family on vacation, Uganda is one of the best places to do so.

Current estimates for the total wild population of chimpanzees range from 150,000 to 250,000, with Uganda home to about 5,000 individuals. Almost 1,500 are found in Kibale National Park, the most popular place for chimp tracking in the country.
You can also track chimps in Kyambura Gorge, Kalinzu Forest, Budongo Forest and in the Semliki Valley. Most of our Uganda vacations focus on Kibale, which has very high success rate for sightings, and the atmospheric Kyambura Gorge in Queen Elizabeth National Park, where sightings are less certain but the scenery is spectacular.
Chimpanzee tracking is not only fascinating, but a lot of fun. It's often a more active experience than gorilla trekking, which involves adopting a very submissive pose while in the presence of these forest giants. Chimps tend to move around more, and you can feel like a child on an adventure following them through the forest.
A chimp tracking expert, from one of our specialist Uganda tour operators, explains the differences:
"Chimp tracking is a bit underrated. Gorillas are awesome, that's probably a good word for them, but seeing chimps is more exciting. That's the main difference. When you go to see gorillas, you'll be told 'we're going to see this or that family; it's a family of 13 individuals, with a silverback male…' With chimps it's more like people. They live in communities, so you might come across a group of kids, then two will leave and another eight different individuals will join, so it's more active. Gorillas are quite static, they spend a lot of time just eating and farting. With chimps there's always a fight breaking out over who is alpha male, there's more movement up and down the trees, and it's really fun."
The chimp groups you can track in Uganda have been habituated. This means that the presence of long term research teams has made them less shy of humans and easier to view, without compromising or interfering with their natural behaviour.
On your trek, you may reach the chimps in minutes or it may take hours or walking. Once you reach them, you'll need to be on your best behaviour, staying at least 8m away from the chimps, and remaining with them for a maximum of one hour. This protects both you and them from disease transmission, and also prevents the animals from feeling stressed. Be aware that if you are unwell, with a cold or upset stomach for instance, you won't be allowed to trek. You cannot eat anywhere near the chimps, and you should watch them quietly and respectfully – no shouting or pointing. Flash photography is forbidden, and remember to put your camera down for some of the experience so you can take it all in.
It costs US$600 to see gorillas in Uganda, but permits to track chimps are much less, and vary from park to park. Permits for Kibale Forest cost the most, at US$150, and this fee goes towards invaluable conservation and anti-poaching work, and pays the wages of the rangers and park staff.
WWF identifies chimpanzees as a
priority species
– one of the most ecologically, economically and/or culturally important species on our planet. They are also endangered, with habitat loss and degradation, the bushmeat trade, and even the spread of human diseases threatening wild chimp populations throughout Africa. Responsible tourism does much to support the chimpanzee's survival, while also providing income to local people who might previously have resorted to poaching to make a living. It's the 'worth more alive than dead' model of wildlife tourism, providing a financially viable alternative to destructive practices that threaten chimpanzees – and delivering an unforgettable wildlife experience for you, too.
Our top trip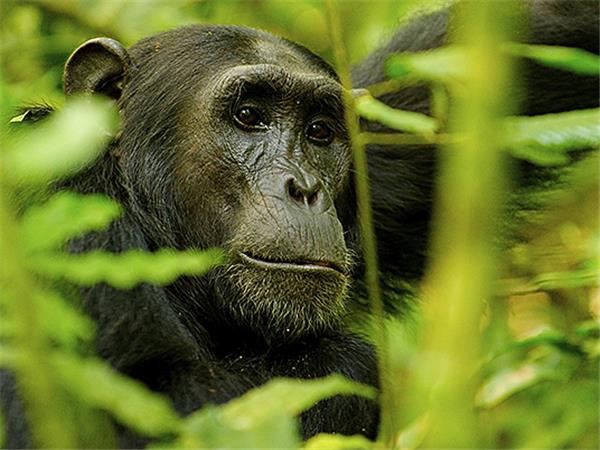 An incredible adventure into the heart of Africa
From
US $

7500

to

US $

8175
11 days
ex flights
Small group travel:
2024: 15 Jun, 13 Jul, 3 Aug, 24 Aug, 28 Sep, 2 Nov
2025: 14 Jun, 12 Jul, 2 Aug, 23 Aug, 20 Sep, 1 Nov, 6 Dec
If you'd like to chat about Gorilla safari or need help finding a vacation to suit you we're very happy to help.

Where to track chimps in Uganda
Kibale National Park
Kibale (pronounced chibale) is a primate playground. It has the highest concentration of primates in East Africa, and it's the best and easiest place in Uganda to see chimps. It also fits neatly into a classic eight day tour that takes in Kibale for chimps, Queen Elizabeth National Park for game drives and Bwindi for gorillas. The park is home to 1,500 chimpanzees plus 12 other primates (or 13 if you count you!). Guided tracking with an experienced ranger will give you an opportunity to see the chimps, plus other species including L'Hoest's, black and white colobus and red tailed monkeys, olive baboons and grey cheeked mangabeys.

Kibale has a community of about 100 habituated chimps, and two other communities currently under habituation. Tracking excursions leave twice a day, at 8am and 2pm. There are 36 permits issued for each time slot, with six groups of six heading into the forest at a time.

A chimp tracking expert from one of our specialist Uganda tour operators, on the pros and cons of Kibale: "Kibale has the highest sighting success rate, about 95 percent. In peak season it can get busy. There are meant to be six groups of six going out each morning and afternoon, but the rangers all have radios and groups can tend to converge to see a single chimp community."
Kyambura Gorge
Located in the far east of Queen Elizabeth National Park, Kyambura is one of Uganda's most impressive corners. While the chances of seeing chimps here are lower than in Kibale, the incredible scenery is just as much part of the attraction. Nicknamed 'the valley of the apes', this gorge is around 100m deep and 1km across. Trek down into it and you'll feel like you're in an underground forest, home to diverse wildlife and dazzling birdlife. Hop over streams and traverse rivers as you seek out the chimps; once you find them you can spend a wonderful hour watching them interact, feed, play and go about their daily lives.

A chimp tracking expert from one of our Uganda tour operators on including Kyambura Gorge on your itinerary: "Kyambura is a good option for a second chimpanzee trek. There is wide savannah then this random gorge running through it. Only 17 chimps live here, it's an isolated community, and there's only a 50 percent chance of seeing them, but there are hippos and elephants, it's a lovely nature walk. Permits cost US$50 and eight people in the morning, and eight in the afternoon can trek here."
Budongo Forest
Budongo Forest, on the way to Murchison Falls National Park, is not quite as convenient to reach as Kibale (unless you use an internal flight) so you'll need to allow a bit more time to reach it. It's run by the Forestry Authority and a private concession, and permits cost US$90.

A chimp tracking expert from one of our Uganda tour operators on the benefits of Budongo:
"This feels like real tracking, looking for dung, working out what the chimps have been eating, maybe it's figs, let's find a fig tree... The rangers have been trained by Kenyan wildlife guides and bring a lot of experience and interactivity to tracking here. Sighting rates are 80 to 85 percent and it's a really nice experience as you feel you worked for your chimp sighting. In Kibale, you can feel a bit like you're simply being led to them."
Chimpanzee habituation experiences
Some tours offer the chance to take part in a habituation experience, which involves spending the day with less habituated groups (although this is never guaranteed), as part of the process of getting them ready for tourists to watch them. Non habituated chimps would have disappeared into the forest long before you could see them, but this process, which takes at least six years, slowly, slowly reassures them that humans do not pose a threat. Kibale issues eight permits per day for chimp habituation; each costs US$200.

A chimp tracking expert, from one of our Uganda tour operators, has this advice about which chimp activity to choose: "The habituation experience is more immersive and a full day, nest to nest, from when the chimps get up in the morning and leave their nest to when they make their nest again for the night. As the communities you track are wilder, you can't get as close, the chimps are more skittish and sighting chances are lower. It's a long day, too – some people bail out in the afternoon to go and get a beer. It's ideal for primate nuts, but if you just want to see chimps, I'd choose to simply track them for a morning or afternoon."
Chimpanzee tracking practicalities
You can visit Uganda and see chimps on both tailor made and small group vacations, lasting from eight to 16 days. Tailor made trips cost a little more, but the price often decreases the larger the group, so bring some friends! Tailor made gives you freedom to choose optional activities, such as extra hikes, and includes a private guide and your own dedicated 4x4 for transport.

You'll need to book well in advance. That's because most chimp tracking sits within a wider itinerary that typically includes gorilla tracking, too. Few gorilla tracking permits are available and they sell out far in advance. If chimps are your primate favourite, though, opt for a tailor made trip so you can request more than one chimp tracking experience, and even skip the gorillas altogether if you prefer. This keeps costs down, too.

Small group trips often take only a maximum of six people, sometimes 10, so they really are small groups. The price for both types of trip typically includes all meals, chimpanzee and gorilla tracking permits, park entry fees, all activities and guides. Solo travelers are welcome and often pay no surcharge for use of a single room. The minimum age for both chimpanzee and gorilla trekking in Uganda is 15.
Chimp forests are flat or undulating, at low altitude, not mountainous like gorilla territory, and porters aren't necessary or, indeed, available. You'll follow forest trails, although the chimps don't always hang out near them, so be prepared for some bush-whacking through dense undergrowth, perhaps even pushing past stinging or prickly plants.
Pack long sleeved tops and long trousers made from a fairly sturdy material to protect you (or use gaiters), and also layers – mornings can be chilly but you'll feel hot after a few hours of hiking. A waterproof jacket is sensible and walking boots or shoes that have a good grip, suitable for climbing steep and slippery slopes are essential. You might like to bring walking poles, too.
"Go to the gym, as the Gorilla and Chimpanzee tracking is very physical." – Linda Walker, in a review of her Uganda chimp tracking vacation
"Understand the level of physical activity and potential minor discomfort you will encounter so that you can be prepared. Little things like bringing appropriate footwear, gloves, camera equipment that can bear rough treatment, all of this is good to know before you start the tour." – Andrew Parker, in a review of his Uganda chimp tracking vacation
More Gorilla safari articles