GORILLA TRACKING IN UGANDA

There is more meaning and mutual understanding in exchanging a glance with the gorilla than any other animal that I know. We're so similar. Their sight, their hearing, their sense of smell are so similar to ours, that they see the world in the same way as we do.

- David Attenborough, during his famous encounter with gorillas in 1978's Life on Earth
Of all of Sir David Attenborough's encounters with wild animals, it is his meeting with the mountain gorillas that made the biggest impression on his fans – and seemingly on Attenborough, too. The gorilla is one of our closest relatives, sharing almost all of our DNA, and their social structures, behaviours and even small gestures are so similar to our own, that spending time in their presence is an uncanny experience.
While lowland gorillas have, sadly, been kept in zoos and wildlife parks, mountain gorillas do not survive in captivity, so heading to the thickly forested – and yes, often misty – mountains along the Uganda-Congo-Rwanda border is the only way to view these animals. Throughout the 20th century their numbers dropped alarmingly due to habitat loss and hunting, but thanks to impressive conservation measures including the gazetting of national parks and tightly regulated tourism, it is estimated that there are now around 880 mountain gorillas in the wild* – with close to half of these inhabiting Uganda's Bwindi Impenetrable National Park, and the rest in the nearby Virunga Mountain range.
*Source:
WWF
How to see gorillas
In Uganda, all gorilla permits are issued by the Uganda Wildlife Authority (UWA), which manages the national parks. There are 11 habituated gorilla families in Bwindi (out of around 36 families), and a maximum of eight permits are issued to track each habituated family per day. Another habituated gorilla family lives in Mgahinga Gorilla National Park, in the far southwest, but they often migrate over the border into neighbouring DR Congo; when this happens they cannot be tracked.
When booking a Uganda vacation, your tour company will secure the permits for you; some travelers like to book two permits on consecutive days to make the most of the experience. Do be sure to book your vacation well in advance, especially during the peak summer months, to ensure that there are still permits available. With just 88 issued per day, they sell out fast!
The habituated families vary in size from seven to 36 members, with typically around 12-18 members per group. Most groups also include at least one huge silverback.
Our top trip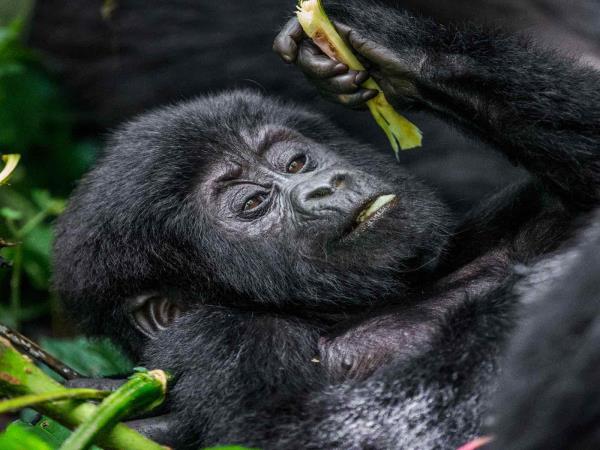 Queen Elizabeth, Bwindi & Murchison Falls National Parks
From
£

5345
12 days
ex flights
Tailor made:
This trip can be tailor made throughout the year to suit your requirements
If you'd like to chat about Gorilla safari or need help finding a vacation to suit you we're very happy to help.

What does gorilla tracking involve?
Tracking gorillas in Uganda takes you deep into Bwindi Impenetrable National Park, along the densely forested mountain slopes. You'll likely be walking through the slippery terrain, up and downhill, for around 2-6 hours in total. When you encounter the gorillas you'll spend up to an hour in their presence – watching them interact, play, forage, relax – and quite possibly gaze at the strange group of humans who has walked all this way to find them.
You'll need to stay at least 7m away from the gorillas to avoid disease transmission; even a common cold can be dangerous for a gorilla. For this reason, it is not permitted to track gorillas if you are ill, nor is eating or drinking allowed.
Of course, there will be fantastic opportunities for taking photos of the gorillas – but do remember that this is, probably, a once in a lifetime experience – so put the camera down and ensure you spend time enjoying the incredible feeling of being close to mountain gorillas, in their home.
Wheelchair accessible gorilla safaris
Travelers in wheelchairs or with mobility issues can still make the journey out to the gorillas. You can be carried in a throne chair by capable porters, your own wheelchair carried separately. The journey can be long, and not particularly comfortable, but so, so worth it.
Am I fit enough for gorilla trekking in Uganda?
If you're a regular hiker or hill-walker then you should not experience much difficulty on a Uganda gorilla trekking vacation. You will usually be accompanied by porters so that you can walk unencumbered. Stamina, not speed, is key, as depending on where the gorilla group you're tracking has nested, you could be on the trail for several hours. You don't need to be in tip-top condition, but a few weekends of hiking before you go, and a few sessions in the gym, will be beneficial.
What should I bring?
Jackson Araali, from our supplier Primate World Safaris:
"This is a natural forest and there are so many bugs and crawling insects – so you should always wear long pants and shirts. Bring very comfortable walking shoes because this is a tropical forest so most of the time the floor is wet and slippery. Walking shoes should be comfortable and not very heavy because you will be climbing up and down the mountain."
Paul Callcutt at our leading supplier of gorilla trekking vacations, Natural World Safaris:
"Boots with a high ankle support are important, as this can be the difference between a rolled ankle or not, as this is a trekking experience. I have seen socks and sandals on a trek. I don't get that really. And SLR cameras are the best for these trips although a lot of people don't want to carry it. I wouldn't obsess with long zoom lenses because you are going to be so close to them. Some people turn up with a 200-300 mm zoom on an SLR and then find out that they can't get far enough away to take photographs. If I had to choose between a mid-zoom, a 24-70 or a 70-300, I would take the 24-70."
More Gorilla safari articles