There are only eight permits issued per gorilla group, per day, which allow you to see one family of gorillas for an hour. There are nine habituated gorilla families in Bwindi (in Uganda), for example, so there are a total of 72 permits here. Rwanda's Volcanoes National Park has 80 permits for its 10 habituated groups. This is the law in both Rwanda and Uganda, where the majority of gorilla safaris take place and where, thankfully, seeing gorillas in the wild is driven by conservation not capitalism as research proves that gorillas should not be exposed to humans for more than one hour a day to minimise distress and limit their exposure to diseases - even a common cold can prove serious for a gorilla. This system of small, tightly controlled numbers of visitors paying big fees, part of which go back to conservation, is considered a great success on the world map of wildlife tourism, where tourists aren't outnumbering animals. You can buy a second permit for another day of your vacation, however, and most tour operators recommend this. The first visit is often so overwhelming, and tourists are rushing to take photos, that by the second trip, you are more chilled and just sit back and take in the awesomeness of it all.
Gorilla trekking starts at 7am, so you will stay in a local lodge the night before. You will be allocated into groups of maximum eight people, sometimes six, according to how far you want or feel able to trek. But it is important to know that you will be trekking and that there is some physical exertion involved. This is not a jeep safari vacation, but nor is it like trekking in Nepal. Depending on which family of gorillas you are allocated, you could be trekking from an hour to eight hours, so do consult carefully with your guides.
So, how do the park rangers know where the gorillas will be every day? Every morning, at sunrise, and like clockwork, gorillas go in search of a nest for the day. They settle here to eat, rest, and play for the day, and park rangers track these movements from sunrise too. They then radio the nesting location back to base, and you are guided by other rangers to one of the gorilla families. These could vary from one hour to five hours' hike away, so you can choose accordingly.
Before you head off on your trek, you will be offered the use of a porter to carry your daypack. You might not think that you need it, but this is a vital source of income to men and women from local communities. They are also great company and will enhance your trip, so don't hesitate in supporting this fantastic service.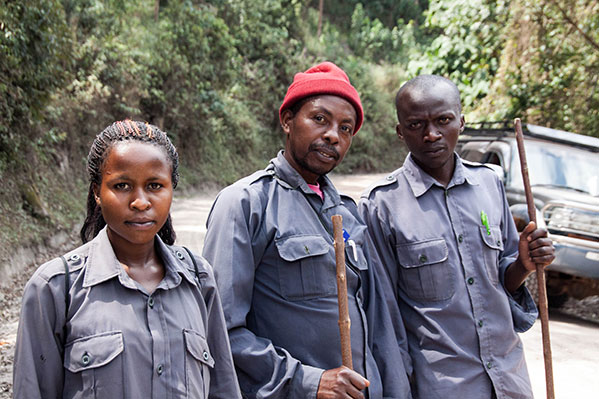 Once you find the gorilla family, you are briefed to keep silent and submissive. These gentle giants allow you to infiltrate their world, and you can watch them communicate with each other, mother to child, father to mother, using barks, screeches and grunts, as they move around on all fours using the wonderful to witness "knuckle walking" technique. Whatever they do, be prepared for sixty seriously stimulating minutes.
Note that that the gorillas which can be tracked in Rwanda's and Uganda's national parks have gone through an habituation process over a period of up to two years sometimes whereby, slowly but surely, each family is exposed to human presence, so that they are not freaked out when a group of tourists arrives. This is a very carefully managed process, and it is not in any way a training procedure. It is a gentle habituation process that is supported by the conservation funds raised through the permits. Some tour operators offer the chance to join the experts on a day of habituation, which gives you a longer time with the gorillas, and an even wilder experience.
As you will only be seeing gorillas once or twice during your vacation, tour operators will arrange other activities during your gorilla watching vacation, such as chimpanzee tracking or a traditional safari. On the day of the gorilla trek itself, you probably won't want to plan too much, as you will be exhausted, emotionally and physically.