South India by rail
---
THE COCHIN, KANYAKUMARI & CHENNAI CIRCUIT
Traveling across South India by train is exhilarating one moment, frustrating another moment, then charming the next. But always interesting. Trains in India and particularly the south are much improved from days gone by when many of us will remember images of people crammed into every corner, inside and out. Not to say that they are as efficient as the Swiss when it comes to timetabling or logistics. They do still have their moments of mayhem which is why it is wonderful to have a South India travel expert book it all up for you and ensure that you have a seat, a carriage with air conditioning and that all you have to do is sit back and enjoy views of the stunning states of Kerala and Tamil Nadu.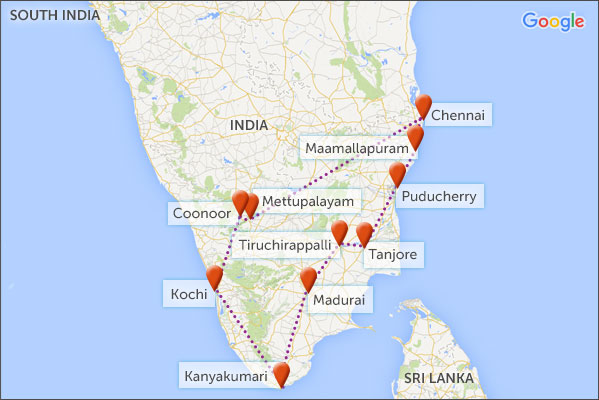 The southern coast
---
Traveling independently on a tailor made trip, with a driver guide at important stops along the way, is all very doable in South India. Ease your way gently into Indian culture, starting your journey in the coastal fort town of Cochin, then chilling for a few days on board a backwater houseboat, before taking your first train journey to Kanyakumari in Tamil Nadu, a busy seaside resort right on the southern tip. This is the point where three seas – the Bay of Bengal, Indian Ocean and the Arabian Sea – meet.
Temples & tea
---
Heading inland through Tamil Nadu takes you on a journey to some of India's most spectacular spiritual sites, such as the Dravidian temples in Madurai and similar heavenly spots in Tiruchirappalli, or Trichy for short. A wonderful coastal train journey takes you up the east coast from Tanjore to Puducherry, one of India's lesser known cities, with a somewhat unique French colonial and coastal charm.
Having one sleeper journey on an Indian railway vacation is a must, really, and the overnight odyssey from Chennai to Mettupalayam means that you wake up in the almost still dreamlike world of British colonial India. Because this overnight Nilgiri Express links up with the mountain steam trains, otherwise known as toy trains that take you up to tea plantations and times gone by. These are often called hill stations, such as at Ooty and Coonoor, both famous for the production of Nilgiri tea and also fantastic locations for taking time out and hiking in these luscious hills.
Coonoor to Cochin
---
For your last leg, take a train from Coonoor back to Cochin where the coast beckons and where you can chill out for a few days in one of many stunning hotels or welcoming homestays. Alternatively, seek out a rewarding Ayurveda spa which is very much a feature of this region.
Goa to Kochi by rail option
---
One more option if South India is calling you. You can head to the west coast and start your railway journey in Goa, finishing in Cochin which takes about 10 days. Start on India's famous sun kissed beaches in the small state of Goa and then head into the underrated yet heaving-with-heritage state of Karnataka. From the UNESCO temple ruins of Hampi to the mindblowing palaces of Mysore, this is a wonderful route to take through India.
This train route also takes you through the Ghat Mountains, plantations and hill stations which stretch through Karnataka and into Kerala where you will finish your rail odyssey in Cochin. Enjoy some chill out time exploring the city's spice markets and colonial culture, then swap train travel for boat as you explore the famous backwaters on a barge.