Where to go on an India railway vacation
---
MAP & HIGHLIGHTS
When deciding where to go on a railway vacation, it's all about how much time you have to spare. To do a countrywide rail circuit, starting and ending in Delhi with plenty of time to immerse yourself in the country, takes about six weeks. You can easily spend three weeks on a tailor made railway journey though
South India
alone, taking in the coastal and mountainous glories of Kerala and Tamil Nadu. You could just go down the royal road and take a few days on board the luxurious Maharajas' Express in the north. Or spend two weeks exploring the mountainous and tea plantation rich regions of Darjeeling and Sikkim in the north.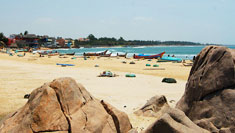 Chennai & Tamil Nadu coast
Chennai is the capital of
Tamil Nadu
and a hub for South India rail vacations. It's also hub of Tamil culture mixed with a gorgeous life's-a-beach-attitude. Chennai has one of the world's longest urban beaches, so you can get a whole day in before boarding a sleeper train to Hyderabad, if you are doing an India by rail circuit. Or simply discover the Tamil Nadu coast, such as at Mahabalipuram and Kanyakumari.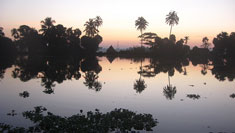 Kochi
Kochi is the start and end point for many rail journeys in South India as it has an international airport as well as a main junction station known as Ernakulam. Otherwise known as Kochi, this vibrant fort and port city has so many flavours running through it, you lose count. Spice trade is at the heart of its history, so enjoy the heady mix of tropical beach vibe, multi ethnic culture, arts, food and nightlife.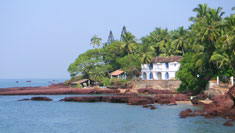 Goa
This small, unique state is a stop on many railway vacations not only for its exquisite beach life but also because it is conveniently en route for those big rail journeys between, say, Kolkata and Kochi. Although some trips use an airline transfer between Mumbai to Goa, 2017 saw the launch of Indiaís first semi-high speed AC train, the Tejas Express between Mumbai and Karmali, Goa, in just under nine hours.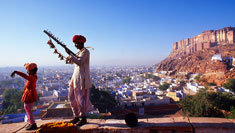 Golden Triangle
These are the big gigs when it comes to train stops in Northern India, with an almost athletic-style triathlon of the
Golden Triangle
: Start in New Delhi, head to Agra for the great fort and the Taj Mahal, and then up to the state of Rajasthan to the city of Jaipur.
Ranthambore National Park
is sometimes included in this mix; the nearest station being Sawai Madhopur, just over two hours from Jaipur.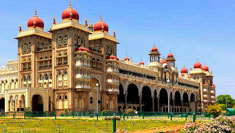 Karnataka
Between Goa and Kerala, take a train journey that joins the two but which focuses on this glorious underrated state, which includes gems such as the UNESCO temple ruins of Hampi, the Ghat Mountains and the palaces of Mysore. There are coffee plantation and ancient forts in Madikeri and then spices and one big ancient fort city in Cochin at the end of the line, in the state of Kerala.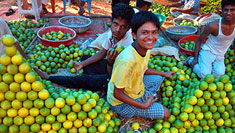 Kolkata
This is the starting point for many rail vacations, such as the month long rail journey to Kochi which takes in the northern mountains and southern coast. Or do a shorter version between Kolkata and Goa, without heading further south to Kerala. Kolkata is a city that no one can prepare you for, so give yourself some time here if you can. It has history, scholars, poets and colonial leftovers all mixed up together.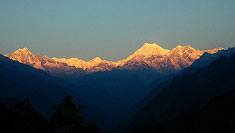 Kolkata to Kochi route
If you havenít enough time to do the whole India circuit, this three quarter version takes a month. It is a stunning journey, starting in Kolkata, heading into the very untouristy, mountainous state of Sikkim and the tea estates of Darjeeling, then onto classic heritage wonders. These include the Golden Triangle, Goa, and Kerala. All with just one internal flight between Mumbai and Goa.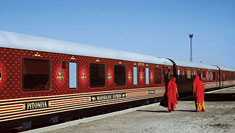 Maharajasí Express
Step on board what feels like the Marigold Hotel on wheels, and spend five days being shunted in the most sublime way possible around Northern India. This is one railway journey where you do sleep on board throughout, with stop offs at great cultural and natural sites such the Taj Mahal, Ranthambore National Park and Jaipur in Rajasthan. This really is the golden ticket way to see the Golden Triangle.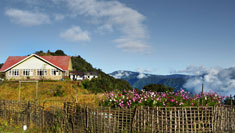 North east route & Darjeeling
This is a mountainous and magnificent rail trip, if Indian spirituality is your interest. Or if tea is your chosen religion, of course. Starting in Kolkata and ending in Delhi, this takes about two weeks, with the possibility of some vehicle transfers to places like Gantok in the Himalayas and a Buddhist pilgrimage site. Head to Varanasi and Indiaís most revered Hindu pilgrimage site on the River Ganges.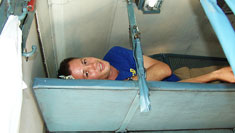 Sleeper train journeys
If you can get one sleeper train journey in your itinerary, you will definitely have an experience. For example, travel from Chennai to to Mettupalayam on a South India tour, going from coastal capital to colonial hill stations in one sleep. In the north, take an overnighter from Darjeeling to Mughal Sarai, then transfer to Varanasi. Another great overnight short cut is Jaipur to Udaipur in Rajasthan.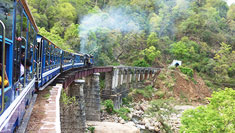 Toy trains
The name toy train was given by Darjeeling residents for the small, single gauge train that took people up to the regionís tea plantations as early as the 1880s. Itís now a top mountain experience for tourists, as are the other toy trains of Kalka-Shimla railway north of Delhi and the Nilgiri Mountain Railway in the Ghat Mountains out of Ooty. These are rail journeys where a good cuppa is guaranteed.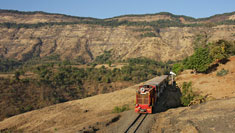 Round India circuit
A six-week Indian odyssey traveling mostly by rail, but not sleeping on trains the whole way. Mostly small group, guided vacations, these start and end in Delhi and take in the joys of Rajasthanís glorious cities, Goaís gorgeous beaches, Kerala culture, the Ghat Mountains and spiritual greats such as Varanasi. All aboard for this great adventure around some of Indiaís most spectacular landscapes and cultural sites.