India railway vacations guide
---
2 MINUTE SUMMARY
There's an expression in Hindi, Aaaram Se, meaning to 'chill out'. It is the rule of thumb in India and no better way to live that feeling when on vacation in India traveling by train. You don't even need to get stressed about booking tickets or dealing with the Indian railway network, as we have expert railway vacation companies who do all that for you. This India railway vacations guide will get you on the right track when it comes to planning the perfect itinerary. These are vacations that are just as much about getting off the train as traveling on it. You will stay in all sorts of accommodation, from homestays to heritage hotels, with the odd night on a sleeper train, too. There are small group vacations with a tour leader to make sure you don't miss the train or stop, and there are more independent, tailor made trips, particularly around South India. Either way, you know what they say? Aaram Se.
Is an India railway vacation for you?
---
RESPONSIBLE TRAVEL RECOMMENDS
Do go on an India railway vacation if…
---
... you love train travel
but can't face the notion of doing all the booking of seats and nearby hotel accommodation along the way.
... you want to
explore South India
, not just Kerala. Go coast to coast from Cochin to Chennai by train, stopping at extraordinary places along the way. Or get on that train from Goa through Karnataka. It rocks, too.
... you want to experience India the epic way
. Travel all around the country by train taking about six weeks, with a couple of cheeky airline transfers en route.
... you want to experience a luxury rail trip
. Although most railway vacations in India are on public transport, the Maharajas' Express is onboard luxury from beginning to end, day and night.
Don't go on an India railway vacation if…
---
… you get restless easily. Some journeys are long and slow, and so if that doesn't appeal, it might not be for you.

… you are a bit shy of new cultures. You are pretty much thrown it at the deep end the moment you get on an Indian train. Rail travel is real travel.

… you are a bacteria-phobe. Loo roll and hand sanitiser are a must for traveling on Indian trains.

… you have co-dependent tendencies. Seat reservations are allocated automatically by Indian Railways, so if traveling with a pal or partner, you won't always be seated together. Fellow travelers are always brilliant about swapping to ensure that families and friends are together when possible, however.
What we rate & what we don't
---
RESPONSIBLE TRAVEL'S BEST & WORST
Underrated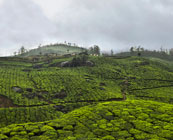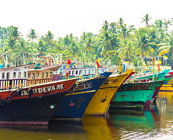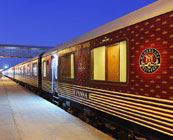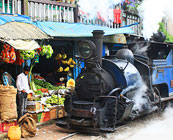 Tailor made trips
Having your trip tailor made means not only do you get to sit back and enjoy the ride, but you are also often met by a chauffeur at the station who takes you up to a plantation hotel in the Ghat Mountains, or a heritage fort hotel in Rajasthan. So – no worrying about booking tickets and no panic when you get into a strange city railway station and don't know where to start.
South India by rail
Indian railways have come on in leaps and bounds, and are one of the few great remnants of colonial times, with a splendid network. South India, in particular, is a rail treat, exploring the states of Kerala and Tamil Nadu with coast, temples, tea plantations and many other cultural delights. All in about 19 days with nights on houseboats, homestays, luxury coastal hotels and mountain villages.
Luxury rail travel
Rail travel is often associated with budget travelers, but there are many ways to enjoy a luxury vacation to India and yet still make the most of their superb train network. For example, travel like royalty through Northern India on the Maharajas' Express train. With 14 luxury cabins on board, a fine dining carriage and a bar with games room, this is the golden ticket way to see the Golden Triangle.
North east route
The north east route of Kolkata to Delhi is a superb route and very much off the tourist trail too. Spend two weeks on a small group, guided tour, taking in the northern mountainous state of Sikkim and the city of Darjeeling in West Bengal. Darjeeling is also the home of the narrow-gauge Darjeeling Himalayan Railway which took the Raj elite up into to mountain retreats. Nowadays, anyone can apply.
Rated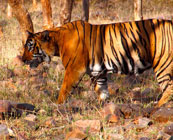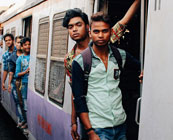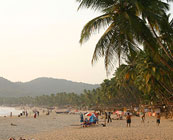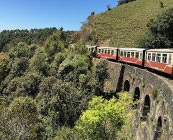 Golden Triangle
Most rail vacations in northern India cover the Golden Triangle, those glistening vertices along the tracks being New Delhi, Agra for the Taj Mahal, and Jaipur in Rajasthan. These can be reached on public trains, but also on the Maharajas' Express luxury loco. Rajasthan's Ranthambore National Park is often thrown into this already golden mix, turning it to platinum if tigers are spotted.
Round India circuit
Usually small group, guided vacations, you can just sit back and enjoy the ride for six weeks. Starting and ending in Delhi, traveling anticlockwise to discover Rajasthan, Goa, the Ghat Mountains, Kerala, Hyderabad, Varanasi, and more. Stay in a wonderful mix of accommodation on the way, take a couple of flights to speed up the journey and a couple of sleeper train adventures too, such as Bundi to Mumbai.
Kolkata to Kochi
If you haven't enough time to do the whole circuit, this is the three-quarter version which takes a month. And it's is stunning, starting in Kolkata, heading into the very untouristy, mountainous state of Sikkim and tea estates of Darjeeling, and then onto some classic heritage wonders. These include the Golden Triangle, Goa, and of course Kerala. All with just one internal flight between Mumbai and Goa.
Toy trains & the mountains
The most famous being Darjeeling's narrow gauge trains, the name was coined by local residents for these small trains on small tracks that headed up to the mountains, to cater for summer vacation makers in colonial times or to service mountain plantations. Kalka-Shimla railway north of Delhi is another favourite, as is the Nilgiri Mountain Railway in the Ghat Mountains out of Ooty.
Overrated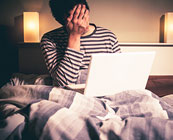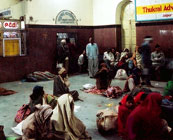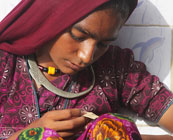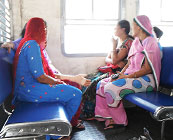 Train booking websites
Indian online train booking systems are a whole other world. Leave it to the vacation companies who know when to book, which carriages and the best nearby accommodation. Be warned that even though your operator will reserve your tickets, the seating is allocated automatically by Indian Railways and so it's all a bit pot luck. Although your chosen class of travel will be whatever you have paid for.
Poverty tourism
You will see signs of poverty at railway stations, like anywhere in the world. However, the idea that India is poverty stricken throughout is a cliché, and Indian tour operators rightly tire of the notion. So, be responsible with your photography, know that India is also a growing economy, albeit with issues, but do also look at the work of superb charity Railway Children.
Turning a blind eye
Tragically, the exploitation of children for sex purposes is a feature of tourism and stations are often hubs of this horrific practice. You may be on vacation – but please don't look away. Always report any suspect activities with regards to children to local authorities. ECPAT is a good point of contact, an international org with excellent global law enforcement contacts regarding this crime.
Skimpy clothes & PDAs
When traveling on public trains, be sensitive to local etiquette when it comes to dress sense. Showing bare shoulders, cleavage and legs are not really the done thing. Cuddling and kissing your loved one in public is not really looked upon favourably either. And obviously taking photographs of fellow passengers is pretty rude wherever you are. You wouldn't want someone photographing you or your kids going about your daily business either.