Walking in India travel tips
Visa information
The visa application process to enter India for a vacation is pretty simple and inexpensive now. UK citizens are among one of 113 nationalities able to apply for the 'e-Visa'. Apply and pay online for vacations of 60 days max, make sure your passport has six months' validity from the date of your arrival in India, that it has at least two blank pages for stamping upon entry, and apply a minimum of four days before you travel. For more information, see
Indian Visa online website
.
Jennifer Cox, from our India walking vacations supplier, Exodus, shares her top tips for trekking in India:
Where to go
"My personal favourites for hiking in India are Ladakh, Sikkim, and the little-known Kumaon region. In Kumaon, we run our Nanda Devi Trek. It's very isolated and each time our groups pass through, they seem to end up in the local newspaper as it's so rare to get groups of foreigners walking there. For someone thinking of going walking in India for the first time, our
Singalila Ridge trip
is a relatively gentle trek, with great mountain views and some sightseeing. Our
hiking vacation in Ladakh
is a lovely mix of walking and villages, with time to discover the ancient monasteries in Leh as you acclimatise."
Our India walking Vacations
Cultural tips
"It's important to be respectful of the local culture and customs. Dress conservatively – loose trekking trousers are preferable or a long skirt for women. Shorts are not really appropriate for women. For men, if wearing shorts they should be below the knee. Tight leggings are not appropriate for men or women. Please also cover your shoulders and avoid tight or revealing tops. Talk to local people and say hello as you pass through villages – we encourage you to interact and have exchanges with the locals."
Ladakh walking tips
Valerie Parkinson, tour leader from our specialists, Exodus says:
"Don't expect five star luxury in Ladakh – there are good hotels and simple guest houses but be prepared for basic accommodation outside of Leh, but no bars or pubs. If you love trees and forests don't go to Ladakh. It is a wonderful mountainous desert with a wonderful landscape of multi coloured barren mountains – blues, purples, greens and browns – the mountains shine in the high altitude light but there are not many trees."
Jonny Bealby from our supplier, Wild Frontiers
Packing tips
"In terms of what to pack think trekking and adventure, so plenty of layers, with lightweight and slightly heavier fleeces, some good walking boots and probably walking poles. You'll probably need a head torch and the like as you are almost bound to do some camping. And I really advise carrying a LifeStraw self-filtering water bottle. So many tourists go to Ladakh and work their way through literally hundreds of plastic bottles. If you have one of these brilliant devices you can cut that out completely."
Altitude tips
"First and foremost, beware of the altitude in Ladakh, for example, particularly if flying in from Delhi. The difference in altitude is over 3,000m which is pretty intense and needs to be managed. As such take the first couple of days very easy: walk around Leh, sit on rooftops enjoying the amazing views, drink plenty of local tea and don't do too much – at most visit the Indus Valley monasteries but not much more. And avoid lots of heavy red meat, it's much harder to digest at altitude."
Himalayas walking tips
Puran Bhardwaj, Director of our locally run Indian Himalayas walking vacations supplier, Expedition Leaders. Puran is also author of the wonderful book The Himalayan Bond, between Man and the Environment:
"Allow enough time, so that you can just enjoy, hike, camp and experience the mountains. If you are going to Pin Valley and Spiti, do not miss Mudh village and by road Dhanker and Lalung Monastery, spend some time in Kaza, Kibber and Key Monastery before you head over Kunzum Pass and Rohtang Pass to Manali and Kullu valley. One must chill out and just sit back and go with the flow. The more time and relaxed pace you take, the more you observe and enjoy. Some people expect same fast pace as the West and they find it difficult to fit in, so go with the flow."
Our top India walking Vacation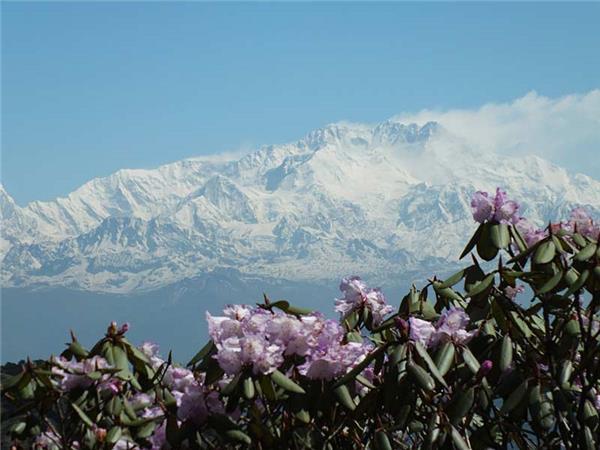 Classic trek along the Singalila Ridge
From
US $

2749

to

US $

3379
15 days
ex flights
Small group travel:
2023: 6 Oct, 20 Oct
2024: 29 Mar, 4 Oct, 18 Oct, 25 Oct
If you'd like to chat about India walking or need help finding a vacation to suit you we're very happy to help.

Health & safety while walking in India
HEALTH
Visit your GP or travel clinic six to eight weeks before departure to ensure you are up to date with any necessary vaccinations.
Make sure that you have travel insurance which covers walking at altitude if relevant. Ensure it includes emergency repatriation and evacuation, especially if trekking in remote areas.
For any medical emergencies, call 102.
If you have any particular health needs, or injuries, always tell your walking guide.
Malaria is a risk in part of India, although there are few cases. But do take precautions, covering up in the evenings, using repellents and sleeping under a mosquito net. Check with your tour operator regarding the area where you are visiting.
Dengue fever is also a feature, particularly during monsoon season, so take the same precautions to avoid bites.
If you can use a self-filtering water bottle, this is best. If not, stick with bottled water, although sometimes tricksters seal bottles filled from a tap. Well known brands are safest but if it tastes odd, just leave it.
Altitude sickness can be an issue, particularly above 2,500m, so it is always important to let your body adjust to the elevation slowly, and keep hydrated. Never underestimate the power of elevation on the body and always let your leader guide know if you are experiencing headaches or a significant shortening of breath. Children under three should not travel to high altitudes at all.
Coconut water is brilliant for rehydrating during extreme heat. A favourite in the Himalayas is to drink the local fresh apricot juice or sea buckthorn juice. Or learn this one off by heart: 1 tsp salt/8 tsp sugar/1 litre of water ratio combo works a treat for urgent rehydration.
Beware of stroking cats and dogs while walking in rural areas, as rabies does exist in India.
To avoid stomach upsets, watch out for undercooked fish or meat, salads which have been washed in unclean water, already peeled fruit and sometimes ice cream from street vendors. A lot of eating is done by hand in India, so enjoy taking part in the local tradition, but do use hand sanitiser when you can.
Always travel with a basic medical kit, including Imodium for stomach upsets. Ensure to bring your own prescription medicines along with a copy of your prescription.
Even if it is cool in the mountains, the sun is very strong, so always wear sunscreen.
SAFETY
Walking vacations in India are usually guided, and so you will have a good support backup system in case of accidents or emergencies. It is always good to check what the emergency procedure is, of course, in case your guide has an accident in a very remote area.
If in doubt about regional unrest, check with the Foreign and Commonwealth Office (FCO) for latest updates.
Although more common during monsoon, when walking vacations aren't really recommended, do be wary of lightning storms. If they do occur, stay away from summits or isolated trees and stay as low as you can.
Hiking in extreme heat can be dangerous and deaths do, tragically, occur. If you are hiking in summer in Kerala, walk early in the morning and late in the afternoon, cover up and drink lots.
Personal safety in India is not as bad as you might be led to believe, and issues vary per region. Petty theft is the most common in built up areas so you need to protect yourself from that. Padlock your luggage and keep valuables next to the skin.
Women are advised to keep their bodies covered as much as possible, and not to walk alone in tourist cities at night, as sex crimes have occurred.
If combining your walking vacation in Kerala with a houseboat trip, they have a good safety track record and guides should be trained lifeguards. But the backwaters are deep, so be careful, especially if you aren't a swimmer.
If walking on steep, rugged ground, wear sturdy boots to avoid accidents, and bring walking poles if necessary. Always talk with your vacation company to get clear instructions on what you need to bring.
At Responsible Travel, we think the best people to advise our travelers are often... other travelers. They always return from our tours with packing tips, weather reports, ideas about what to do - and opinions about what not to.
We have selected some of the most useful India walking vacation tips that our guests have provided over the years to help you make the very most of your vacation – and the space inside your suitcase.

Beautiful walks through tea plantations, forests and grasslands with knowledgeable, courteous and attentive guides.

– Linda Blanchard, walking in Kerala
"Kanha Tiger Reserve was also good experience. We stayed at Sherger, a really welcoming, luxury tented camp with excellent food… I wouldn't miss a stay at Bhoramdeo. There are a lot of interesting things to do in that area and you could easily spend 4 or 5 days there. If you want a trip away from the usual tourist sites, or a rest from being in tourist areas on a longer trip, I would definitely choose this." - Patti Wallace, walking in Chhattisgarh, Central India

"Listen to your leader and drink plenty of water to avoid altitude sickness. Don't do too much when you first get to Leh in order to acclimatise properly. Enjoy the views!!! Don't expect lots of snow peaked mountains, as these are not the Himalayas, but gorgeous none the less! A great way to trek in the mountains without a load of other tourists!" – Ellie Hawksley, in the Markha Valley

"We weren't fit enough to do the trek up the mountain and cycling up hill was hard for us, but our guide adapted to our needs and transport always available to rest our feet. We are both over 65!" – Liz Huelin, walking in Kerala

I wouldn't miss a stay at Bhoramdeo. There are a lot of interesting things to do in that area and you could easily spend 4 or 5 days there

Patti Wallace, walking in Chhattisgarh, Central India
"Beautiful walks through tea plantations, forests and grasslands with knowledgeable, courteous and attentive guides. I had a problem with breathlessness and was escorted every step of the hills. We learnt so much about the wildlife, landscape, agriculture and the local people…India's cash free policy is a nightmare and in rural areas ATMs are rare in urban areas queues can be 15 deep. I used Barclays whose policies left me penniless for two days so take a card from a provider who will register your trip before you depart." – Linda Blanchard, walking in Kerala

"Pack lightly! I brought a huge suitcase and then wore the same three things all vacation!" – Collette Lyons, walking in Kerala

"I think it would have been useful to have had either a local sim card in our phones or one with internet. We just had our simple UK phones which were expensive to use and we did need to check up with our tour operator every now and then about what time and when we were doing things. If you have the choice May is probably not the best month to go it is a bit too hot to get the best of this trip but this was the only time we could go and still had a wonderful time... We had 2 lovely guides who were great company and very knowledgeable. We shall remember this vacation for a long time and would love to go back." – Fiona Walden, walking in Binsar, Himalayas

"Check the weather carefully as can be much wetter than the historic averages suggest. Rain never spoilt our days but does mean wildlife is harder to see." – Des Jarrett, walking in Kerala