Best time to see wildlife in India

Easter came early this year so Gujarat's temperatures hadn't hit boiling point. This meant we were able to see the Asiatic lion in off peak times, but not in off-the-scale heat.

There is wildlife to see all year round in India, although monsoon season is generally July until mid-Oct, so several parks close due to inaccessibility during this time. Monsoon varies according to where you are in the country, so it is best to study your chosen region's weather patterns in detail. The peak season is when temperatures are milder, as the heat of summer makes wildlife watching almost unbearable in places like Rajasthan, although there are hardcore wildlife watchers who will ride those heat waves for just one precious sighting. Which can be more prolific when thirst drives them out of their secret spots.
Wildlife in India, month by month
If you are tiger watching between November and February, the mornings can be very cold, so bring hats and gloves. A hot water bottle even. Although be prepared to take off layers later in the day, when temperatures go up to the mid twenties. The opposite is the case if you go in search of tigers between March and June, when the temperatures can hit mid 40s centigrade. You need to be very well prepared, and know that you can stand such heat for long periods of the day. Most national parks in India close July, August, September and through until about mid October for monsoon season, so always check with your tour operator. Periyar National Park, however, stays open all year round. The most popular time to visit is during the cooler, drier months from October to February. It is particularly vibrant just after monsoon, and there are fewer people. Periyar is always packed at weekends, however, so try and stick to weekdays. The best time for viewing elephants in Kerala is during the hotter months of March and April, when they spend the most time in the water. The only time to see snow leopard in Ladakh is between November and March, when they come down from the snow covered peaks in search of food. February and March are a bit more accessible for visitors though, so best to travel during those times. In Gujarat, Gir National Park is closed mid-June to mid-October for monsoon season. November until March are more bearable climate wise, but for top animal watching April and May are best – but boiling. However, witnessing the Rann of Kutch Desert fill up during monsoon season is a sight to behold too. National parks can pack out during Indian public vacations and festivals, and there are many of them. So do check in advance if you are going to clash with one. Which would be fun, but it will be busy. The big ones include 26th January for Republic Day, and Diwali which falls October or November. In many of the parks, the vegetation is high after the monsoon around mid-October, which means that wildlife can be harder to spot. However, the landscapes look stunning during this time. For bird watching in Northern India, October to May is a good time for resident and migratory species, post and pre monsoons. In Kerala, March to May is blazing hot.
Our top trip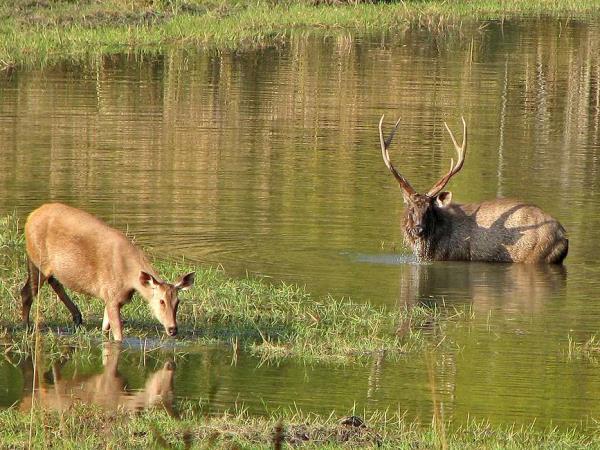 Brilliant experiences including Tigers and Temples
From £1199 to £1299 11 days ex flights
Tailor made:
This trip can be tailor made throughout the year to suit your requirements
If you'd like to chat about India wildlife or need help finding a vacation to suit you we're very happy to help.

Responsible Travel recommends
Valerie Parkinson from our Ladakh and snow leopard tracking specialist Exodus:
"In winter a blanket of snow falls on Ladakh and the snow leopards come down from the higher peaks. You are tracking animals on foot following their pugmarks often in the snow – the sky is crystal clear blue that you only get at high altitude and the air is usually cold and crisp."
Paul Goldstein, tiger expert and tour leader at our leading supplier Exodus:
"October until May is fine for tiger watching. In April and May you might get better sightings but the heat is fearful. In the colder months of December and January the tigers are active for longer, but the days are shorter and it is very cold in the morning. There can be frost, so you will need hats and gloves as you are in an open vehicle."
Shanane Davis, Director of our supplier, True Luxury Tours, specialising in wildlife vacations in Rajasthan: "The best time to see tigers and wildlife in India is April and May because it is before the monsoon, and all the animals come out looking for water during these months. Wildlife watching during these months can be extraordinary, even though it is incredibly hot during this time. The second time to come is October and November, because just after the monsoon most species give birth, so there are a lot of babies and mothers to see then."
More India wildlife articles