Although it's a wildlife success story, Kaziranga National Park sums up the dilemma at the heart of conservation today: how do you balance people's rights with environmentalism?

At first glance, Kaziranga National Park in the northeastern Indian state of Assam is an unqualified success. It has become the world's largest refuge for the once critically endangered, greater one-horned rhino. Also known as the Indian rhino, this massive animal was pushed close to extinction at the end of the 20th century, as it was hunted for sport or killed as a pest. As recently as the 1970s, fewer than 200 animals remained yet today, the overall population stands at a (relatively) healthy 3,500, with a whopping two thirds of that number living in Kaziranga.

According to a census in 2018, 2,413 rhinos graze the grasslands and meadows of Kaziranga National Park, although this population could be even larger, with some animals evading the count in the tall grass. Unquestionably, in straight conservation terms, Kaziranga is a beacon park, with rhino numbers continuing to climb, but beneath this glowing picture lies numerous decisions that reveal the complex ethics surrounding animal conservation and wildlife tourism.
Our India wildlife Vacations
There's no question that the recovery of the greater one-horned rhino is one of Asia's greatest conservation success stories of the 21st century, thanks to strict protection and management from Indian and Nepalese wildlife authorities. But Kaziranga's recent hardline approach to poaching is where conservation tips into controversy.

As in Africa, Kaziranga's rhinos are under threat from poaching, with their horns fetching high prices in the markets of Vietnam and China. About 150 rhinos have been killed here since 2006, but in 2013, after the number of rhinos killed by poachers more than doubled to 27, the then park manager instigated a zero tolerance response to poaching, backed by the Indian government. Unauthorised entry to the park was banned and park rangers were gifted extraordinary powers to protect animals; the kind of powers typically only granted to armed soldiers going into a war zone or intervening in civil unrest.

The result was a number of killings, of poachers, but also of local people who may have simply wandered into the park – an easy thing to do since there are no fences or signs to identify boundaries. In 2014, 22 people were shot dead and in 2015, that figure climbed to 23. That's almost two people a month – more people killed than rhinos poached.
Officially, rangers are supposed to engage with anyone they see in the park, asking who they are and warning them that they're armed. They are meant to arrest them, too, so they can be questioned and intelligence gathered on poaching networks, but a
BBC investigation
by Justin Rowlatt in 2017 suggested that informally, rangers are told simply to shoot.
The figures would seem to bear this out. While the park authorities maintain that their rangers are engaged in shoot-outs with poachers, only six park rangers have been killed in the last 20 years, while more than 100 people were shot by park rangers in the same period.
As a direct consequence – and perhaps inevitably – there are cases of local people being shot by accident. One young man went to retrieve the family's cows that had strayed into the park. Rangers shouted for him to identify himself, but he had learning difficulties which prevented him responding. He was shot dead. A seven-year-old boy was mistakenly shot by rangers, and the wounds to his right calf have left him unable to walk unaided. In this instance, the park paid for medical treatment and offered compensation, but this is rare.
The government has granted the rangers in Kaziranga considerable protection against prosecution if they do shoot and kill anyone in the park. In addition, any local, innocent victims of the rangers typically lack the finance or expertise to bring a prosecution. The rights of local people, whether directly involved in poaching or simply caught in the crossfire, seem not to be of concern to the park authorities, and traditional ways of life, run in peaceful coexistence with the park territory and its wildlife for years, are being eroded.
This issue may not even remain local to Kaziranga. UK charity
Survival International
says there are plans to roll out this shoot-on-sight anti-poaching policy across India's national parks. Potentially good news for the struggling tiger populations in the country, but much more problematic for people living right on the borders of reserves and parks in this crowded country.
There's no question that poaching is the reason some of our best loved species are now desperately endangered. A hardline approach can produce results, but it risks being counter-productive, by alienating the very local people who can provide vital intelligence about the wider poaching operations at work in a region.
In Chitwan and Bardiya National Parks in Nepal, for instance, community outreach has been a huge part of the anti-poaching strategy and the park authorities are eager to minimise any wildlife-human conflict that could jeopardise conservation efforts. Park authorities will capture 'rogue' tigers and other animals that are attacking local people or threatening livelihoods through crop predation, as any detrimental wildlife behaviour can alienate local people and cause conservation initiatives to fail.
Kaziranga has adopted an extreme and unnuanced approach to poaching, but it serves to illustrate one of 21st century conservation's conundrum: how do you square the need to protect endangered species with upholding the rights of people who live in and around national parks?
Our top India wildlife Vacation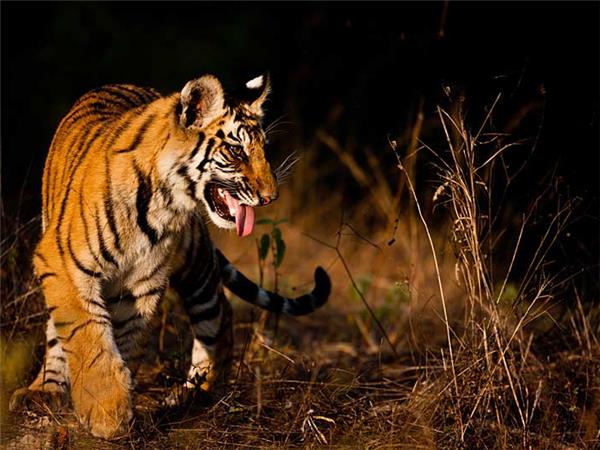 Wildlife tour through India
From
US $

4449

to

US $

4779
16 days
ex flights
Small group travel:
2023: 7 Oct, 4 Nov, 11 Nov
2024: 27 Jan, 10 Feb, 17 Feb, 9 Mar, 23 Mar, 30 Mar, 13 Apr, 20 Apr, 5 Oct, 17 Oct, 2 Nov, 9 Nov, 16 Nov
If you'd like to chat about India wildlife or need help finding a vacation to suit you we're very happy to help.

India's national park expansion
India is planning a massive expansion of its national parks, to provide vital space for its iconic species – tiger, rhino and elephant – and work is already underway to expand Kaziranga's territory. For 'work', read evictions of local people and demolition of the villages on the park's boundaries.
This expansion is a clear sign that the Indian government has understood the value to its economy from wildlife tourism, since both Indian and overseas visitors pay good money to stay in the area and enter the park to see its impressive rhinos. The 'worth more alive than dead' argument has been well and truly won here, in direct contrast to the
UK's national parks
, to which people enjoy free entry but where wildlife has all but disappeared. The combination of economics and conservation, when successfully combined, can drive real change for wildlife.
In Kaziranga though, park expansion comes at a direct cost to local people. Cases of state police using live rounds against villagers protesting the evictions have been recorded and in one incident, two local people were killed. There have also been reports of indiscriminate demolition of local people's
kuthis
(temporaray bamboo huts), harassment of local people and loss of cattle, which in turns means loss of livelihood. A great many communities that lie in the path of park expansion are tribal people, who say their traditional way of life is now as endangered as the animals the park is trying to protect.
Elephant safaris in Kaziranga
Look up Kaziranga National Park online and you'll likely come across images of people riding elephants. Elephant safaris still take place in two of the four zones of the park: the central range at Kohora Zone and the western Bagori Zone. They are a heavily marketed feature of visiting Kaziranga, and elephant safaris spaces sell out quickly. Elephant safaris are seen as superior to a jeep safari, since the elephants can wander off road, providing the chance to get very close to the resident rhinos, and the rider is high enough to see over the tall elephant grass. They are limited to one hour maximum.
We
do not promote elephant riding
at Responsible Travel, neither do we promote any trip that includes a visit to see trained elephants performing. As of spring 2019, and after much deliberation, we have also decided to no longer promote elephant safaris in national parks, including Kaziranga. We understand that these rides, which allow visitors to observe highly endangered species including tigers and rhinos, play a role in conserving them, but with the Asian elephant also facing extinction in the wild, any elephant taken from its natural habitat to work in national parks reduces the chance of elephant populations surviving in the wild. In addition, elephants used for safaris in national parks such as Kaziranga, in common with elephants made to give rides in sanctuaries, have all undergone harsh domestication so they can be ridden.
Taking all this into account, we have decided not to promote elephant safaris in Kaziranga National Park, or any park. You can read more on elephant safaris
here
. If given the choice, we would recommend opting for a jeep safari. It will benefit the park and its endangered wildlife just as much, without promoting the use of elephants.
More about India wildlife