South East Asia map & itineraries
---
Make the most of your time
Indochina highlights and itineraries are cleverly worked out using road travel, overnight trains and boating along the mighty Mekong with tour companies tending to shirk overland travel where possible, especially in Vietnam where the roads are dreadful and travel can be uncomfortable and very lengthy. If you wanted to traverse the entire region by road, you'd be looking at 6 to 7 weeks realistically, so internal flights are taken between the major cities such as between Vientiane and Pakse in Laos - an arduous two day bus ride or a quick and easy one-hour flight. Delays of 45 minutes to an hour are common on domestic airlines, but that's a small price to pay.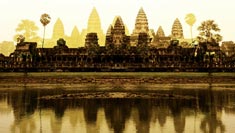 Angkor Wat
As the subject of photos and guidebooks around the world, you'd think Angkor Wat needed no introduction. However, this UNESCO World Heritage Site is more than just a jungle-clad temple; it's the 160sqkm center of an empire dating back a thousand years, complete with intriguing extras such as the far-flung ruins hidden in the forest which are just as worth exploring as its main showpiece.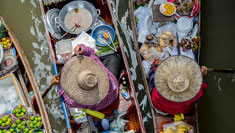 Bangkok
Thailand's crazy capital is a bustling blend of ancient and modern, traditional and cosmopolitan. Take a tour on foot, tuk tuk, riverboat or Skytrain; discover the floating markets, temples, Buddhas and palaces, have dinner in a floating restaurant, or escape across the river to the lush jungle to the secret Bang Krao Jao gardens. Don't forget your street food fix – and try recreating it yourself in a cooking class.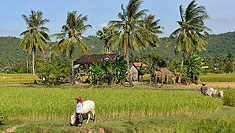 Cambodia
Cambodia is painted as a one-trick pony, home to the magnificent temples of Angkor Wat and little else. Tourists whizz through ignoring the fact that beyond the crumbling temples there is an entire country waiting to be discovered. The country's smiling Khmer people are really what universally astounds and delights travelers, especially given Cambodia's dark – and very recent – past.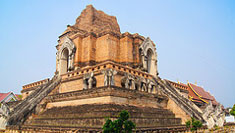 Chiang Mai
Founded 800 years ago at the foot of a mountain, Chiang Mai is a welcome retreat from the southern heat. The city itself has temples to explore and a wonderful elephant sanctuary, as well as Thai cookery classes and a fascinating night bazaar. It is also a convenient base for adventure sports including hiking, biking and rafting. Alternatively, head into the mountains to visit the region's many hill tribes.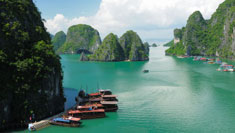 Halong Bay
This dreamy seascape is one of Vietnam's most distinctive scenes. A UNESCO Site, Halong is the world's largest marine karst landscape, with over 2,000 giant limestone boulders emerging from the waters. Sail on a classic wooden junk, paddle into secluded caves and admire the sunset over the karsts from the deck of your boat. You can also visit the surrounding fishing villages, and a floating school.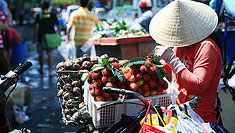 Ho Chi Minh City
A marvellous Asian microcosm of markets, temples and roaring motos, Ho Chi Minh City (formerly Saigon) – is an instant immersion into urban Vietnamese life. You could easily spend several days losing yourself in the Ben Thanh Market, Chinatown, Taoist temples, and the excellent, emotive War Remnants Museum. Get stuck into the street food too – delicious and unbelievably cheap.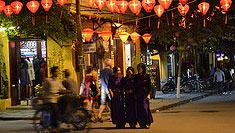 Hoi An
Hoi An is a leap into the past. The car-free streets of the old town are lit by lanterns, and evidence of Spanish and Portuguese settlers is visible in the crumbling architecture. Tailors and artisans abound; this is the best place in Vietnam to buy a tailor-made suit or dress, as well as paintings and ceramics. Walk or cycle the narrow streets, browse the riverside fish market and visit a community project for local children.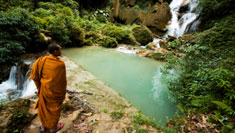 Laos
Enchanting Laos retains a very laid back and distinctly old-fashioned charm, it's architecture vying between the stilted wooden huts of its shabby riverside settlements and impeccably preserved French-Indochinese temples. Dawn brings shuffling monks in robes of bright burned orange and riverbanks alive with the fascinating and staggeringly simple day-to-day lives of their gentle people.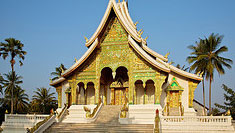 Luang Prabang
Luang Prabang is not Laos's capital, but it is the jewel in the country's crown, a heady mix of burnt orange colonial houses flanked in frangipani, enrobed monks chanting in the morning mist, and a UNESCO-worthy collection of delicate French-Indochinese architecture. The whole city is a World Heritage Site and has a modest air of grandeur unparalleled across the country.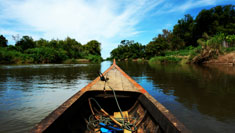 Mekong River
Laos's lifeline, the Mekong, is a mammoth river that winds its way 4,909km through six countries. Cruising the Mekong gives you little choice but to shelve any impatience and surrender to your surroundings, a rolling scenery of forested hillsides, plots of papaya and swirling whirlpools created by granite outcroppings that punctuate the water like rocks in a Japanese Zen garden.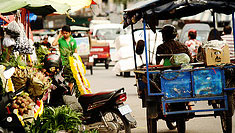 Phnom Penh
The gateway to Cambodia is often just seen as a departure point for the wonders of Angkor Wat. But Phnom Penh offers a unique chance to discover real Cambodian life, with its hectic markets, crazy tuk tuks and gorgeous French colonial architecture – as well as its museums and palaces. Siem Reap is a town for tourists – but this is a town for locals, and people-watchers will be in heaven.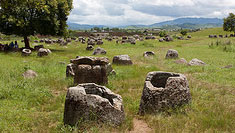 Phonsavan
Phonsavan itself is a pretty uninspiring modern recreation of the original town that blitzed by bombs during Vietnam, but its back roads and traditional villages are a nod to its cultural past. The ace in its pack is the Plain of Jars, a fascinating series of giant stone jars perched on hills over hundreds of sqkm around the town, the ancient origin of which is entirely unknown.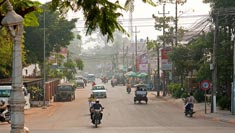 Siem Reap
Despite being the gateway to Angkor Wat, the city of Siem Reap itself is a Cambodia highlight in its own right. There's faded French architecture, streets thronging with tuk-tuks, markets to explore, and the Landmine Museum, which doubles up as an education and support center for local children. There's also a lively nightlife for those who want to let it all out after a day exploring temples.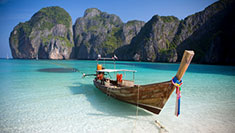 Thailand
Thailand is a tourism titan that's weathered trolleyed backpackers, massive development and a devastating tsunami, but bounces back again and again. Crystalline waters, limestone karst bays and exceptionally beautiful beaches, it has it all, not to mention a rich local culture, a zingy cuisine, and stretches of monsoon forest alive with tigers, elephants and gibbons.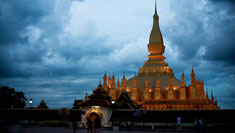 Vientiane
Unlike the frenetic push for power and profit that characterises other Asian capitals, Vientiane is relatively quaint. Inevitable and welcome change since the collapse of the Soviet Union in 1991 has brought about growth, but it has a small town feel and a host of beautiful sights. That Luang is the country's national symbol, a Buddhist stupa topped with gold that glows warmly at sundown.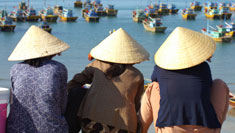 Vietnam
A patchwork of straw-hatted rice farmers, terraced rice paddies, enchanting bays, glitzy cities, unexplored rainforest and stilt-house villages, Vietnam is a marvel at every turn. Ho Chi Minh City (formerly Saigon) and Hanoi are frenetic, moto-filled urban sprawls, while the Mekong Delta reveals rural Vietnamese life: fruit trees, rice paddies, fishing villages and floating markets.
Indochina itineraries
---
Indochina overland – 30 days:

Bangkok ► Golden Triangle ► Luang Prabang ► Vang Vieng ► Vientiane ► Hanoi ► Hue ► Hai Van Pass ► Hoi An ► Ho Chi Minh ► Cu Chi Tunnels ► Mekong Delta ► Phnom Penh ► Siem Reap ► Angkor ► Siem Reap

Indochina tour – 30 days:

Bangkok ► Chiang Mai ► Chiang Khong ► Mekong River ► Luang Prabang ► Vang Vieng ► Vientiane ► Hanoi ► Halong Bay ► Hue ► Hoi An ► Ho Chi Minh ► Phnom Penh ► Siem Reap ► Battambang ► Bangkok

Indochina tailor made – 21 days:

Bangkok ► Chiang Rai ► Pakbeng ► Luang Prabang ► Phonsavan ► Vientiane ► Phnom Penh ► Ho Chi Minh ► Hoi An ► Hanoi ► Halong Bay ► Hanoi
Travel times in Indochina
---
The following times give you a rough idea of the travel times between the main attractions in Indochina.
Bangkok – Chiang Mai: 14hrs by train
Chiang Mai – Chiang Rai: 3hrs by road
Luang Prabang – Phonsavan: 10hrs by road
Pakbeng – Luang Prabang: 3hrs 30mins by river
Hanoi – Halong Bay: 4hrs by road
Ho Chi Minh City – Mekong Delta: 3hrs by road
Siem Reap – Phnom Penh: 6hrs by road
Siem Reap – Battambang: 6hrs by boat