Best time to visit South East Asia

Everyone has a different favourite season in Indochina and it all depends on what you want to get out of your trip

The best time to visit Indochina is between November and February, which brings drier, less humid, and slightly cooler weather to most of the area. though it can be cold in Halong Bay at this time, so a warm jacket is recommended. Laos's weather system is straightforward and the country is dry between November and April, but gets unbearably hot between March and June. Vietnam's humid south is warm year-round and October to December are the finest months in the north, while in Cambodia, June to October offers lush paddy fields.
South East Asia, month by month
Broadly speaking, there are two main seasons in Indochina: the rainy season, from May to October or November, and the dry season from December to April. However, it's a large region with plenty of microclimates, so you're sure to find pleasant weather somewhere regardless of when you plan to travel. Towards the end of the dry season, in March, temperatures begin to rise, and in some places can top 40°C in April with high humidity. The highlands offer a refreshing respite at this time. During the rainy season, there are some key areas which experience disruptions. The Mekong Delta can flood, making travel difficult. In Thailand, the Andaman Coast experiences the worst of the rain – and rough seas can prevent boats from reaching places such as Bamboo Island, near Kep. However, in the Gulf of Thailand at this time, rain is lighter, there are fewer crowds, and some islands – such as Koh Samet – enjoy a pleasant microclimate. Heavier rains are likely here in September and October though. Tropical cyclones can also occur in coastal areas during the rainy season; keep an eye on weather reports if traveling there during this time. To see turtles nesting in Vietnam's Con Dao Archipelago, head there in July, August or early September. Tet is Vietnam's largest festival, to welcome in the New Year. It takes place in late January or early February, on the same day as Chinese New Year. It's incredibly good fun – but if you don't plan to join in, you may be best avoiding this period, as there will be huge crowds, public transport will be busy and many attractions will close for up to a week. Kho Pha Ngan is a sleazy tornado of tourists at any time of year – but once a month – especially in January - it's even worse, as up to 30,000 hedonists arrive in time for the Full Moon Party. There's no traditional element to this festival, which was created for and by westerners. Accommodation is fully booked, music blares all night and the beach will be covered in broken glass and burning cigarettes – it's best avoided, as are the "Half Moon Parties" for those who are passing through later in the lunar cycle.
Our top Indochina Vacation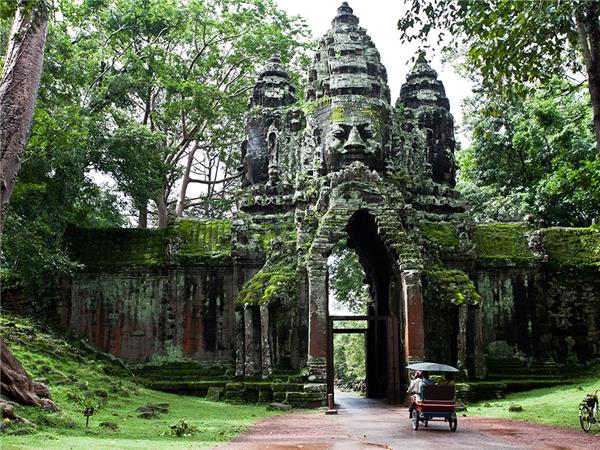 An awesome adventure Cambodia Laos Thailand & Vietnam
From US $4335 to US $4685 30 days ex flights
Small group travel:
2022: 12 Jan, 19 Jan, 29 Jan, 2 Feb, 5 Feb, 12 Feb, 16 Feb, 23 Feb, 16 Apr, 15 Jun, 20 Jul, 17 Aug, 7 Sep, 14 Sep, 15 Oct, 26 Oct, 2 Nov, 16 Nov, 23 Nov, 26 Nov, 30 Nov, 3 Dec, 7 Dec
If you'd like to chat about Indochina or need help finding a vacation to suit you we're very happy to help.

Responsible Travel recommends
Kian Rackley from our supplier, Insider Journeys, shares his opinion on the best time to visit Indochina: "The best time to visit Indochina is between October and March; it's cool and the weather is dry. The rainy season kicks off in April across the region, but it is fickle from country to country, so it's safer to say that it lasts through from March until September, but can still be a great time to visit. In central Vietnam where most of the beaches are, from April through to July is a very warm and dry spell. Laos becomes very dry and very hot during that period, especially inland, and in the south it becomes unbearably hot, and in Cambodia it's rainy, but the showers are short and sharp and happen predictably in the morning and in the afternoon, so it's perfectly manageable. Visiting during this period is well worth it because tourist arrivals plummet, so you really escape the crowds, and it's when the rice harvests starts, so the brown rice fields are replaced by a fluorescent green."
Songkran
A real benefit to visiting Southeast Asia on the cusp of the dry season is Songkran, the New Year celebrations that happen across Indochina in April. It's a huge, week-long party in the street celebrating the end of the dry season and the start of the rainy season. Everyone has a water gun, so there's no hiding behind anyone to escape from getting wet; they'll definitely have a water gun and will soak you through while belly laughing. A 90-year-old granny in the street? Don't trust her.