Tips for the first time traveler
to Kenya
When it comes to safaris, Kenya delivers some iconic images: hundreds of wildebeest spilling over the croc-filled Mara River, herds of elephants in the shadow of Mount Kilimanjaro, lionesses stalking dusty savannah. If watching wildlife is the reason you're heading to Kenya (and let's face it, it probably is) then you won't be disappointed, whether you're looking to go on a luxury honeymoon, rough it on a camping safari or find family-friendly animal encounters.

There aren't words that are adequate enough to describe how amazing this vacation was. A dream come true! Phenomenal! Magical!

– Dean Maylon, after returning from our Kenya wildlife camping safari
But there is more to vacations in Kenya than getting out into the bush. There are formidable challenges for hikers in the form of Mount Kenya and the Aberdare Range, as well as sublime stretches of coastline around Mombasa and beyond. Offshore, the enticing island of Lamu is a heady mix of incredible beaches and Swahili architecture. For a real adventure, follow bumpy tracks through the parched desert landscapes of the north, where you'll find old frontier towns, vibrant tribal culture and the shimmering 'Jade Sea' of Lake Turkana.
Wildlife
Kenya is home to abundant plains game, including impalas, zebras, gazelles and wildebeest, and is the scene of one of nature's greatest spectacles, the Wildebeest Migration, when thousands of wildebeest and zebras cross the treacherous, croc-filled Mara River in search of fresh grazing.
The Big Five looms large here, with both black and white rhino present in several of the parks, including Lake Nakuru and Ol Pejeta Conservancy.
Although it covers just under 400km2, Amboseli National Park has a population of some 1,500 African elephants of all ages, from newborn calves to matriarchs in their 60s.
The compact Masai Mara is one of the best places to see lions and leopards in Africa, which is why the BBC filmed its Big Cat Diary here for so many years.
Kenya also has astonishing birdlife – over 1,000 species – with everything from rare bearded vultures in Hell's Gate National Park to mega flocks of pink flamingos on Lake Nakuru.
In northern Kenya you'll find unusual species not seen in the popular parks of the south. The Kalama Conservancy just outside Samburu National Park, for instance, has striped hyenas, civets and rare African wild dogs, while the endangered Rothschild's giraffe is only found in Lake Nakuru National Park.
Language & culture
Kenya is home to more than 40 ethnic groups, as well as Arab, Indian and Pakistani communities who migrated here centuries ago. Tribes such as the Maasai and Samburu lead largely traditional pastoral lives, with some still semi-nomadic. The national languages are Kiswahili and English.
Kenya is a conservative country, especially in rural areas and along the predominantly Muslim coast and islands. Beach clothing is considered inappropriate outside of the resorts, and women especially are expected to cover their legs and upper arms.
Kenyan food gets a bad rap, but you'll find plenty to enjoy here. Though the ubiquitous ugali, a paste of maize flour and water, is not usually a traveler favourite, nyama choma (barbecued meat) and corn on the cob roasted with lime and chilli are excellent. On the Kenyan coast, meanwhile, the food is testament to the many cultures that have made their home in the region, from the Bantu peoples to Islamic, Indian and European influences. Top treats include spiced pilau, mshikaki (a spiced beef kebab), and mandazi, a sweet cardamom-infused doughnut. Non-alcoholic Stoney Tangawizi is a super refreshing and tongue-tingly gingery beer!
Travel requirements
The vaccinations that the World Health Organisation recommends for travel to Kenya are adult diphtheria, hepatitis A, typhoid and tetanus. Rabies is present as is malaria, and you should speak to your doctor for advice about both. Check Fit for Travel for up-to-date information about travel health in Kenya.
Citizens from Australia, Canada, EU states, UK and USA need a visa to visit Kenya. A single-entry visa costs £30/$42, is valid for three months and must be acquired in advance. UK citizens can check the FCO for current travel requirements.
Traveling to Kenya & getting around
Most travelers fly into Nairobi's Jomo Kenyatta International Airport, though if you're sticking to the beach you might land at Moi International Airport in Mombasa.
To avoid shuddering along Kenyan roads for an entire day, many tailor made tours include internal flights to get from Nairobi or Mombasa to airstrips at various national parks and reserves. Small group tours often travel by overland truck, in which case you'll spend a lot of time on the road – but the views are worth the journey. Another option is a Kenya cycling vacation during which you'll pedal your way through villages, mountains and national parks.

Biking itself and meeting the locals on the way was fascinating enough, but camping on Maasai grounds and talking to the villagers was a bonus on top.

– Roman Holderbach on our biking vacation in Kenya and Tanzania
Our top Kenya Vacation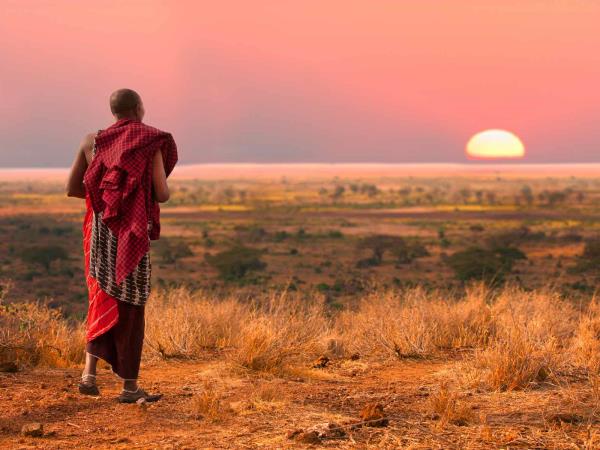 Safari in the Masai Mara & paradise beaches on Zanzibar
From
£

5450
13 days
ex flights
Tailor made:
This trip can be tailor made throughout the year to suit your requirements
If you'd like to chat about Kenya or need help finding a vacation to suit you we're very happy to help.

There's a huge amount to see and do in Kenya, so it's unlikely you'll pack it all in a single visit. Instead, take a look through our highlights and choose a tour that takes you to a few favourites.
Amboseli National Park
Amboseli delivers the quintessential safari photo op: the snow-capped peak of
Kilimanjaro
looming over huge herds of elephants crossing the plains below. You'll also see zebras and wildebeest here, and there's a good chance of spotting lions, cheetahs, white rhinos and hyenas, along with hippopotamus and birdlife in the soggy swamplands, fed by the mountain's meltwater. Walking safaris and night-time game drives are allowed in the conservancies bordering the park.
Beach breaks
Kenya's coastline – all palm-fringed white sands and warm Indian Ocean – can rival that of any tropical island. Diani's 10km of white sands are a classic retreat, complete with reefs and colobus monkeys, while Lamu Island offers archaeological sites as well as beaches, and Mombasa, the gateway to the coast, makes for a fascinating history lesson. It dates back almost 1,000 years, and is peppered with 16th-century forts, Swahili architecture and Islamic mosques.
Conservancies
Owned and managed by local communities – often the Maasai – conservancies are filled with wildlife and are a great way to interact with local people in a genuine way. Activities such as bushwalks and night-time game drives are permitted and there are far fewer visitors. In some cases, there's more wildlife, and more variety, found in the conservancies than in the parks and reserves. On top of that, your fees go back into the community and conservation. You can find out more in our guide to
responsible tourism in Kenya
.
Great Rift Valley
The 9,600km-long Rift Valley cuts across Africa, leaving behind a trail of lakes, islands and lush oases. Eight of these lakes are in Kenya. Lake Turkana is the largest desert lake in the world, Naivasha has over 400 species of birds, and Elementaita is a deep blue soda lake, attracting white pelicans. There's some impressive geological activity here too, with hot springs and steam vents bubbling from the deep.
Masai Mara
This national reserve is synonymous with both wildlife and the Maasai tribes. A stage for the Great Migration, the
Mara
sees some two million wildebeest and zebras spilling into it from June to October – if they survive the precarious Mara River crossing. The surrounding Maasai conservancies give the chance to spend time with the Maasai people, with bushwalks, village visits and warrior training lessons.

Arriving in the village – the warmth of the welcome, the pleasure of staying in a
manyatta
(mud hut). Also, the activities are wonderful – walks amongst the zebra, milking cows, firing bows and arrows, lighting fires.

– Helena Smith on our Masai Mara safari camp in Kenya tour
Mount Kenya
Africa's second highest mountain,
Mount Kenya
soars to 5,199m. It's topped by glaciers, is a UNESCO Biosphere Reserve, and is home to gorgeous flora and wildlife, yet it's surprisingly quiet, in stark contrast to nearby Kilimanjaro's barren yet busy slopes. Want to make it to the summit? Most tours will take about five days of trekking to achieve this feat. If you're sticking to the base, check out the nearby Mau-Mau Cave – a national monument – which sheltered the Freedom Fighters in the 1950s.
Samburu National Park
Samburu, which doesn't feature on many standard Kenyan safaris, was the home of Elsa the lioness of Born Free fame and is still a wonderful place to see lions, as well as leopards and cheetahs, which hunt in this wild landscape. The park is also home to the 'Samburu Five' – five rare animals found only in the Samburu ecosystem: the Somali ostrich, Grevy's zebra, reticulated giraffe, gerenuk and Beisa oryx.
...and what not to do
Kenya's high poverty levels combined with the number of families devastated by HIV means that orphanages are, sadly, abundant. We do not support short-term volunteer placements with vulnerable children, especially with unqualified volunteers. Read more about our policy.
If you spend any time near Mombasa, avoid Haller Park – a place where you get to do all the things you're not allowed to on game drives, such as feed giraffes and play with monkeys. We don't support zoos or tours that visit them. Read more about our stance… and stick to your wild safari.
All-inclusive resorts scatter the Kenyan coastline, but they are best avoided. They suck tourist money from the local economy, and rarely offer any kind of authentic Kenyan experience.
The beginning of January right the way through to the end of February is the warmest period to visit Kenya, with higher concentrations of animals congregating in popular tourist destinations, such as the Masai Mara, Lake Nakuru and Amboseli. This is a great time of year for divers to go to Kenya, as visibility in the Indian Ocean is much clearer thanks to the lack of surface runoff.
During the long rains – from March to May – some accommodation may shut down, and travel can be tough, but things get drier from June, with the wildebeest migration kicking in from July and August.
With the school vacations out of the way in September, you'll find fewer visiting families. October through to November is a great time to go to Kenya if you're not tied to the kids. There are short rains, but these cause less disruption and refresh the vegetation, plus it's a great time for birdwatching, with migrating species arriving in huge numbers.
How long is needed to see Kenya?