In those Southern and East African countries that are home to abundant wildlife, safari tourism has developed at different rates, but Kenya was certainly one of the first out of the blocks. It has been open to visitors seeking an up-close experience of Africa's big game and wondrous landscapes for decades. The famous Treetops Lodge in Kenya's Aberdare National Park was where Queen Elizabeth stayed in 1952, climbing the ladder to her room a princess and descending the next day as a queen, after her father King George VI died overnight. By the time she visited, though, the Lodge had already been open to visitors for 20 years – back in 1932 it charged £10 per bed, per night.

From those early colonial days, Kenya has developed its safari options, and become the go-to choice for many people seeking a classic African wildlife experience. As a result, it's no longer as exclusive as when Her Majesty first vacationed there, but it does offer incredible choice, with safaris to suit almost all budgets. There are luxury lodges, simple campsites, chic tented camps and family friendly accommodation staffed with expert guides who can engage and enthuse little ones – pretty much something for everyone.
In addition to the breadth of accommodation, Kenya has also shown great initiative in how it balances safari tourism with tribal and local rights. Now, community owned conservancies border many of the national parks and reserves, often peppered with camps and lodges run by the Maasai people. Staying in one is not only a wonderful chance to meet the Maasai, it ensures that your money goes into their coffers, providing a sustainable income and a safe future for the people who have lived in and loved the land since way before any Westerner with binoculars and a pith helmet showed up.
Of course, underpinning all the many safari options that exist in Kenya is its tremendous wildlife, often to be found strolling through landscapes that can only be described as iconic. The sight of Amboseli's elephant herds against the backdrop of Mount Kilimanjaro's snow capped peak is one for the photo album, for sure. The Big Five flourish here, as do the plains game that Kenya's lions, leopards and cheetah hunt, while marshlands shelter wallowing hippos and the lakes of the Great Rift Valley attract flocks of flamingos to their algae-rich waters.
What to see on safari in Kenya
Kenya is one of Africa's richest wildlife viewing areas, with a huge diversity of species inhabiting its plains, lakes and forests. The Big Five is large and in charge here, with both black and white rhino present in several of the parks, including Lake Nakuru and Ol Pejeta Conservancy. Amboseli has a huge concentration of elephants and the compact Masai Mara is one of the best places to see lions and leopards in Africa, which is why the BBC filmed its Big Cat Diary here for so many years. Cheetahs and spotted hyenas are also present, while huge pods of hippos splash about in the Mara River, alongside gigantic Nile crocodiles. Kenya also has astonishing birdlife – over 1,000 species – with everything from rare lammergeyers wheeling above Hell's Gate National Park to mega flocks of pink flamingos on Lake Nakuru.
Night drives reveal nocturnal animals going about their business, such as aardvarks and honey badgers, while venturing into the north of the country is a chance to spot some unusual species not found in the popular parks of the south. The Kalama Conservancy just outside Samburu National Park, for instance, has striped hyenas, civets and rare African wild dogs, while in Kenya the endangered Rothschild's giraffe is only found in Lake Nakuru National Park.
Kenya also boasts abundant plains game, including impalas, zebras, gazelles and wildebeest, and is the setting for one of nature's greatest spectacles, the
Wildebeest Migration
. It reaches its nail biting climax in southern Kenya, when thousands of wildebeest and zebras pour into the Masai Mara in search of fresh grazing, after first crossing the treacherous, croc-filled Mara River.
Where to go on safari in Kenya
The parks closest to Kenya's southern border attract most visitors, and their relative proximity to Nairobi makes them popular with anyone short on time and in Kenya for only a week. Quick flights connect the capital's Wilson Airport to the Masai Mara or Amboseli National Park, making it possible to see wildlife in both parks in just an eight-day trip.

Thanks to their proximity to the border with Tanzania, the Masai Mara, Amboseli and Tsavo East and West can be combined with game drives in the Serengeti or Ngorongoro Crater, too, for a two-countries-in-one adventure. Down here in the south you'll get iconic open grassland studded with acacia trees, and – in Amboseli – snowy Kili forming the ultimate African safari backdrop.
The popularity of Kenya's southern parks means they can become crowded and, during the Wildebeest Migration, it's not uncommon to see several hundred jeeps parked up by the Mara River to observe the animals as they cross. Venture further north and things calm down. Here, you'll find Kenya's less frequently visited parks. The forested slopes of the Aberdare Range in Aberdare National Park are home to monkeys and golden cats, while further north in Laikipia you can find both black and white rhinos, and African wild dogs, a species not present in the ever-popular Mara. Samburu, which doesn't feature on many standard Kenyan safaris was the home of Elsa the lioness and is still a wonderful place to see lions, as well as leopards and cheetahs, which hunt in this wild landscape. The park is also home to the 'Samburu Five' – five rare animals found only in the Samburu ecosystem: the Somali ostrich, Grevy's zebra, reticulated giraffe, gerenuk and Beisa oryx.
Most of Kenya's national parks are bordered by private conservancies, often entirely or part owned by the community, which is typically the local Maasai people. These are excellent places to stay both for ethical reasons, but also simply for enjoyment. Many experiences that are restricted in national parks and reserves are possible in conservancies, such as night drives. You may also be able to take a game walk, which is a great way to spot smaller critters and learn tracking skills, and gives children a welcome break from traditional game drives. A boat cruise to spot birdlife, hippos and wallowing animals on Lake Naivasha is another fun alternative to bouncing around in a 4x4.
Our top Kenya Vacation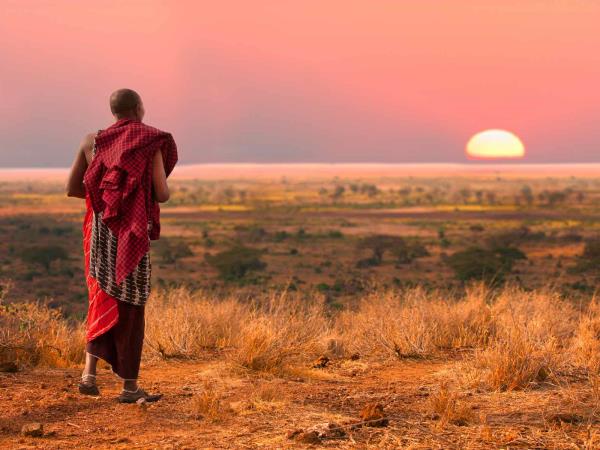 Safari in the Masai Mara & paradise beaches on Zanzibar
From
£

5450
13 days
ex flights
Tailor made:
This trip can be tailor made throughout the year to suit your requirements
If you'd like to chat about Kenya or need help finding a vacation to suit you we're very happy to help.

How to travel and where to stay
Tailor made safaris provide the greatest flexibility in Kenya and there are plenty to choose from. The most luxurious options make use of high-end lodges or swish tented camps on small private reserves, where you're paying not only for the quality of accommodation but it's exclusive location, away from other tourists and in the midst of the wildlife. The more you spend, the more comfortable you can expect to be, of course, with superb food and service, and in-house facilities such as a pool and spa. Top end accommodations also offer additional excursions and treats, too, from horse riding to hot air balloon rides over the plains (often with champagne, just to ramp up the fun).

Tailor made trips that take in a handful of Kenya's parks and reserves often rely on domestic flights to keep travel times to a minimum and journeys comfortable. Trimming out these expensive domestic flights is something safaris at the more budget end of the spectrum typically do, and small group tours that travel overland in a dedicated safari vehicle are always less expensive than something tailor made. Kenya's road network is pretty good, particularly in the south, and here many of the parks are within a three or four hour drive of each other, so this is definitely not as gruelling as traveling overland in, say, Botswana.
To further squeeze costs, small group trips often involve camping. This might be in an established campsite with hot showers and flush toilets, but some tours also include wild camping with no facilities, which is the ultimate immersive wilderness experience, but not for anyone of a very nervous disposition – animals can and do wander through camp at night.
Kenya is a perfect safari destination for families, thanks to its huge range of easy to see wildlife, but also the many and varied activities that can be bolted onto a traditional safari break. Specially designed family safaris will include expert guides who know how to keep children engaged and family friendly accommodation that serves child-friendly food and has great facilities such as a pool and games room. Any overland drives will be kept short, and game drives are broken up with other fun activities – bush walks, boat cruises, bike rides and the chance to hang out with the Maasai. Learning to throw spears like a true warrior certainly helps kids let off steam after a three-hour game drive, but it's educational, too, and brings some welcome human context to a Kenya safari vacation.