Morocco is a multifaceted country, with exciting cities, wonderful coast, the Atlas Mountains and last, but certainly not least, the Sahara Desert. As big as the USA, this desert stretches from the Red Sea in the east and the Mediterranean in the north all the way to Morocco and the Atlantic Ocean on Africa's western shore. Most of the Sahara is comprised of rocky stone plateaus, but in Morocco it becomes the archetypal desert of popular imagining, ditching the rocks for a rippling coat of towering dunes, which constantly change shape and colour, from brilliant orange to rosy pink.

Traveling to the Sahara demands a road journey of several hours, but the scenery along the way entertains as you draw ever closer to the desert. Hop out and explore remote kasbahs and valleys lush with date palms, fields where goats nibble wildflowers and orchards of hazel and almond trees. Once in the Moroccan Sahara, you'll find small oases fringed with date palms nestling amid the dunes, and a handful of hardy Berber people here, too, carving out a slow-paced, low-impact life that has barely changed in centuries.
Where to go in the desert
Morocco has two major Saharan dune systems – or ergs, as these vast seas of shifting, windswept crests and valleys are correctly called. Erg Chebbi is located at the end of a sealed road near Merzouga, just 20km from the Algerian border. It stretches 50km from north to south, with iconic dunes that tower up to 150m high. Erg Chegaga, 50km west of M'Hamid, is less easy to access than Erg Chebbi – you'll need a camel or 4x4 to get amongst it – but many feel taking time to travel here is worth the effort for the silence and undiluted drama.

Few trips run into the disputed Western Sahara region of Morocco in the south, but it is possible to visit on an organised tour, although this will take you well off the tourist trail and away from any major cities. This is a wild, arid land of Saharawi nomads, rolling dunes and camel trains, strong traditions and awe-inspiring scenery.
Getting to the Moroccan Sahara
Direct flights to Morocco are easy to come by, especially from Europe, but if you want to visit the Moroccan Sahara, be prepared for long road journeys, and for its vastness once here. Trips that take in the Erg Chebbi dune field head for Merzouga, pausing in frontier towns like Erfoud and Rissani. For an idea of journey times, from Midelt in the north to Merzouga takes about five hours.

Trips bound for Erg Chegaga tend to go from Ouarzazate, along the lush Draa Valley to Zagora and finally to M'Hamid, at the end of the road and the start of the desert – a distance of 260km. The distances, remoteness and, often, the need for a 4x4 mean that joining a small group or tailor made trip is the easiest way to visit the Moroccan Sahara. In addition, an organised tour will arrange for a night or two camping in the desert, with a cook and crew to set up camp and usually contacts among the local Berber community. Here, you will have the chance to learn about their lives around the campfire after admiring the sparkling night sky and enjoying a hearty dinner.
Few people come just for the desert, though. Instead, multi-layered and diverse Morocco offers a host of other attractions, from coast to city and mountains. A week is enough to see Marrakech, take a short trek in the High Atlas, then follow the N9 road down to M'Hamid for the desert dunes of Erg Chegaga. Or take two weeks and loop round from Casablanca to the capital, taking in old town medinas, marvellous mountains and the wide-open desert, too. Road transport tends to be the main means of getting around, although some itineraries use trains for a few sections.
Our top Morocco Vacation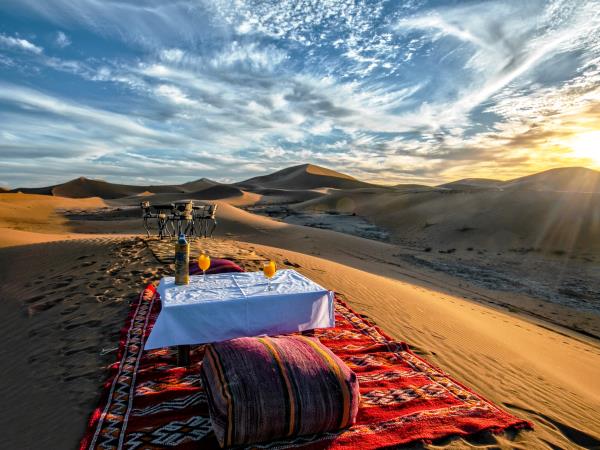 Marrakech and Sahara - stay in a Riad, sleep under the stars
From
£

975

to

£

1075
7 days
ex flights
Tailor made:
This trip can be tailor made throughout the year to suit your requirements
If you'd like to chat about Morocco or need help finding a vacation to suit you we're very happy to help.

Spend the night
If you've gone to the trouble of reaching the Moroccan Sahara, it's really worth spending a night here, too. Camping in the desert is a unique experience; a chance to admire the sunset, feel the temperature drop and sleep in the complete silence of the desert. Camps can be fixed or temporary and are often quite basic, so don't expect flushing toilets and hot running water, but you're here for the remote, magical desert landscape and, if you're lucky, singing, dancing and tales of traditional life from your Berber hosts around the campfire.
Spot the stars
Another reason to spend the night in the Moroccan Sahara is for the stargazing. Undimmed by light pollution, the night sky over the desert is studded with stars so bright they look as though they've been polished. The moon, too, is a luminous spotlight on the Saharan landscape, gilding the dunes with silvery light. Not to be missed.
Ride a camel
From a sunrise ride to an extended trek with local nomads, riding a camel is rarely off the itinerary of any trip to the Moroccan Sahara. These notoriously grumpy creatures don't offer a comfy ride, but the views are great from up on high and who doesn't want a photo of themselves atop a dromedary to hang in their downstairs loo? Longer treks of four or so days give an authentic insight into the nomadic lifestyle, too, and are a really peaceful way to experience the desert (and you can always lead your camel when riding becomes too uncomfortable!). Witness the varied ecosystems, not from a 4x4 but from the original land cruiser, traveling with local nomads, sipping mint tea prepared by shepherds, helping to cook bread and collect water, feeding animals and sleeping under the stars.
Camels are prized and valued by their local owners and generally well cared for, but if you have any concerns about the welfare of any camels in Morocco, do voice these to your tour operator or contact the
Travelers' Animal Alert initiative
, run by the international wildlife charity Born Free. It investigates neglect, fights cruelty and works with vacation companies, governments and other organisations to help improve animals' lives.
Enjoy a homestay
A stay with a Berber family is an incredibly special way to get to know the Moroccan Sahara through the people who have lived here for centuries. You'll be welcomed by a Berber family and get a feel for how they live, learning how to cook flatbread, feeding the animals, and helping draw water from the well. The pace of life is gentle, the welcome warm and there's always the opportunity to board a camel and explore deeper into the dunes, too. It's a chance to experience authentic day-to-day life here, while also placing some useful revenue directly into a local family's hands, providing a sustainable future for them.
Best time to go to the Moroccan Sahara
As you might expect from a desert, it can get pretty warm here. In fact, from June to September, the Moroccan Sahara can be uncomfortably hot, so if you want to explore it properly, the best time to visit is outside these months. April and May are great times to come. Be aware of the temperature fluctuations, though. There can be a difference of 20°C in the desert between night and day. During the cold winter months, from November to March, bring warm clothes and consider packing your own sleeping bag if you're camping for extra warmth and comfort, even though camps supply blankets.