"What in heaven's name brought you to Casablanca?"
"...My health, I came to Casablanca for the waters."
"The waters? What waters? We're in the desert."
"...I was misinformed."

- From the 1942 film Casablanca
Cities in Morocco capture everyone's imagination and inspire creativity. Painters aspire to capture the bevy of blues that bring a blissful calm to coastal Essaouira. Writers such as Evelyn Waugh brought Fez to life through fiction in Brideshead Revisited, while Esther Freud portrayed the sensory magic that is Marrakech in Hideous Kinky. Paul Bowles, the author of The Sheltering Sky which went on to become a BAFTA-winning film, was inspired by his time in Tangier. And experts believe that the fine work of artist Henri Matisse was totally transformed by this coastal city too.

Each city certainly boasts its own unique characteristics, from the indigo idyll that is Chefchaouen, nestled into the Rif Mountains, or the pinks and reds of Marrakech with its backdrop of the Atlas Mountains. Each city is informed not only by its cultural heritage but by nature too, be it desert, mountains or ocean. Or all three.

Yves Saint Laurent famously bought the city's Majorelle Gardens in 1980, a park that is still an important oasis in the dry, dusty, sometimes daunting yet dramatically beautiful city.

Marrakech
Marrakech is home to a museum of Islamic art and historic artefacts. It's the contemporary culture, however, that gets visitors' hearts beating, their gastric juices flowing and their senses awakening. The Koutoubia Mosque with its iconic minaret is its centerpiece and the huge souks surrounding the Jemaa El-Fna square are where the daily fiesta of food, fun and free-for-all bartering over Moroccan handicrafts happens. Marrakech's glorious majesty may be shabby round the edges but this was once the heart of power for the Almoravid and Almohad dynasties, dating back to 1071, and the capital city for the next two centuries.

Essaouira is the sort of city that makes you want to bundle your banalities into a suitcase, forget the quotidian and move here forever.

Essaouira
Despite the omnipresence of the colour blue, from the buildings to bobbing fishing boats to the robes of the women who sell the fish, this is one of the most uplifting cities in Morocco. In every other way, it is far from blue. The surge of the Atlantic makes it surf central, the cooling breeze sweeps around the small alleys and cobbled streets of its 15th-century walled town, the Moroccan cuisine tastes like it has just come straight from the sea or off the mountainsides, the beaches are wild and made for galloping along on a horse, and the artists who sell their beautiful work are both eclectic and prolific.
Chefchaouen
Considered by many to be the most spoiled in terms of picture postcard prettiness, this city is located in a valley between two peaks in the Rif Mountains. Like Essaouira, Chefchaouen likes its blue hues, although the rugs, cushions, handwoven fabrics and leather goods that fill the ancient medina market and merchants' stalls are definitely multicoloured.

Chefchaouen's a gem of a town. A sparkling blue sapphire one, set into the hard Rif rocks.

Its whitewashed traditional houses proffer a perfect contrast to their red tiled roofs, all giving it an almost Mediterranean feel. This may be because it was reinvented by Andalucians escaping the Reconquista of the Middle Ages. Like all of Morocco's cities, you can relax after a day hiking in the foothills, Talassemtane National Park or indeed right up to the Jebel al-Kalaa peak (1,616m) by taking a traditional hammam. Or cool down in the charming museum, which takes you through its many different influences, from the Andalucians to fending off the Portuguese in the 15th century.

Although it's not quite as chic as during the Bogart and Bergman days, this city on the Atlantic coast is one that boasts both old and new.

Casablanca
Casablanca's medinas are juxtaposed with modern art, and given that Casa (as it is more lovingly known) is also the largest city in Morocco, it has chic hotels, tower blocks and traffic congestion. Still an important port, long gone are the relics of its fishing village, once known as Anfa, which went from being a Berber home to the strategic post of many invaders, from the Phoenicians to the Portuguese. It was the latter who renamed it Casa Branca. Most people come here for a day trip only, particularly to see its ultra-modern Hassan II Mosque, one of the world's largest, towering over the Atlantic. As well as being a place of worship, you can see the seabed under its glass floor, and at night you can't miss its laser pointing to Mecca.
Our top Morocco Vacation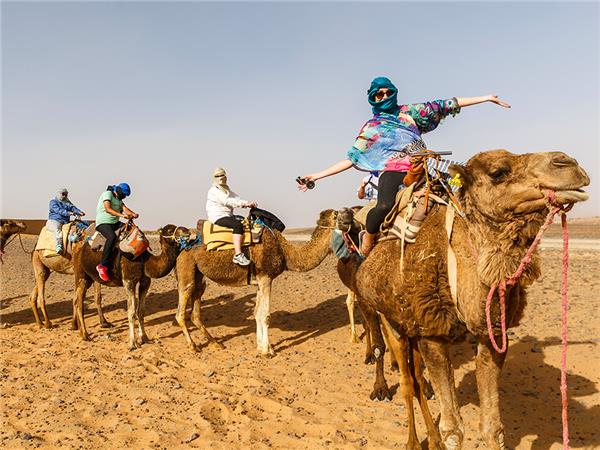 Come and see Morocco's kaleidoscope of colours
From
US $

1224

to

US $

1655
15 days
ex flights
Small group travel:
Departs every Wednesday & Sunday and selected Fridays throughout the year
If you'd like to chat about Morocco or need help finding a vacation to suit you we're very happy to help.


The gateway port for those who travel overland through Spain to Morocco, just over 30km from Spain across the Strait of Gibraltar.

Tangier
Tangier is a gateway port. It's more a passing through sort of city for that reason, although it boasts a fascinating history given its strategic position. Over the centuries it has seen and still bears witness to a wonderful mix of North African, Spanish, French and Portuguese influences.

In terms of passing through, many people get a night train from here to Marrakech, or take a day train to Fez, a five-hour journey away. In terms of hanging out in this historic port town, some of the main highlights include the Kasbah Museum, a former Sultan's palace, now with a collection of art and artefacts dating as far back as Phoenician times. It became well known among a bohemian, arty set during the 1950s: most famously American novelist Paul Bowles, who was inspired to write The Sheltering Sky here. During the 1960s, it became famous for being a gay resort, frequented by other well-known writers such as Tennessee Williams and Joe Orton. It is very much a cruise city today, with big liners spilling thousands of tourists into the souks and squares of the old town.
Fez
Fez's old town dates back to the 9th century and is a UNESCO World Heritage Site. The labyrinthine Fez el-Bali medina is also one of the largest car-free urban areas in the world, giving you plenty of space to take in the Attarine Madrassa, Moulay Idriss mausoleum and Karaouine Mosque. The medina is home to myriad craftspeople and artists, and you will pass traditional tanneries, jewellers working with silver or coloured glass, and weavers at their looms. It is still considered the cultural hub for many people, with cuisine contributing greatly to that accolade, making it a great city to go on a culinary tour. The Fez Festival of Sacred Music in June is also a very special event.

This is thought to be the best preserved ancient Islamic city in the world and, as such, you can spend several days exploring this medieval capital's magnificent cultural heritage.


Meknes is only 45 minutes from Fez, very beautiful but not quite as manic as its ancient neighbour. And definitely cheaper.

Meknes
Meknes has 40km of ancient city walls, the main gate into it being Bab el-Mansour, thought to be one of the finest examples of imperial gateways in the country. And they do like their ancient gateways. These typically Moorish big doors and high walls were typical of the Sultan Moulay Ismaïl's tastes, who ruled Meknes 1672-1727 and was founder of the Alaouite dynasty. He favoured this fusion of Islamic and Spanish architecture which you can still see today throughout the Place Hedim main square, Heri es-Souani granaries and Dar Jamai former palace, now the Museum of Moroccan Arts. You can also find out more about the Sultan's history at the ancient Habs Qara underground prison.

Although many tourists mistakenly think it is Marrakech, Rabat is actually Morocco's capital city and has been since 1912.

Rabat
Rabat has a long and colourful past, having been conquered by the Romans, pillaged by pirates, settled by Phoenicians and then ruled by both the Almohad and Merenid dynasties. Today it is a modern metropolis and not, therefore, as popular on the tourist trail compared with some of the more obviously ancient cities. However, there are still some important historic sites to be visited in Rabat, such as the Kasbah of the Oudaias, a medieval citadel with views over the ocean, and grand Andalucian gardens. Or the old medina, the unfinished mosque with its striking Hassan Tower, the Phoenician necropolis at Chellah, and the grand Mausoleum of the Kings.