Manaslu Circuit trek, Nepal
Less well known than the nearby Annapurna Circuit, the
Manaslu Circuit trek
is a spectacular and isolated circular walk around the eighth highest mountain in the world, Mount Manaslu, which rears up to a height of 8,163m. The government of Nepal opened up the trail to trekkers in 1991, and itís still something of a best-kept secret, but the route itself is very old and follows an ancient salt trading road along the Buri Gandaki River.

As ever in Nepalís Himalayas, the scenery does not disappoint, with landscapes that change with every hour of walking, from lush farmland to a steep river gorge, Alpine meadows and rocky moraine carved through by glaciers.

Youíll enjoy fantastic views of Manaslu and the Ganesh Himal Range and the trek takes you past villages that are extremely remote, and see far fewer trekkers than those lining the Annapurna Circuit. As you climb, Hindu settlements give way to a scattering of Tibetan communities, which nestle in the shadow of mighty Manasluís north face. The climax of the trek, in terms of altitude, is the long day crossing the Larkya Pass (5,130m), which provides epic views of snowy peaks, before dropping steeply down and eventually joining the main Annapurna Circuit route for the final dayís walking.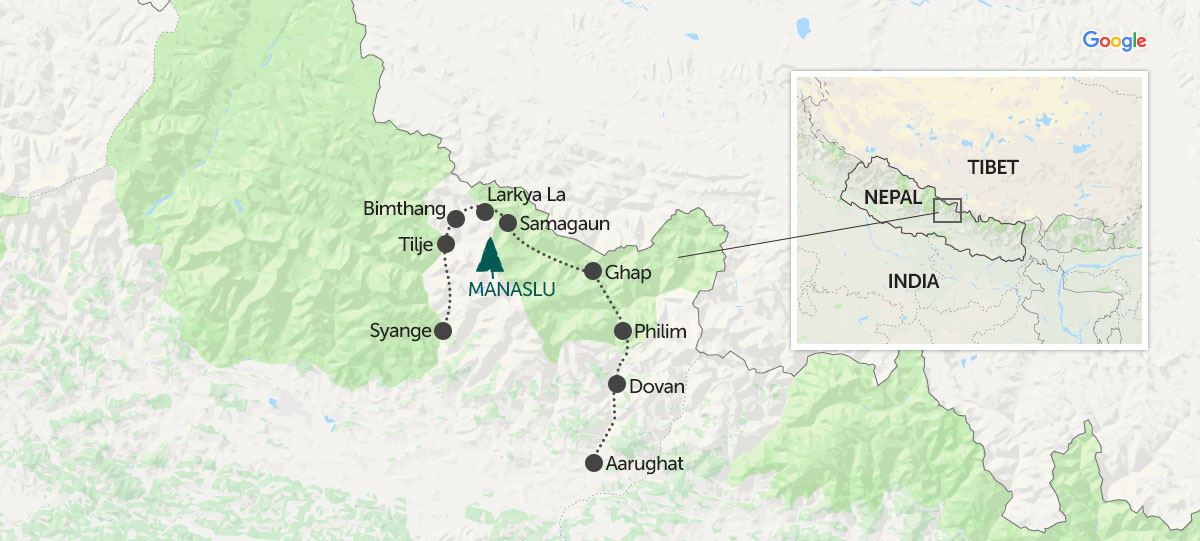 Highlights of the Manaslu Circuit
The Manaslu Circuit trek has always traditionally started in Arughat Bazaar in the Buri Gandaki Valley, an eight to 10 hour drive from Kathmandu, but with roads being built in this region, some organised treks start at either Barpak or Soti Khola a bit further up the trail. The trail follows the beautiful Buri Gandaki River to its source just below the Larkya Pass (5,125m). You start at low altitude, around 700m, where the weather is often hot and humid, then hike through a varied range of landscapes. Farming country and rice paddies give way to lush forests of bamboo and rhododendron, steep cliffs and raging waterfalls, terraced hillsides with small villages, and on up to dramatic, rocky high altitude terrain ripped through by huge glaciers.
Above about 2,000m, you come across footholds of Tibetan culture that exist in the high Himalaya and will see Tibetan style villages and mani stones (prayer stones) carved into rocks by the path. As you climb, the mountains swing into view and rear over the trail. Enjoy superb views of the Shringi Himal as you reach Sirdabas and at Lho, 3,170m up, youíll get your first views of Manaslu, Naike and Larkya Peak. Trekking on from Lho, drink in the epic views, with snow-capped mountains all around you: Himal Chuli and Peak 29 to the left, Manaslu and large glaciers up ahead, and Ganesh Himal at the far end of the valley.
Samdo is the last permanent settlement on the trail and only a dayís walk from the Tibetan border. Organised treks always build in a day for acclimatisation here, with optional short walks, before pressing on to Dharamsala at 4,480m, the last overnight stay before crossing the Larkya Pass (5,130m). Once youíre over the pass, thereís a long, steep descent down but the views are amazing, with the brilliantly blue glacial waters of Pongkar Lake visible amidst three glaciers below. The stretch from Bimthang down to the Burdin Khola valley is particularly beautiful, with mountains behind and in front and superb views of Manaslu. At Dharapani the route connects with the main Annapurna Circuit, eventually crossing the Marsyangdi River and ending the trek in Jagat or Besisahar.
Our Nepal trekking Vacations
If you'd like to chat about Nepal trekking or need help finding a vacation to suit you we're very happy to help.

Practicalities on the Manaslu Circuit
The Manaslu circuit is one of the more remote treks in Nepalís Himalayas, and typically involves around 13 days of point to point walking. Youíll be staying in teahouses along the route, with a night in a fixed tent in Dharamsala. You can join a small group (between four and 16 people) or opt for a tailor made trek. Both will include experienced local guides and porters, who should be tasked with carrying no more than 25kg and should be fully insured. Read more here about
portersí rights
and what questions to ask your vacation company.
Youíll need to be in good shape to tackle, and also enjoy, the Manaslu Circuit. Expect to be trekking for between five and eight hours a day, with the odd longer day, for instance when you cross the Larkya Pass Ė this involves about 11 hours on foot. Some of this will be at high altitude, which carries a risk of
altitude sickness
, but well organised treks build in time to acclimatise and the trek leader will be sure that you are pacing yourself correctly, to minimise the chances of being adversely affected. Oxygen and a first aid kit is usually carried by the porters.
The trail can be narrow or uneven at times, with some walking on rocky glacial moraine and some very steep descents, plus expect to cross suspension bridges over the river. Finding out you suffer from vertigo three days into a 13 day trek is not pretty, so be honest with yourself about your abilities and the rigours of this route before signing up.
As it ranges from hot and humid at the start of the trek, to cold at the top, with the potential for snow and ice, too, most organised treks offer the chance to hire a down jacket and suitable sleeping bag. March and April, October and November are great times to trek the Manaslu Circuit, with daytime temperatures at most altitudes pretty comfortable for walking, clear skies, and only occasional rain or snow. Expect it to be around 10įC at 3,600m and progressively lower the higher you go.
More about Nepal trekking