Mini Annapurna circuit trek, Nepal
The Annapurna circuit is one of the worldís classic trekking routes, revealing ever changing mountain scenery as it loops around mighty peaks and crosses the high altitude Thorong La pass. Itís a spectacular route but it does require spending around three weeks in Nepal, with 18 days of point to point trekking.

If your diary wonít allow this amount of time away, or you simply donít feel like hiking for over two weeks solid, there is a solution: the mini Annapurna circuit.

As the name suggests, this is a condensed version of the full trek, traveling anticlockwise from Besisahar†all the way to Jomsom, where you hop in a light aircraft and fly back down to Pokhara. This is by no means a poor relation to the full circuit. Youíll still get superb views of the Annapurnas and Dhaulagiri, and still experience the full range of awesome mountain scenery, from sub-tropical landscapes through to alpine peaks and arid desert conditions. You will also still cross the formidable Thorong La, the highest pass on the circuit at 5,416m. Itís simply that, since you wonít be completing a full circuit, you shave off time, trekking for 11 days instead of 18 on a trip that lasts two weeks in total.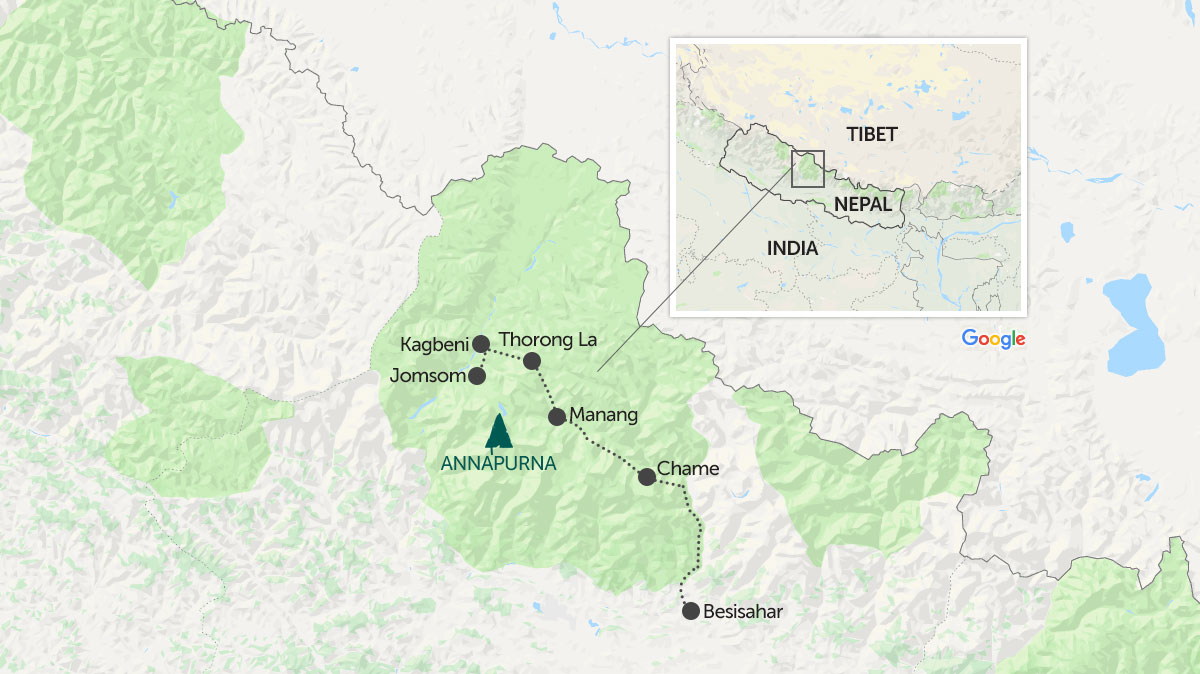 Our Nepal trekking Vacations
Highlights of the mini Annapurna Circuit
Hike for a few days along any section of the Annapurna circuit and youíll be struck by how continuously the scenery changes. Trekking the mini Annapurna circuit takes you from lowland villages fringed with rice paddies, along rivers, across suspension bridges, through oak forests and past impressive waterfalls. After a few days of trekking from the starting point in Besisahar, the villages become Buddhist rather than Hindu, with fluttering prayer flags between buildings and sometimes a monastery, too. By the time the trail rises to around 2,000m, the views of Manaslu and Peak 29 are magnificent.
By day seven on the trail, the scenery shifts again, as you leave the forests of the alpine regions behind and trek into the upper district of Manang, known as Nyeshang. Trek through a deep river canyon then continue to climb upwards, admiring the sweeping rock face of Paungda Danda which rises some 1,500m from the riverbank, before reaching Upper Pisang village, where thereís a beautiful monastery. In Manang, youíll spend a day acclimatising to the altitude, admiring the sunset views over huge Gangapurna and the Annapurnas, towering above. Youíll then trek the short distance up to Phedi, at the foot of the Thorong La, for more time acclimatising, before tackling the pass on a long day of trekking, which involves a stiff climb up, several false summits and a steep descent down to Muktinath. From here, itís just one more day of trekking, through a landscape of bare hills with a backdrop of snow-capped high peaks before reaching the Kali Gandaki valley and then joining the main trail to Jomsom.
Our top Nepal trekking Vacation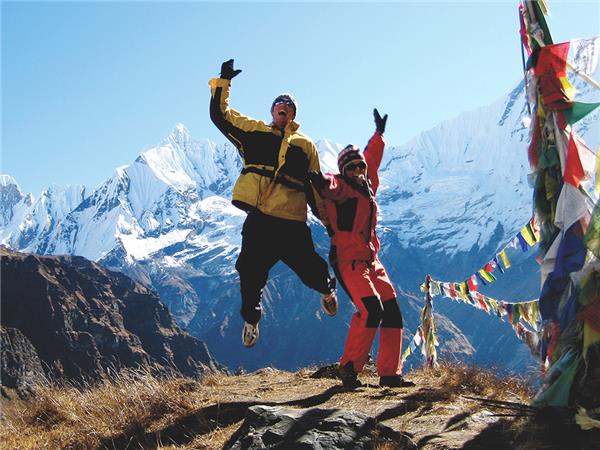 For anyone who has dreamed of seeing Mt Everest
From
US $

1275

to

US $

1870
15 days
ex flights
Small group travel:
2019: 25 Sep, 27 Sep, 28 Sep, 2 Oct, 4 Oct, 5 Oct, 7 Oct, 9 Oct, 11 Oct, 18 Oct, 19 Oct, 23 Oct, 25 Oct, 26 Oct, 27 Oct, 30 Oct, 2 Nov, 6 Nov, 9 Nov, 13 Nov, 16 Nov, 20 Nov, 22 Nov, 23 Nov, 30 Nov, 4 Dec, 7 Dec, 11 Dec, 14 Dec, 18 Dec, 20 Dec, 21 Dec, 25 Dec, 28 Dec
2020: 8 Jan, 8 Feb, 15 Feb, 26 Feb, 4 Mar, 7 Mar, 11 Mar, 13 Mar, 14 Mar, 18 Mar, 20 Mar, 25 Mar, 28 Mar, 1 Apr, 3 Apr, 4 Apr, 6 Apr, 8 Apr, 10 Apr, 11 Apr ...
If you'd like to chat about Nepal trekking or need help finding a vacation to suit you we're very happy to help.
Practicalities of the mini Annapurna Circuit
While itís possible to trek the mini Annapurna circuit independently, itís much safer and easier to join a small group tour. This will include a trek leader and porters to carry kit, so you can relax and simply enjoy the trekking. Responsible trekking operators ensure their porters are well paid and cared for. They should not carry more than 25kg and should be adequately insured, clothed and accommodated. You can read more about the important issue of
portersí rights
on our high altitude trekking guide.
The trek leader knows the mountains well, will ensure you acclimatise correctly to altitude and can fill you in on what youíre seeing. All accommodation, which is in teahouses along the route, is pre-booked, as is the internal flight, so logistics are taken care of. Groups usually consist of between four and 16 people, and if youíre a solo traveler, this is a perfect option, with a ready-made selection of fellow mountain lovers to trek with.
Obviously, youíll need a decent level of fitness to tackle the mini Annapurna circuit. Youíll be walking for 11 days, for around seven hours per day, sometimes on steep, rocky terrain but generally on well-maintained trails. The average altitude is 2,800m, rising to over 5,000m when you head over the Thorong La, so there is the chance of experiencing some altitude sickness, although well planned and paced treks give you time to acclimatise to reduce that risk. The trail also crosses a handful of suspension bridges as it climbs, which are secured with wire mesh sides, but if you have bad vertigo, you might find these a bit challenging.
Mini Annapurna circuit trekking vacations usually run in the popular trekking months of April, October and November, when the days are usually sunny and mild and temperatures at most altitudes are pretty comfortable for walking. There will be mostly clear skies but be aware that snow can fall, usually at the higher altitudes above Manang. Expect it to be around 10įC at 3,600m and progressively colder the higher you go.
More about Nepal trekking
Back to the top
Convert currencies