Food and friendliness tips
Bert Smeman from our supplier Cycling In Portugal, has lived in Portugal for three decades after moving from Holland in the 1980s, and is still dazzled by the friendliness of people – and the wonderful food. He shares his Portugal travel advice:
"What stands out is what my clients say about how very friendly the Portuguese are. I had a pilot stay and he had visited about every country on the planet for comparison! About the food, I remember from 1985 when I had just arrived in Portugal, how simple things like tomatoes tasted - totally different from what I was used to in Holland. And still, after so many years, simple 'chicken piri piri' can be a treat from heaven. Plus grilled fish like dourada, cataplana (Portuguese paella) or arroz de marisco (shellfish risotto)."
Find freewheeling freedom
Catherine Mack, one of our team of travel writers, offers her Portugal travel advice after a recent cycling trip there:
"Everyone knows the Algarve, but if you love cycling, you really want to head north to the Alentejo region. Here lies a cycling paradise of the Parque Natural Sudoeste Alentejano e Costa Vicentina. Think rolling hills, with beaches at the bottom. Tiny villages with chilled vinho verde. Seafood everywhere and not an English a-la-Algarve breakfast in sight."
Andrew Winter of our supplier Vale de Moses is awed by the joyous solitude around inland central Portugal. He shares his Portugal tips: "The region we live in the Beira Baixa, is one of the least known in western Europe. There is just 1 person for every 6 sq kms. Abandoned villages are overgrown and taken back by wilderness. That creates a magical environment that is like time travel. You can walk or cycle for hours without seeing another soul - but when you do meet a local, they are welcoming and kind to strangers. If you're invited into their adega where they store their own wine, you'll enter a world from another age. They'll offer you a glass of each thing they make - usually red wine, jeropiga (a liqueur), ginja (cherry liqueur) and aguardente (wine spirit), accompanied by corn bread and goat's cheese they make at home."
Eat like a local
Inge Keizer runs our supplier Quinta Alfarrobeira in the south of Portugal, and has some great restaurant tips to help visitors eat like a local in the Algarve:
"There are great restaurants in the area, especially to eat fish. One of the best is Casa Chico Ze in the village of Odiaxere – THE place to eat bacalhão (salt cod). In the next village, Mexilhoeira Grande, the Vila Lisa is often voted one of the Algarve's top 10 restaurants. If you´re a meat-eater there are several places in the countryside where you can eat a good wild boar or goat from the oven. Try O Sitio Do Rio in Carrapateira on the west coast - they use free range meat and organic vegetables."
Wildlife tips
Catherine Crone from supplier Headwater talks about the brilliant birding on a specialist twitching break at the Quinta do Barranco da Estrada in the Algarve:
"Ornithology here is extraordinarily rich due to the diverse habitats. Over 120 species live round the quinta year round – warblers, stonechats, shrike, bee-eaters, kingfishers, woodpeckers, three species of eagle (short-toed, booted and Bonelli's). The area also has one of Europe's highest densities of nightingales - during spring you're rarely out of earshot! There are four other birdwatching areas within an hour and a half's car journey. The Sado Estuary is a haven for marshland birds, while south west is the migratory route along Portugal's rocky coast. The Rio Formosa salt pans have a wealth of wading birds including Purple galinules. The Alentejo plains are truly stunning - specialities include bustard, sandgrouse, stone curlew, Lesser kestrel and Montagu's harrier."
Our top Portugal Vacation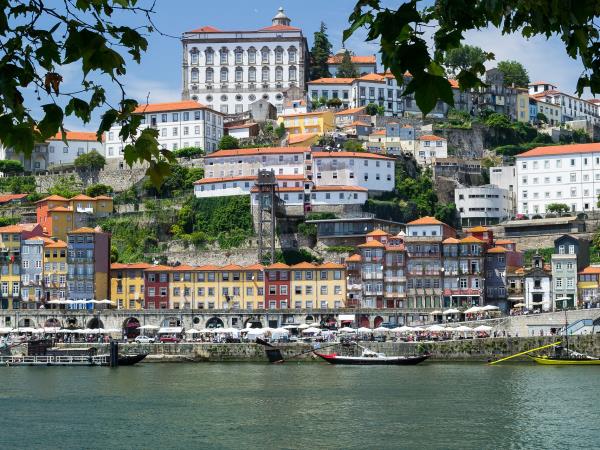 The scenic alternative to the classic Portuguese Way
From
€

875

to

€

1025
8 days
ex flights
Tailor made:
This trip can be tailor made throughout the year to suit your requirements
If you'd like to chat about Portugal or need help finding a vacation to suit you we're very happy to help.

Health & safety in Portugal
HEALTH
EU residents can apply for a European Health Insurance Card (EHIC), which gives you free emergency treatment at hospitals.

The EHIC doesn't replace travel insurance, which covers non-essential treatment along with emergency repatriation and other costly procedures. Ensure you have comprehensive insurance which covers all the activities you are planning to do.

Cool sea breezes and fresh mountain air can be deceiving. Wear plenty of sunscreen, and keep kids covered. Inland, temperatures can reach 45C in summer – especially in Alentejo – so hats, sun screen and sunglasses with UV filters are recommended for traveling safely with kids in Portugal.

Carry plenty of water if hiking or cycling – dehydration can happen quickly, especially in high summer. Many routes do not have convenience stores or restaurants along the way, so snacks are also advised to keep you going.

Tap water is generally safe to drink, so bring refillable bottles to save money and the environment. If in doubt, ask your hosts or other locals.
SAFETY
As elsewhere in Europe, blue flags on a beach are an indicator of good water quality and good environmental practice. Check for Blue Flag beaches in Portugal.
Rip tides are a serious hazard on some stretches of the Costa Vicentina and Costa da Prata. Take local advice and learn the system of coloured safety flags on supervised beaches: green means 'safe to swim', yellow means 'swim with caution', red means 'swimming forbidden'. A blue and white chequered flag means the beach is temporarily without a lifeguard
Huge waves can also appear from nowhere, and can sweep people out to sea or onto sharp rocks, even if you are right at the water's edge. Never turn your back to the sea – and always be careful if paddling or swimming with kids
Surfing is a major activity in many places – but don't take on waves you aren't totally comfortable with. Some of the world's biggest hit the Costa da Prata – leave them to pros.
Take note of the universal emergency number: 112
Keep an eye out for jellyfish. If stung, rinse the sting with sea water, not fresh. Urinating on a sting does NOT help! Tentacles should be removed, preferably lifted off the skin carefully - bank cards are good for doing this. If stung in the face, rinse the eyes immediately and contact a doctor.
Other sea life hazards include treading on sea-urchins, rays that can lash with their barbed tale if disturbed suddenly, the poisonous spines of weaver fish which lie buried in sand, plus scorpion fish which can hide in rocky spots. If that sounds a long list, don't panic! You are unlikely to have any trouble, but should you be unlucky enough to get stung, hot water can help ease pain immediately, then seek medical help.
Forest fires are a real risk during the summer months. Be extremely careful when traveling in the summer months, especially when driving and never discard cigarette butts or glass bottles. Don't light a barbecue or bonfire in woodland or dry areas. Causing a forest fire – whether intentional or not – is a criminal offence in Portugal
Portugal is very safe with low crime rates. Pickpockets may be present in tourist areas of Lisbon, with crowded trams a popular target, particularly busy routes such as 15 and 28. Be careful in bars at night, leave valuables in your hotel and don't leave wallets or mobile phones on show. Be cautious on beaches too – don't leave bags unattended as you swim
.
Portugal tips from our travelers
At Responsible Travel, we think the best people to advise our travelers are often... other travelers. They always return from our tours with packing tips, weather reports, ideas about what to do - and opinions about what not to.

We have selected some of the most useful Portugal travel tips that our guests have provided over the years to help you make the very most of your vacation - and the space inside your suitcase.

Don't expect 'night life' as such. But there are local events- we were lucky enough to visit during the local music festival season.

"Portugal doesn't seem to have OS type maps with walkers in mind, but local knowledge and resources ensure that you make the most of the area as a hiking destination. If you're not walking, there's loads of places to visit of interest."- Laura Munro

"Pack a torch, a water bottle, good shoes for getting around, don't expect accommodation to be luxury, and bring a hat in the summer! Carry an open mind."- Joanna Benn

"Some rural accommodations take only cash - no card payments. So make sure you carry enough if you choose to dine there (highly recommended by the way!)." - Adriana Moore

"The weather can turn in the mountains so make sure you take waterproofs so you can still go out and enjoy the countryside."- Amanda Law

Don't hire a car, use local buses and trains, and walk, walk, walk.

"Watch out for guard dogs - most are chained or don't come off their owner's land but I got bitten on the arm, which I didn't expect. Children will need to be told that not all dogs are friendly."- Fiona Armer

"Not enough mobile reception to make phone calls (a good thing for me) - text messages possible though. Phone calls were possible to make when at the surrounding towns."- Emma Scott-Boon

"If you are susceptible to being bitten, don't forget to bring your anti-midge cream and use the mosquito nets at night!"- Christina Mitchell

"Shops/restaurants may be closed between lunch and 7pm, and on Sundays it may be hard to find anywhere to stop and eat. Take snacks with you if you have children, and lots of water."- Kylie Horsfall